Alexandra Henry – NY, NY
I
first met Alexandra about 2 years ago at Tropicalia in Furs record store. She was hanging out there, buying and listening to records. I asked her if she collects records, and she humbly replied "kind of… I have a tiny collection, I don't think I could stand out of all the great collectors you've profiled already". I told her that, as some of you already agree, size does not matter! she laughed and agreed with me. 2 years later we finally managed to schedule a photo shoot. Her collection didn't grow much, but her stories about each individual record went deeper and deeper.
We ended up talking about her records for about 4 hour, which proved me once again, it doesn't matter how many items you have, as long as you hold a strong connection to them. so here is the story of Alexandra and tiny excellent record collection.
Who are you?
My name is Alexandra May Henry and I was just living in São Paulo, Brazil for six months but am now back in New York for the time being. I'm originally from Alexandria, Virginia. Grew up in the Southwest near Truth or Consequences, New Mexico from age 11. I've lived all over the world since, but moved to the East Village four years ago from Los Angeles. I kind of love to travel.
What was your first album? How did you get it? At what age? Can you describe that feeling? Do you still have it?
My first album was the self-titled Monkees record. It was from my dad's collection, as I suppose is the case for many collectors. Not only was it my first album but it also led to my first crush… Davy Jones. I remember staring at the cover all the time as a little girl imagining a love story between us. I'm a romantic and music has always been a love affair 😉
My dad has a great eye… He can spy anything of monetary or sentimental value from a mile away. We're not talking just records. Cars, antiques & junk galore can all be found around his garage or house or yard. This Stan Getz Au Go Go with Astrid Gilberto record was a landfill find. A very fine find indeed. 
What prompted you to start collecting? What age did you start? Was there a specific event in your life, an era, which signifies your transition from music lover to a collector?
Collecting vinyl, amongst other obscurities, is in the Henry blood. My grandfather collected jazz, samba, Bossa Nova, and classical records, taking very good care of each one. My uncle, who scours flea markets all over the country, collects mostly Brazilian music, but appreciates soul & funk. I vividly remember discovering Curtis Mayfield when I was about 12 years old because of him. My songbird dad is a vinyl enthusiast too and loves a good beat. Throughout my childhood, he used to wake us (my brother & sister) up by blasting some one like James Brown, The Rolling Stones, or The B-52's on Saturday and Sunday mornings. He still does it when I am home visiting. My dad is a goof, which is why he can get down to anyone from Tommy James & the Shondells to Gato Barbieri to Snoop Dogg. Because of him I was curious about music from a very young age. At 16 years old I started collecting vinyl. I left New Mexico for boarding school in Virginia and in order to make my dorm room feel more like home, I bought albums from thrift stores and record shops in Washington, D.C. I didn't have a record player at school but just having them around reminded me of my family.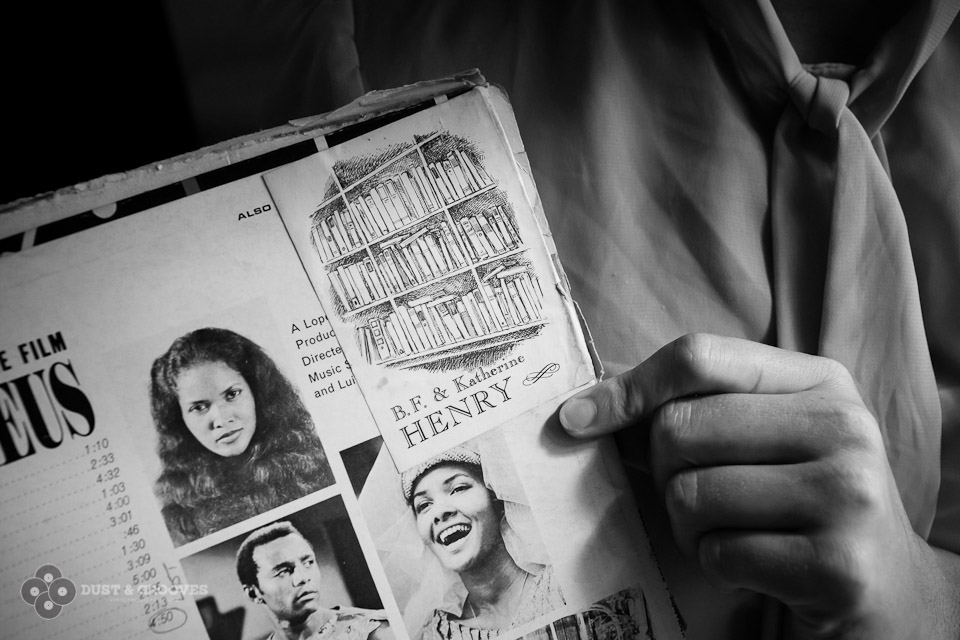 Seal of good taste! That was a sticker my Grandparents, B.F. (Benjamin Franklin) and Katie Henry had made to mark their records and precious books. My grandfather was a master collector of jazz. This was one of his favorites and I am honored to have it in my collection now until one day when it goes to my kids. 
What was your Initial interest in music? Did you have any influence from your family? Or perhaps your best friend?
Like I mentioned before, my dad's taste, though questionable at times, really opened my eyes to what music was. Every car ride with my parents, whether to the countryside on the weekends or to the beach or even cross country to New Mexico, music was key.  Their favorites were Fleetwood Mac's "Rumors",  Bob Marley's "Exodus", Paul Simon's "Graceland", Van Morrison, Doobie Brothers, Alman Brothers, Mary Chapin Carpenter, CCR, Santana, Tracy Chapman, Luther Van Dross, Teddy Pendergrass, Sade and many more. Film was also a major factor in my music taste. Again this is thanks to my dad who taught me that the two arts are intrinsically connected. One film in particular, that shaped my vision of the world in a way, was the French/Brazilian movie 'Black Orpheus' (Winner of the Cannes Palm D'Or in 1959 & Best Foreign Film Oscar in 1960). The score by Antonio Carlos Jobim and Luiz Bonfa, can be blamed for the start of my obsession with Brazilian music. Possibly the most bizarre musician my dad introduced me to as a kid was Tom Zé. At first I had no appreciation for his music, I just didn't get it. I was too young to understand the importance of the Tropicalia movement. I thought my dad had gone beyond weird but this was in the early 90s when David Byrne had just discovered Tom Zé and released some music on the Luaka Bop label (I would connect the dots later on). Little did I know what a huge influence Tom Zé would have on my musical journey, and life for that matter. How ironic that I ended up living in the same São Paulo neighborhood as him 20 years later?
Let's face it, quality over quantity. I am not aiming to have a certain number of albums, and I am not a producer looking for samples. I just want great music to enjoy.
Two covers of the Black Orpheus soundtrack album. One of my all time favorites, filled with beautiful music written by Vinicius de Moraes, Antonio Carlos Jobim & Luiz Bonfa. 
Why vinyl?
I choose vinyl for the pure, simple, pleasure I get laying on the sofa listening to my favorite songs. It makes me relax and forces me to enjoy side A, then get up and flip over to side B. There is no click of the mouse to skip a song and surf through an album until I hear something I might like. Listening to a record lets you contemplate and digest what's playing and to be real with the emotions any given song may evoke. You can 'be here now' when listening to vinyl. A good Buddhist affirmation to practice and repeat. Hearing the needle make contact with the record and knowing each crackle & pop of all albums in my collection makes them unique to me. No one else's records will have the same flaws in the same spots. And digitally enhanced music sounds so synthetic. I also like the ritual of playing records for friends and seeing their reactions rather then sending them a link to a song over the internet. In general, I like old things because with them stories survive. And to have records in my collection that belonged to my grandfather and dad is like having a part of them always nearby.
You have a pretty small collection, but still, we managed to talk about it for 4 hours. any insights on that?
Compared to the powerhouse collectors featured on the Dust & Grooves site my collection is laughable. But I think what we checked out in my apartment is well curated for some one who loves all sorts of Brazilian, Latin, African & American music. The petite collection is like a tasting menu of eclectic and exciting portions that leave you wanting more! Some are you typical good dishes like Otis Redding, comfort food so to speak. Then you bite into Leci Brandão from Brazil and maybe you can't identify the taste right away but you know you've just discovered something sensual and delicious. And since you are adventurous you might try the exotic Afrobeat and get succumbed by a deep bass and sexy saxophone that blows your mind….way before Fela Kuti even starts singing! I think that overall the diversity of my petite collection let us experience music in a fun way, where we learned some history. Let's face it, quality over quantity. I am not aiming to have a certain number of albums, and I am not a producer looking for samples. I just want great music to enjoy. I hope other collectors can relate with me on that.
So what is it with guys with mustaches?
Hmmm, do you ask guys what's with the girls T&A on the records they like to collect? Hahah… I never really noticed that I seem to have an abundance of records with guys with mustaches. But it's true. Mustaches are cool and manly. My dad and uncle have had mustaches my entire life. It's strange that I don't know what they look like in person without one.
Teddy Pendergrass (left to right) "Life is a Song Worth Singing", "Heaven Only Knows", "It's Time for Love". I inherited this collection from an anonymous neighbor in my apartment building we threw them out in the hallway. One man's junk is another's treasure. Something else I learned  from my dad. 
Why do you think the vinyl world is dominated by men?
Big loaded question with an impossible correct answer. I can easily say that it is in man's nature, primal instinct if you will, to collect things and show them off. Be they records, electronic gadgets, comic books, sneakers, t-shirts, baseball cards, women, etc. But if we actually look at the how the vinyl world took shape I think it will shed light on to why guys have ruled. In the old days radio was the medium that brought music to the masses via male DJs playing vinyl records and talking on air about what's hot. And most of that music being played was made by guys. Today it's still very rare to hear a woman anchoring a radio program during the peak hours of listenership, like during the morning rush or for the drive home. Even my favorite radio station KCRW in Los Angeles, which is super progressive and influential, only has 2 female DJ-lead programs amongst 19 male-led shows! Those women, Liza Richardson and Anne Litt, who are collectors & DJs that I've listened & looked up to for over 10 years, have truly paved the way to give a woman's opinion about music more gravitas. In 2005 I had my own experience of being hired as an on-air DJ where I definitely had to prove myself, just because I was a woman. The job began on a trial basis because the owner of the radio station was convinced that no one liked the sound of female voices on the radio. Granted the station was in Truth or Consequences, New Mexico, a very small town ironically named after a radio game show in 1950, people still, however, called in to sing praises about the new voice on air. They said that the radio station finally sounded professional, as if it were from Albuquerque (which was a HUGE compliment since Albuquerque is the biggest city in New Mexico). Though I didn't stay long because the pay was so low, I'd like to think I set a good example as a woman who knows music, knows the world and isn't afraid to talk about these things in front of a larger audience. I can definitely say that in the past 10 years I have seen more women than ever buying records in record shops & flea markets, bolstering their collections, as well as DJing out all over the world… giving guys a run for their money.
In a world of endless musical sources, streaming music, MP3's, Serato and other digital substances, do you sometime stop and ask your self "what for???"
Yes sometimes, but honestly nothing sounds as good and authentic than music originally published on vinyl. I have quite a bit of downloaded music from old artists that I much prefer to hear on vinyl. Sometimes I just use digital technology as a musical notebook that reminds me of which records I am on the hunt for. I like the adventure that searching for a record takes me on. It's much more gratifying when you set out on a mission and accomplish it. In New York City it's easy to use your local record shop as a musical source and actually interact with real humans face to face. Also, vinyl is a tangible object, not a link to a song. It's as special as receiving a letter or post card in the mail rather than getting an email or text message.
Secos e Molhados was a very popular Brazilian band from the 1970s introduced to me by Joel Stones, owner of Tropicalia In Furs record shop in NYC. He brought it back from one of his many trips home to Brazil and gave it to me as a gift.
Listening to 'Rosa de Hiroshima'. Don't be fooled when you hear it for the first time…Spoiler Alert: It's a man singing. Ney Matogrosso of Secos e Molhados in his angelic falsetto. 
What do you look for in a record?
Some covers catch my eye because of the colors in the artwork that seem to reveal themselves in my photography, mostly earth tones. You can probably tell by taking a look at my apartment with all the patterns and colors colliding. Greens, blues, corals, yellows. In terms of what type of music I look for in a record, well regardless if I know the record or not, it has to take me daydreaming or to another place in my head when I listen to it. It has to tickle my soul to some degree. Depending on my mood, a record may or may not be able to accomplish that.
Leci Brandão. A beautiful voice from Rio de Janeiro. I discovered her while watching a documentary in Brazil about Cartola, a famous musician from Rio who was a pioneer in Samba music.
Contents of my Fania vinyl care package! Jack Costanzo & Gerrie Woo, "Latin Percussion With Soul", Orlando Marin "Que Chevere", Johny Colon "Bugaloo '67", Joe Bataan "Singing Some Soul", The Lebron Brothers Orchestra "The Brooklyn Bums", Joey Pastrana "Hot Pastrana", Markolino Diamond con Frankie Dante "Beethhoven's V", Tito Ramos "Where My Head Is At". 
Can you name a one of your favorite records?
Black Orpheus soundtrack that belonged to my grandfather. Like I said before, it really shaped me as a music lover. Jorge Ben, "Samba Esquema Novo". It's just the way I heard it the first time… in Brazil when I was 23 years old, laying down for an afternoon nap in Curitiba and my Brazilian friend, who I'd met while living in London, put it on the record player. I was mesmerized by Jorge's voice. And I didn't even know what he was singing about because my Portuguese was very basic, but I felt it.
Do you have a record collecting philosophy or routine when you enter a store?
I usually check out the names of the sections before touching anything. But I am a sucker for Brazilian and Latin music. If I know exactly what I am looking for I will dig for it before asking the shop owner or clerk if they have it. I also keep my ears peeled for what songs are playing in the store.
What's your comfort album? the one you can always return to?
"Acabou Chorare" by the Brazilian band Os Novos Baianos has been my go-to album now for a year or so. It's a fantastically arranged record that takes you on one of those daydream journies I mentioned before. The band was from Bahia and had multiple singers, both male and female. So every song sounds different. Some make you want to dance to the infalliable Brazilian rhythem, others make you want to cry when you hear the simple acoustic guitar and then others encourage you to ponder the meaning of life with major electric guitar breaks. Hahaha all you need to comfort fleeting emotions.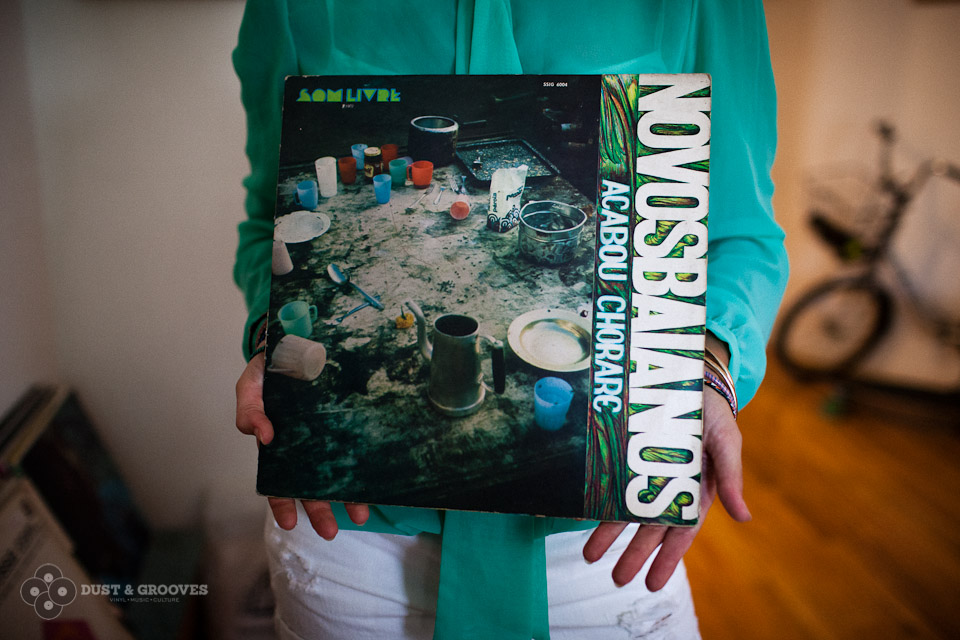 Os Novo Baianos "Acabou Chorare". Comfort album. Crowd pleaser. All my friends who've never heard of them became instant fans.
Did you have any covers that scared you as a child?
Ennio Morricone's "The Good, The Bad & The Ugly" soundtrack had a scary cover with Clint Eastwood, Lee Van Cleef and Eli Wallach on the front, all looking mean and evil. But what freaked us out more was the actual theme song with haunting 'huh ha' chants in the background!
Is there a specific musical instrument that attracts you when listening to music?
Yes, sure. The cuíca in samba music and MPB (Musica Popular Brasileira). The horns section in salsa. I love the saxophone in jazz or African funk. And really think the piano sounds beautiful on vinyl.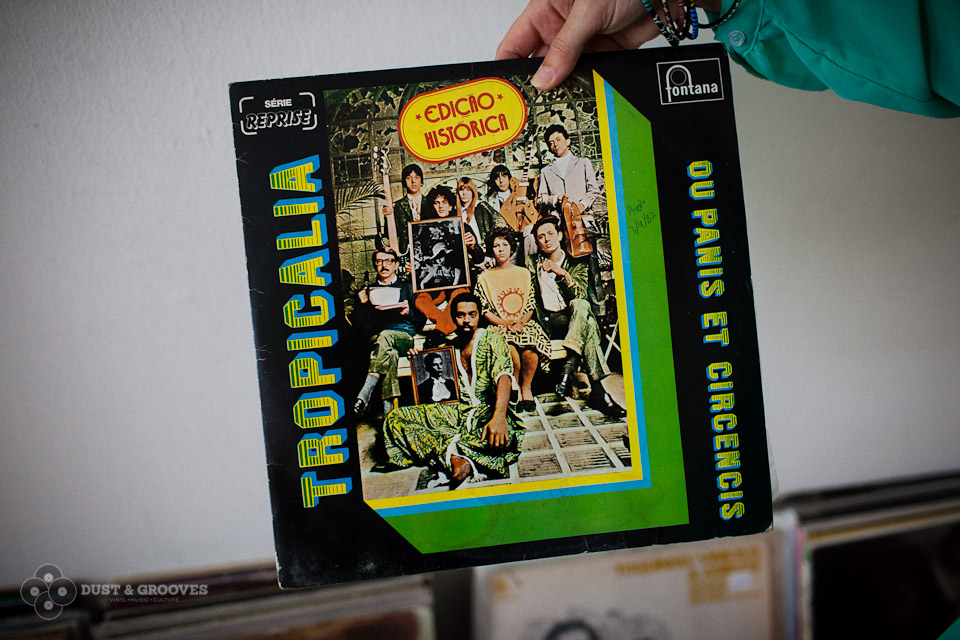 what about digging buddies? Do you share or you go solo?
I usually fly solo as I like to discover things on my own… I feel bad for my friends who come with me and end up having to wait hours in a record shop or at a flea market will I dig. I wouldn't want to be roped into something that was utterly boring for me either. So therefore, I think if you aren't digging alone then it's wise to surround yourself with people you can learn from and who enjoy the process as much as you. I like digging with my collector friend Lidia from Barcelona, who has great taste for 60s soul and funny Italian music, and my other collector gal pal Alina who turned me on to Serge Gainsbourg. We all lived in London together almost ten years ago and it was a magical music exchange!
Arthur Verocai, a Brazilian composer. This is the only record I have sought & bought online. Impatiences got the best of me. I couldn't be bothered to wait till I came across it digging. It's a re-issue by Ubiquity records. Soothing, spacey, & melancholic tunes to relax to on a Sunday afternoon.
Tell me a particularly sad record story!
I have to say, I've been pretty lucky. The saddest story I know of is when my friend lost thousands of records to a fire in Los Angeles. I wouldn't know how to cope and probably would never collect again if I had to go through that. Most recently the saddest thing that's happened to me was after purchasing Caetano Veloso's "Araça Azul" in Brazil last fall at a record fair, it started to rain, a typical thing in São Paulo, and the cover got wet then molded so I had to get rid of it. Record is OK but I lost the super sexy crotch shot of Caetano reflecting from a mirror while standing on the beach.
Who has the toughest record collection that you have ever seen or would like to see?
There is the journalist and veteran music director/DJ from KCRW in Los Angeles, Tom Schnable, who has an encyclopedic knowledge of Brazilian, African, Latin and all international music. He still has a show called 'Cafe L.A.' on air. I would love to see a feature on him. Also would be interested in knowing what Patti Smith still has in her record collection. I've admired her since I was a teenager, not just for her music but for the life she's chosen to live as an artist. I'd like to see the records she and Robert Mapplethorpe used to listen to while living in NYC.  And last but not least, for the mere eye-candy alone, I wouldn't mind meeting Benicio del Toro again and getting a private preview of his stash. I am sure he's a rock'n roll type of guy but being from Puerto Rico he's got to have some funky Latin music sprinkled in his collection.
Juan Luis is clearly a big fan of Puerto Rico, like me. Look what he is standing on to overlook Viejo San Juan…flower pots. I picked this album up in a pawn shop in Old San Juan. When the owner told me Benicio Del Toro had just been in the day before with his mom, looking at records, I nearly died. I love Benicio!! 
Tell me about a record you still regret not picking up?
Tim Maia's "Racional". It's a rare and expensive album that I came across a few times while in São Paulo. I should have just bought it. I know it would make my petite collection that much more special. Since I discovered him when living in London in 2003-04, he has had a reoccurring role in my life, so I know I'll get the chance to catch the big fish once again.
Tell me about a record that has healed heartbreaks!
Roberta Flack's "Fist Take" had some healing powers. There are songs with attitude like "Compared to What" which is a good confidence rebuilder. But there are also songs for the bleeding heart like "The First Time I Ever Saw Your Face". I also love Sade. So poised and so calm. Her album "Promise" has helped eased break-ups.
Roberta Flack is a singer my dad used to listen to from D.C. Being from that area I was proud to be a fan. This cover is interesting because it shows her seated at the piano letting us know that not only is she a fantastic songstress, she's also a talented musician. 
Sade. Her gorgeous look is simply made by defined eyebrows, minimal make-up, deep red lips & a great pair of hoops, yet there is nothing simple about that voice! And not to mention the coolest band. Sade will forever be my style icon and an artist I will also go back to for inspiration. That's a PROMISE…
As you've just discovered, my collection is not grandiose but it's filled with music that I cherish. Discovering or rediscovering a song can take you on amazing journeys , whether to far off countries or your local record shop where you meet special people that you never imagined existed. Building a record collection is a delicate process that's filled with delightful adventures and is a way to express yourself and experience  life uniquely in your own fashion. And remember, music is always best shared! I hope more and more people start collecting records to help preserve music culture and to enrich their lives. I know that my records will be handed down to my children and then hopefully to my grandkids one day. Thanks to Eilon at Dust & Grooves for brining my records and their stories to life!
More about Alexandra:
I am a photographer!
Check out my site & blog to see the world through my eyes!
www.alexandraincomplete.tumblr.com
Instagram: @alejcali
Special thanks to David Rojas at Frisbie Studios for helping me with my mix. www.frisbienyc.com
Alexandra and many other vinyl collectors are featured on the Dust & Grooves: Adventures in Record Collecting book.
Please consider purchasing the book and continue your support of the Dust & Grooves project.
---
Is Dust & Grooves a frequent destination for you?
Dig what we're doing here? Want more interviews and mixes? 
A $2 subscription will make Dust & Grooves keep going!