Ben "DJ Scribe" Goldfarb – New York, NY
Interview and Photos by Eilon Paz
I
ntroducing Ben Goldfarb, also known as DJ Scribe, and even better known as the founder of the legendary and ongoing vinyl only party I LOVE VINYL
I put this mix together after the photo shoot, with all the records that somewhat haphazardly wound up getting into the photos. it was fun to try to use them all in a mix, and to incorporate the children's music and skits, which are not, surprisingly, a typical element of my repertoire.
Your full name, where are you from and where do you currently live?
Ben Goldfarb aka DJ Scribe. Born and raised in New York City, where I currently reside.
What was your first album? How did you get it and at what age? Can you describe that feeling?
My first record was probably Free to Be…You and Me which came out a year after I was born. My parents got it for me. I'm not sure how old I was. But I loved that record. It's a mixture of songs, skits, and stories. Everyone was on that record. From Mel Brooks and Alan Alda to Harry Belafonte and Diana Ross. The subject matter was pretty radical. Cool stuff about gender equality. That record raised me (along with my parents, of course). I still have it. It's one of the best records of music for children I have ever heard.
This is the life-altering Free to Be…You and Me by Marlo Thomas and Friends that I talk about above. The band is funky and this record made me a feminist.
This is Bob Sings! with Bob from Sesame Street. I was a fan. This came out when I was six. My grandmother took me to see him live at the Felt Forum at MSG. Afterward he signed my record, "Hi Benjy. Love, Bob." It would appear that I was less excited about the record at some later date, and blacked out a few of Bob's teeth. I just noticed that he does "Sir Duke" and two other Stevie songs on here. Holy shit. I was a Stevie Wonder fan before I even knew who Stevie Wonder was. Dick Hyman (of Moog fame) arranged and played on a lot of this record. Barry Lazarowitz plays drums on "Sir Duke." I don't know who he is, but his name is awesome.
What prompted you to start collecting? Was there a specific event in your life, an era, that signified your transition from music lover to a collector?
Hip hop made me a DJ and a collector. I started playing on the radio in college in the Winter of 1990. WOBC, 91.5 FM in Oberlin, Ohio. The show was called (take a deep breath) The One-World Funkatronic Super-Soul Express. I did it together with my friend Nathan. I taught myself to mix on the air, basically. There was pretty good record store in Oberlin, a small college town, called Sarge's Records. I would go see Sarge every week and buy two copies of just about every new hip hop 12-inch and LP that came out. X Clan, Brand Nubian, Black Sheep, Ice Cube, BDP, De La Soul, Tribe Called Quest… plus some hip house and dancier stuff like Deee-Lite and Monie Love. Like a lot of college radio DJs, I also stole my share of records from the station. You can still find records in my collection with "WOBC" written nice and big on them with a Sharpie. But hip hop wasn't satisfied with turning me into an avid consumer and a thief, it also got me interested in the soul, funk and jazz being sampled on the records. So I started digging for that stuff too and that ever-expanding ripple effect continues to this day.
What was your Initial interest in music? Did you have any influence from your family? Or perhaps your best friend?
I have loved music as long as I can remember. My mother sang to me and played guitar and piano. She was into folk and classical, mostly. The Weavers, Peter, Paul and Mary, Joan Baez. We had a piano at home and I used to figure out songs by ear. My father didn't sing or really play music but he taught me to play stuff like "Chopsticks" and "Heart and Soul" on the piano. And they played records at home. The Beatles, Otis Redding, Bob Dylan. When I was in nursery school, the class was outside in a plaza where a couple of violinists were playing one day. The teacher told my parents that I sat down in front of them and wouldn't get up when it was time to go back inside. I was mesmerized. My parents enrolled me in basic music classes at Third Street Music School and I started violin lessons shortly after that.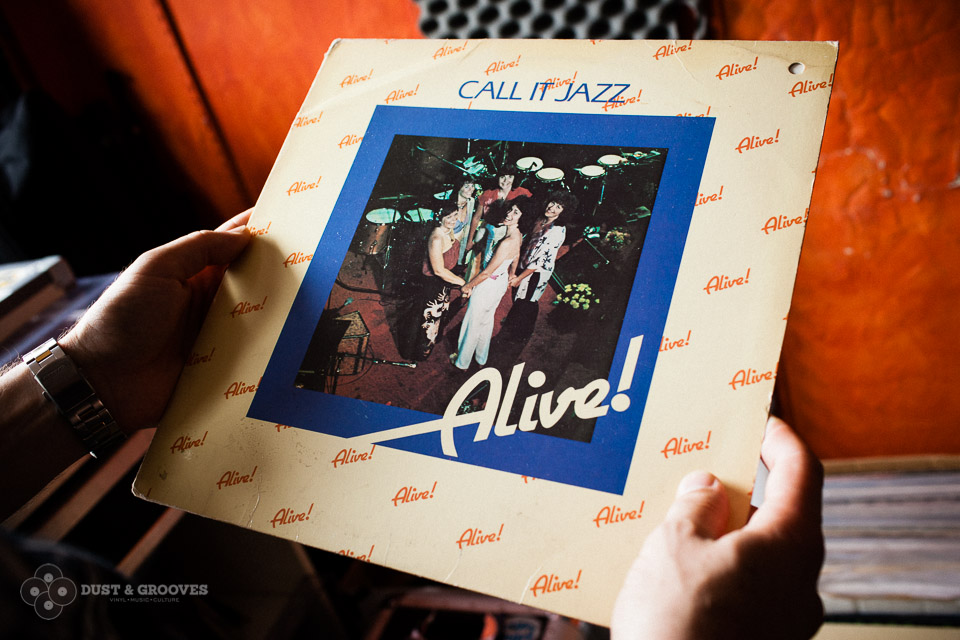 Found this record in a dusty pile outside a junk shop on my way to a concert at Wingate Field in Brooklyn last summer. I think it was Public Enemy. I knew Alive! from their version of "Skindo Le Le" which A Bossa Elétrica covered on Raw Fusion Records when I was US Label Manager. That's how I first heard the song. On this record, they do a great cover of Gil Scott-Heron's "Willing." I had never heard it before, but it's a gem. Lots of percussion breaks and very danceable, for people that dance to jazz.
Tell me more how your passion for vinyl has affected your life.
Collecting records has been the cause of many things in my life. Fights with girlfriends about waiting for me in record stores or my records taking up too much space in the apartment, the ability to ignore hunger or a full bladder for hours while I look through thousands of records, unwilling to heed my body's signals and pull away, back pain from lifting crates out of the deep trunks of NYC cabs, the dissemination of large amounts of currency I could ill-afford to part with, freezing cold fingers and stiff knees from winter sidewalk sales, a dread of moving… But mostly, vinyl has given me the limitless joy of the music I discover and play, encylopedic knowledge of the vast amounts of information contained in its liner notes and credits, countless hours of spent in the euphoric meditation of digging, hundreds (if not thousands) of parties, and, ultimately, a career.
This is Closer To It! by Brian Auger's Oblivion Express. Incredible psychedelic soul jazz rock record. My joint on here is "Voices Of Other Times."
Almost four years ago you started the I Love Vinyl parties which still go strong today. Tell me about the decision to start this party line.
I have always created my own concepts and events in order to make the opportunities that I wanted to spin. Some particularly memorable ones for me were the Love Revolution parties at Joe's Pub, Tag at the original Halcyon on Smith Street, and Raw Fusion (the NYC edition of 'Mad' Mats Karlsson's party and record label from Stockholm) at APT. There was a period of time where I strayed from the vinyl path altogether and played all of my gigs with CDs and later Serato. During those years, I wasn't totally aware of what I was missing but I felt that something was different. One time, I was invited to play a short guest set at a friend's party in New York. Because I didn't need to bring much music with me, I decided to pull out some records. Even before I played them, it was a sweet reunion. Just taking my records from the shelf, holding them in my hands, and looking at them brought back so many good memories. And playing them that night at the party reminded me how much better they sounded to me and how my creativity as a DJ was more alive with them. I decided then that I needed to find a way to experience that more often. But I, and all my DJ friends, had gotten spoiled by being able to go to the club with one small, relatively light bag. The days of carrying six milkcrates down and back up four flights of stairs felt like something I couldn't go back to. But I figured that if enough DJs played together, we wouldn't have to bring more than a small bag of records each. And so the idea for I Love Vinyl was born. It took a couple years of finding the right DJs and the right venue before the party actually got off the ground in May of 2009 at Le Poisson Rouge, with an incredible team. Amir (of Kon & Amir), Ge-ology, The Twilite Tone, OP!, Jon Oliver, and myself. It's still the six of us and we are still at LPR every month.
This is me looking at George Duke's The Aura Will Prevail, on MPS, which contains the amazing "For Love (I Come Your Friend)" which MF Doom sampled for "I Hear Voices" on Operation: Doomsday, and which was recently covered by Thundercat. Duke and the band were clearly tripping their asses off when they made (and named) this tune.
Why was it important for you to raise the vinyl flag here?
For me, it was more about getting back to basics, back to my roots, and the idea that if that was important to me that it would be important to some other people too. Sort of like the idea that we all can't live without the convenience of texting and facebooking each other all day, now, but there's something infinitely more real and rich about having some people over to your house for dinner.
So vinyl is the only format allowed? Not even Serato?
Uh, yeah. Mainly because the name I Love Vinyl But I Also Fancy A Couple Dabs Of Serato Here And There doesn't roll off the tongue in the same way. Seriously, hell no. It's a vinyl party. We play vinyl. That's it. But we're not haters or luddites. I have a huge CD collection (which probably does make me a luddite, at this point), and I download music too. It depends on the purpose. I prefer vinyl for the sound, and especially for the creative process of putting together an improvised DJ set. But I am not a purist. I Love Vinyl is pure, though. 100%
This is one of my most treasured 12-inches. It's Imagination and has "Burning Up (Dub)" on the b-side, a proto-house record if I've ever heard one. It's a record I play often. Always slays the dancefloor.
This is the Detroit Emeralds' I'm In Love With You on Westbound. It has "You're Getting A Little Too Smart" on it, which opens with the famous drum break, perhaps most famously sampled in "Looking at the Front Door" by Main Source.
When the ILV DJs come to a gig, they can only carry a limited amount of music. Do you think the physical limitations of it promotes creativity?
Absolutely, I do. That was one of the main difficulties for me with playing Serato, or even CDs. You can carry too much music. Even if you have it very well organized, it can be overwhelming. Imagine being a painter and mixing ten thousand colors on your palette before you begin to paint. It's an impediment to the painting, to the creative process. I am a firm believer that limitations, by definition, inspire creativity. The less you have to make something with, the more you have to use your imagination to figure out how to make it.
A heart-shaped 7-inch of the great Bobby Caldwell's "What You Won't Do For Love." The single that gets to the heart of the matter, as it says on the cover.
Do you think the ILV fans are really into vinyl? Or maybe vinyl acts more like a status for quality music that draws quality fans?
I think our crowd is there for a wide variety of reasons, but I think the quality and variety of the music and the passion and ability of the DJs, are the most important. Some people who come are vinyl heads. But for others it is just a signifier that tells them this is not something mainstream. Some people think that because it's all vinyl we are only going to play funk and soul breaks from the 70s, or that it's a retro movement. But we play current music too, and make it all cohesive and relevant.
This has "Heaven Of My Life" on the b-side. Monster bassline. I've never heard anyone else play it, and it's definitely lesser known than their classics like "Searching," "Hold Tight," or "The Glow of Love." But people always come up and ask about this one when I play it. I think I was holding my nose because we were talking about how bad the jacket design is.
Lately, it seems like vinyl has become a strong commercial symbol for the younger generation. Its 'cool factor' is being used, sometimes in a really awful and cynical way, by ad agencies and corporations to sell products that have nothing to do with music. What are your thoughts about that?
I have strong feelings about the way corporations co-opt cultural and social movements and symbols in general. It has become a huge force in our society and one that I think is ultimately destructive and degrading. The fact that vinyl, specifically, has become a way to 'cool-ify' everything from sodas to men's shoes is no different to me than any other cultural symbol that gets used. It all makes me angry and sad. But I am also immersed in it, so I can be desensitized too. Some people think that it promotes vinyl culture, or hip hop, or skaters, or multiculturalism, or anti-establishmentism, or whatever the flavor of the month is. But I think it threatens to suck the life out of it, reducing it from something connected with art or culture (which, I think, necessarily involves a questioning, if not an indictment, of establishment values) to something embraced by, or on par with, the establishment. That can rob it of its revolutionary power. And that's exactly what the establishment wants it to do in order to stay established, of course. I'm not saying that ad agencies are conspiring to destroy art. Most creatives in the ad industry are artists themselves. And they know how to make shit cool and sell their clients' products. But when something threatens the status quo, it provokes fear, and power will be brought to bear to repress it. It was only when corporations realized that they could use Black Power or hippies or hip hop to empower their system with diametrically opposite values, that they stopped being afraid of it as much (here I have to recommend the BBC documentary The Century of the Self  by Adam Curtis. The only reason they are still afraid of it is that even neutered by years of commercialization, these movements still have the potential to be much more powerful and influential to masses of people, than the corporations or governments ever will. Keeping your enemies close doesn't make them your friends.
Do you have a record collecting philosophy or routine when you enter a store?
Not exactly, but I have some habits. I usually look at the cheap stuff first. If the records are organized into categories, I usually look at 12-inches first. For me, 12-inches are like candy. They're quick to look through, quick to listen to, and they usually sound loud and great. A special pleasure is finding unexpected goodies on the b-side of otherwise uninteresting and overlooked 12-inches. If the store has a listening station or if I have my portable with me, I listen to a lot of things and usually wind up buying only a few. I am so picky with this that I actually have a reputation for it in some stores. Rickard Masip, of Record Mania in Stockholm, loves to tease me about this. The one philosophy I have these days is, no matter how cheap or how expensive, I don't buy anything unless I have to have it.
Now that most record stores have closed down, where do you go looking for records?
It's true that many of the stores I used to go to have closed. Downtown, St. Marks Sounds, Dancetracks, Vinylmania, Barry's Stereo on 23rd Street, The Sound Library, and countless others. But there are still a lot around and new ones keep opening up. I did some research on this not long ago and there were still a couple hundred places to buy vinyl in NYC. I don't have a go-to place, really. For newer stuff, I am partial to Turntable Lab. But a lot of my record buying is somewhat accidental. Someone selling records on the street that I happen to stumble upon. Or thrift stores. Of course there is online, and Discogs is an amazing resource when you know what you are looking for.
Back cover of an Italian pressing of a 12-inch of "Miss You" by The Rolling Stones, and the only version of this 12-inch I have ever seen that isn't in a plain white jacket with text and the Stones' logo on it. Also my best attempt at making Mick Jagger lips, mustachioed as they may be. 
What's your comfort album? the one you can always return to?
Too many to list. But the first one to mind was Songs in the Key of Life by Stevie Wonder. It's the Mona Lisa of albums for me. I don't want to listen to it all the time. But when I do I am always moved and amazed.
You have quite an eclectic music taste here. Anything goes?
Of course not. Anything goes is having no taste at all. I have very discriminating tastes. Meaning I don't like most things, but what I like does not fall into one easy category. I like all kinds of music. There are plenty of styles or genres I have not even dipped my toes in. Most, probably. In the big picture, I know next to nothing about the music of most of the world. Outside anglophone soul, rock, pop, hip-hop, house, jazz, etc. I dabble in Latin and Brazilian stuff, reggae, Afrobeat, and a little bits of other things here and there. But I'll play or listen to anything I like.
This is a 12-inch of "Mama" by Genesis. I was a big fan in the 80s. One of my first live concerts. I play this now because I love the b-side, "It's Gonna Get Better." It's an end of the night tune for me. Fat synth bassline (in 6/8 time, of course) and heavy drums at a nice 82 beats per minute, plus more synths. To me, there's something very contemporary about it. The music. But the cover is pretty rad too, with its die-cut triangular typography. Surprised Onra, or someone like that, hasn't jacked it yet.
This is the 20th Century Steel Band's Warm Heart Cold Steel on Island Records. It contains the Ultimate Breaks & Beats classic, "Heaven & Hell is On Earth," as sampled in countless hip hop records. $1.00 sticker from St. Mark's Sounds!
One of my favorite artists, Syreeta, aka Syreeta Wright. This is her slightly harder to find self-titled debut 1972 album on MoWest. Produced by Stevie Wonder, who was married to her at the time. She had the voice of an angel. So sad she's not with us anymore.
Sheba Plays Jungle Fever and Other Latin Soul Hits and the original 7-inch by the Chakachas. Judging by the cover photo, Sheba appears to be a Gypsy prostitute in Istanbul in the 20s.
I'm a big fan of Steve Reich. This has one of his earliest tape loop pieces on it, "Come Out," from 1966. It's a deep piece of music to me. The whole thing is made from layered loops of speech. The speech is from a recording of a kid who was falsely convicted of murder in the 1964 Harlem riots. He's talking about how he had to open the bruises he received at the hands of the police and make them bleed so he could get medical attention. In the beginning of the piece, you can hear the words clearly but by the middle, it has transformed into a abstract sonic tempest of echoing sounds and syllables, only to re-form itself back into the original by the end. My first electronic music teacher at Oberlin, Conrad Cummings, played this for our class. It moved me then and still does.
This is a 12-inch of "If I Ruled The World" by Kurtis Blow. Great cover. Great mustache. Great Jheri curl mullet. 
What about some favorite cheesy album covers?
Well, that Dilly O'Dilly record that you shot is one of my favorites. The front and back covers are both super cheesy. The illustration on the cover is terrible, and if you look closely, you can see the squares where the 'artist' (a term I use hesitantly) divided up the photo to copy it as a drawing. And he looks like a Nigerian Philip Michael Thomas a la Tubbs from Miami Vice. On the back he is shirtless and combing his hair. You add the album's title, Soft in the Middle, and it's a wrap.
This is my beloved Dilly O'Dilly record. See my answer about it, above. I have a periwinkle Members Only-style jacket like the one he is wearing on the cover, too.
Is there a specific musical instrument that attracts you when listening to music?
I couldn't pick one, but bass, drums, voice, and synths, I would say. Of course, there are good and bad versions of all of those.
Tell me about the most unlikely place/occasion where/when you found records?
Well, it wasn't an unlikely place, because it was a record store. But the circumstances were beyond unlikely. Years ago, I was in Philadelphia for the day and went to a couple record stores that someone recommended. For some reason, in the back of my mind I was really hoping to find a copy of Toto's first album with "Georgy Porgy" on it, but I didn't. I left the store and walked to another neighborhood to get the subway to the train station to catch my train back to NYC. The subway had a sign saying that the train wasn't coming for 10 minutes, so I followed an irrational urge and ran back out of the station in the hopes that there was another record store nearby that I could check before my subway came. As luck would have it, there was one and I ran across the street and into the store. The store sold mostly CDs, but there were records in little bunches covering one wall of the store. As I turned to scan the records on the wall, dead in front of me was not only a Toto record, but an octagonal picture disc double a-side single of "Georgy Porgy" in perfect condition (a record I didn't even know existed, and have never seen since) FOR. A. DOLLAR. I bought it of course, caught my subway and my train, and spent the trip home happy and wondering (possibly more seriously than at any other moment in my life) about higher powers.
The octagonal picture disc of Toto's "Georgy Porgy" I was talking about, above. It's a beaut, ain't it?
Tell me a particularly sad record story!
The only time a record made me cry from something other than the beauty of the music was when I was nine and dropped my beloved copy of the The Jazz Singer soundtrack by Neil Diamond! It fell out of the jacket and cracked and I was crushed. That was one of the first "pop" records I had, and maybe the first one I picked out myself or asked for. I had seen the movie and really liked it. Neil Diamond is actually a pretty good actor. A few years ago I came across a copy of it and had to comfort my inner child. Can't say I've been listening to it much, though.
One of the few really rare/valuable records I own. This is Magumba by the Blue Rhythm Combo, a funk group from Barbados. Nasty drum breaks on here.
Tell me about a record that has healed heartbreaks!
Hm. Here I would have to go with Roberta Flack's incredible version of "Do What You Gotta Do," a song about letting people go. That record itself breaks my heart. I could add "Joy Inside My Tears" by Stevie Wonder and "You're the One" by Kate Bush. And of course the entire album Here, My Dear by Marvin Gaye. All bittersweet, and heartbreaking, but transformative.
Marvin Gaye's brilliant and groundbreaking Here, My Dear. I never get tired of this record, and it never fails to move me. If you haven't read the story about how this record came into being, and what it's about, in the liner notes, you need to do that. The backstory makes the record that much better.
Who has the toughest record collection that you have ever seen?
DJ Spinna has an incredible collection. Someone who's collection I have only heard about, but not seen, is Tomcat, one of the DJs on WBAI's monthly Rare Record show. He's an original Paradise Garage head. I think he said he has 100,000 records, and that although they are not alphabetized or sorted in any particular way, he knows where each one is.
Who would you like to see featured next on Dust & Grooves?
Well, Tomcat, for one. Bambaataa or Herc would be amazing, if they still have their records. Danny Krivit is another one. Every time I see Danny he is buying 200 records. He must have a million.
"I'm not a universal truth kind of guy. To each their own. But if you are interested in the ever-rarer experience of analog sound and music that you can hold in your hand, cool. Enjoy. I know I do. If not, give me your records."
My I Love Vinyl parties are second Saturdays at 70 N. 6th Street in Williamsburg, Brooklyn, and fourth Saturdays at the Gallery at LPR in Manhattan, both monthly, in NYC. There is also a European arm of the party in Amsterdam at Canvas.
Listen to I Love Vinyl Radio at http://www.mixcloud.com/i_love_vinyl
Follow I Love Vinyl at:
http://www.facebook.com/ilovevinyl
http://www.facebook.com/ILoveVinylTheParty
http://twitter.com/ilovevinyl
http://instagram.com/ilovevinyl
Follow Scribe at:
http://facebook.com/djscribe
http://twitter.com/djscribe
http://soundcloud.com/scribelove
http://www.mixcloud.com/scribe
http://linkedin.com/in/djscribe
Ben and many other vinyl collectors are featured on the Dust & Grooves: Adventures in Record Collecting book.
Please consider purchasing the book and continue your support of the Dust & Grooves project.
---
Is Dust & Grooves a frequent destination for you?
Dig what we're doing here? Want more interviews and mixes? 
A $2 subscription will make Dust & Grooves keep going!