Bill Adler – NY, NY
B
ill Adler is a vinyl record collector from New York City. Back in the 80's he was the head publicist of Def Jam Records. That gave him access to LOADS and LOADS of records! but he preferred to keep his vinyl collection small and tight, and gave away a large piece of it. Here is a cool eclectic glimpse on a collection, that magically mashes Country music with Black Soul and Funk and some Hip Hop and Jazz. Eclectic??? Say what?
Q: Who are you?
A:  William "Bill" Adler, a/k/a, Ill Badler.  Born in Brooklyn in 1951, raised in  Detroit, returned to New York in 1980, and here I'll stay.
Q: Music. Why?
A: I've been a music lover my whole life.  When I was an infant, my father used to sing me to sleep at nap time, and I still remember the songs he chose and how he sang them.  I joined the school band as a trombonist when I was ten.  (Why trombone?  My mom's suggestion, an echo of her enthusiasm, as a teenaged bobbysoxer, for Tommy Dorsey and Glen Miller.)  And, like zillions of other kids, I really started to pay attention to'roll and to music on the radio when the Beatles hit in February of 1964.
A picture disc of The Beatles's "Sgt. Pepper's Lonely Hearts Club Band"
Q: What was your first album? How did you get it? At what age? Can you describe your feeling?
A:  My parents gave me The Beatles's "Rubber Soul" as a Hanukah gift in December of 1964.  That was one of my very first albums…and one of the most thoughtful gifts they ever gave me.  In later years, my mother grew hostile to my collecting:  "Why do you need all those records?  Why don't you get rid of them?"
Q: And did ya?
A:  Nope.  Sorry, mom.  I love 'em.
Q: What was you father's reaction to your collecting habit?
A:  Pure obliviousness.
Q: What prompted you to start collecting? What age did you start? Was there a specific event in your life, an era, which signified your transition from music lover to a collector?
A: I think I began to think of myself of a record collector in 1969, when I started working as a clerk in a record store in Ann Arbor.  As much as I loved the radio, my tastes were then expanding well beyond the Top 100.  I started collecting records to make sure I could listen as often as I wanted to music I couldn't count on hearing on the radio.
Q: Why do you stick to vinyl?
A: Because not all of the music I love has been carried along in the transition to CDs and, more recently, to "the cloud."  And also because I love the 12 X 12-inch album cover as a visual medium.  (Likewise, the 10 X 10-inch cover for 78s and EPs, and the 7 X 7-inch cover for 45s.)  The 5 X 5-inch CD cover?  Too small, and thus not so lovable…nor so collectible.
Q: Was there any cover art that scared you as a child?
A: No.  But I'll admit that my dreams were invaded for years by the woman on the cover of Herb Albert & the Tijuana Brass's "Whipped Cream and Other Delights"
Q: Is your wife aware of this dream of yours?
A:  My wife is well aware that I lead a rich fantasy life.
Q: What's your family's reaction to your collection?
A:  My wife appreciates how much my records mean to me.  There's no static there.
Q: You have a daughter and a son. Do they share your passion for vinyl?
A:  My kids don't care about vinyl per se, but they are both music lovers.  That's the key thing.
Q: Do you think your involvement with vinyl has opened creative and professional doors for you?
A:  My love of music has defined my life at every turn in the road.
Q: Has your career as a publicist in the music business crossed paths with your vinyl hobby?
A: The vast majority of the records in my collection fell into my hands as promo copies during my various stints as a record store clerk, radio deejay, music critic, publicist, label exec, etc., etc.  In my case, the process of collecting has been less about accumulation than of fishing out the tiny fraction of stuff I want to hold on to from the rushing river of free records that's been flowing in my direction since I was 17 years old.  I've given away at least a hundred times as many records as I've kept.
Junior Parker's "Love Ain't Nothin' But a Business Goin' On," released by Sonny Lester's Groove Merchant label, 1973.  Cover photo by Chuck Stewart.
Bobby Bland's "Dreamer," cut for ABC in 1974.
Q: You were the head publicist for Def Jam in their most glorious days. You must have received a lot of records from friends and labels. What have you done with all those records?
A: I've held onto every important rap record that's ever come my way.
With Eric B.& Rakim's "Let the Rhythm Hit 'Em," MCA 1990.  Art direction and photography:  Carol Friedman.
Two by the Sugarhill Gang.  Left, "Livin' In the Fast Lane," 1984.  Right:  "8th Wonder," 1981.  Both titles released by Sugarhill Records.  Cover art by Hemu Aggarwal.
"Walk this Way"/"My Adidas" picture disc issued by London Records 1986.
Q: You say that there are times when rap music reminds you of country music. Please explain.
A:  People imagine that rap music and hip-hop culture are much more exotic than they are.  Hip-hop's core values – certainly since the early Nineties – couldn't be more all-American:  Too much ain't enough.  You ever watch Mel Brooks's movie, "The Producers?"  Max Bialystock, the title character, sees some muckety-muck on the street driving a Rolls Royce and roars appreciatively, "That's it, baby!  If you got it, flaunt it!"  There's not a penny's worth of difference between Jay-Z and his 2012 Mercedes-Benz Maybach and Webb Pierce and his 1962 Silver Dollar Pontiac Bonneville.
Q: Hip-hoppers sometimes seems so self-contradictory. On one record an artist is a hero. On the next he's a scumbag. How do you explain this phenomenon?
A: I've encountered very very few saints in my life. The rest of us, artists certainly included, are all too human. Mr. Luther Campbell likely sees no conflict between his carnal and spiritual desires.
Q: What's your digging habit in these digital days?
A:  I'm a fiend for the neighborhood flea markets and, whenever I travel, I try to check out the local record stores.  I went to Cleveland in mid-April to see the induction of the Beastie Boys into the Rock & Roll Hall of Fame.  I had just enough time to sneak into a local spot where I bought a great latter-day single by Oran "Juice" Jones and a few bootleg Christmas CDs I'd never seen before.
Q: Christmas records!?  Hold on, Mr. Adler, you're Jewish.  Don't you celebrate Hanukah?
A:  As a kid, my family celebrated Hanukah.  Eventually, though, I married into a gentile clan that celebrates Christmas.  I love everything about how my in-laws mark the holiday except for their choice in seasonal music.  So 30 years ago I started to produce a yearly compilation of Christmas music as a kind of personal soundtrack to the holiday.  Naturally, this obsession required (and continues to require) the collecting of Christmas records.
James Brown's "Soulful Christmas" on the King label from 1968.
Jimmy Durante's "Santa Claus Is Comin' to Town" b/w "Rudolph the Red-Nosed Reindeer," Golden Records 1950.  A 10-inch gem on yellow vinyl, the record's A-side's label boasts a hand-drawn caricature of Durante. 
12-inch single version of Kurtis Blow's "Christmas Rappin'," Mercury Records 1979.
Q: Besides Christmas, are you following any specific genre ?
A:  Nope.  I'm pretty whimsical, although I've lately taken to collecting rap albums and singles with picture sleeves from the Nineties onward – more because of the cover art than the music.
Q: How do you organize your collection?
A:  Alphabetically, with no regard for genre, although I do maintain a few separate sub-collections, including my Christmas records.
A copy of my "Xmas Jollies 2010" CD (left) alongside a 45 of Mitch Miller & The Gang's "Must Be Santa," 1960, the cover of which was a direct inspiration.
A Capitol Records promo compilation of the Christmas singles issued by The Beatles to their fan club between 1963 and 1969.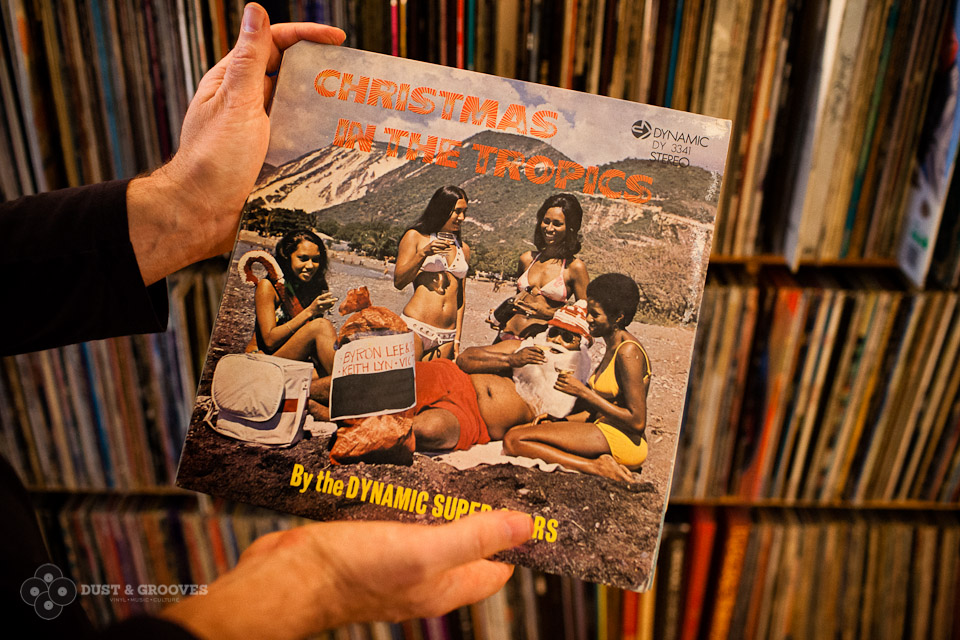 "Christmas in the Tropics" by Byron Lee & the Dragonaires and sundry friends.  Released by Jamaica's Dynamic Sounds label in 1973.
A dancehall Christmas compilation from 1988.  Cover illustration by Kunihisa Fujiwara.
Q: Name some golden grails from your collecting history.  Where did you get them?
A:  Just a couple of weeks ago I picked up a copy of "Ella and her Fellas."  It was issued by Decca in 1957, a compilation of a bunch of previously uncollected duets that Miz Fitzgerald had cut ten years earlier with the likes of Louis Armstrong, Louis Jordan, Sy Oliver, and the Ink Spots.  I found it for three bucks at the flea market on West 39th Street between Ninth and Tenth Avenues.
Q: Tell me about the most unlikely place/occasion where/when you found records?
A: Half-a-dozen years ago, when my daughter and I visited St. Paul to check out the local colleges, I found one of the greatest record stores I'd ever visited just across the Mississippi in Minneapolis.
Q: Do you remember the name of it?  Is it still open?
A: It's called Hymie's Vintage Records and, yes, it's still open.  I just happened to have stumbled onto it, but it's actually pretty famous.  In 2010 Rolling Stone named it one of the Ten Best Record Stores in the USA.
Q: Tell me about a closed down record store/flea market you will grieve all your life!
A:  In 1993, when I first moved to my current apartment on West 24th Street, there were weekend flea markets on three of the four corners comprising the intersection of West 24th Street and 6th Avenue.  They're all gone now.
Q: What about digging buddies? Do you share or you go solo?
A:  I'm a soloist.  I try not to impose my particular strain of mental illness on anyone else.
Q: Out of your collection, there must be a few records that you like going back to at any time. Name a few. What makes them so special for you? (That miles davis one. get poetic yo!)
A:  One of my very favorite albums is Miles Davis's "Kind of Blue," which may be the single most popular jazz album of the last 60 years.  The reason's it's so popular is because it's magnificent from first note to last and it never seems to age.  I can't pretend to be immune to its charms just because everyone else – and his dog — loves it, too.
Q: Tell me about a record that has healed heartbreaks! Name one that made them worse!
A: I've listened to music my whole life long as a medicine for melancholy.  No one record stands out for me.
Q: Ok, but I insist. Give me one record that was there for you…
A:  At one minute and fifty-eight seconds in length, Guitar Slim's "If I Had My Life to Live Over" may be the deepest and most inspirational expression of lasting love between two human beings that I've ever heard.
Q: OK, can you make me laugh now??
A: Easily…
"La Macedonia"/"Il Selvaggio," Italian Beastie Boys parody record by La Bestia Boya, c.1987. 
With cantor Moishe Oysher's "Chanukah Party" on the Rozanna label.  Talk about fun!  
As my man Kyle Broflovski has noted, "It's hard to be a Jew at Christmas."
Q: Tell me about a record you still regret not picking up.
A:  Like Piaf, je ne regrette rien.
Q: Is there a specific musical instrument that attracts you when listening to music? Or maybe it's the lyrics?
A:  I'll listen to any part of the music that jumps out of the mix on the strength of its own undeniable charms.
B.A. with Charles Wright's "Ninety Day Cycle People" (back cover showing), cut for ABC in 1974.  
Q: Who has the toughest record collection that you have ever seen? (Feel free to mention some known faces here)
A: Bob George, architect of the Archive of Contemporary Music in New York City.
Q: Where do you want your collection to live after you check out?
A:  Not sure yet, although, having just turned 60, I'm definitely giving it some serious thought.
Q: Beside records, what else do you collect??
A: Music-wise? Books, photos, posters, flyers, advertisements, newspaper and magazine articles, press releases, and record label biographies. Otherwise? Underground comix and postcards.
Q: Why do you think it's important to archive and save stuff?
A: Keats's tombstone reads: "Here lies one whose name was writ in water." Over the long term, that's true for all of us. And it's certainly true that the overwhelming majority of human cultural production is trashed and discarded without a second thought. I'm somebody with taste. I do what I can, against the tide, to preserve the things I love.
Q: Who do you wanna see featured next on Dust & Grooves?
A: Bob George of New York's Archive of Contemporary Music, Terry Stewart of the Rock & Roll Hall of Fame in Cleveland, Chairman Jefferson Mao of New York's Ego Trip crew, the Bay Area's Bob Bell (a world-class collector of reggae), and San Francisco's Harry Duncan, a veteran radio deejay and fiendish collector of soul and R&B. (His motto? "Only the best and later for the rest.")
Q:  Last words of wisdom…
  I'm always inspired by William Faulkner, who wrote:  "The past is never dead.  It's not even past."
Bill and other vinyl collectors will be the subject of the upcoming book of Dust & Grooves. Take part of this book project by backing us up on Kickstarter!
Wanna keep having fun??