Eothen "Egon" Alapatt – Los Angeles, CA
Interview and Photos by Eilon Paz
E
othen Aram Alapatt, known to some as Egon. I'm from Connecticut – born in Bridgeport, but raised in a small town called Oxford and then Seymour. I've lived in Los Angeles, California for the past thirteen or so years.
What was your first album? How did you get it? At what age? Can you describe that feeling?
My first album – i.e. album that I went out and purchased on my own – was either George Harrison Cloud Nine, Beastie Boys Licensed To Ill, The Police Synchronicity, or DJ Jazzy Jeff and The Fresh Prince's He's The DJ, I'm The RapperI. But I remember singles – "Wipeout" by the Fat Boys; "Mony Mony" by Billy Idol; "Pump Up The Volume" by MARRS.  I remember, back then, as I do now, I felt overwhelmed by one aspect of each of those records – as corny as most of them are – and I remember listening to specific songs over, and over, and over again. The first 12" single that I remember searching out was "Mr. Scarface." That was on MLK Day, 1991. I remember the day as Metro North ran this "free train fare from New Haven to Manhattan" special, and I convinced my Dad to take me from Manhattan to Brooklyn to seek out that 12" at a store I'd found that stocked it. I also got him to take me to Spike Lee's store where I dutifully bought a Malcom X hat and did my bit to market his forthcoming movie.
The first hip hop 12" I bought – also the first record I bought with my own money. Mr. Scarface's "Mr Scarface."
Where did your initial interest in music originate? Family? Friends?
My family, of course. I come from a family of musicians and music lovers: my mother is a trained pianist; her father was a violinist; my father played guitar and dabbled in song writing with my mother; my late uncle was in a garage rock band in Connecticut and cut a cool acetate which I'm still trying to buy from the drummer of the band. My dad was – and still is – a record collector, and he, being from India, but having settled in America in the late 60s, was into all kinds of music and my mother was too. Early musical loves, which came directly from my parents: Sly and the Family Stone, Miles Davis, Tom Paxton, The Clancy Brothers, Tom Waits, Walter/Wendy Carlos, Galt MacDermot, Mikis Theodorakis, Ali Akbar Khan and Ravi Shankar and those types of progressive Indian folks.
My favorite Galt MacDermot album. "Coffee Cold" is about as timeless as it gets.
You have a bit of a personal history with Galt MacDermot. Can you tell me more about it?
I reached out to Galt while I was in college – mainly to find out if I could buy some copies of his Kilmarnock Records releases and to interview him for my college radio show. I must have done something right in those first few conversations – he and his son Vince offered me a job at Kilmarnock the summer of 1999. I happily accepted and put together a small distribution network for their reissues, sorted through all of his unreleased music, assembled some anthologies and got his music out to whomever I could. That started a relationship which has lasted years – in fact, I just helped the family clear the sample on J.Dilla's Donuts – I hand delivered Dilla the record he sampled in Manhattan that summer of 1999. And that was a pivotal year for me – I saw how a maverick like Galt could struggle and work hard and then hit it big – huge in fact – with something that followed his coda perfectly. And I saw how he could keep that spirit to create beautiful, timeless music even in the face of great success: rather than try to replicate HAIR after it blew up, Galt just did whatever he felt best doing in the coming years and, while he couldn't have known it then, those records he created – like "Woman Is Sweeter" – would go on to pay him back handsomely when they were sampled in the 90s.
Why vinyl?
I was just intrigued by the appearance of records – and the process of listening to them –  that early on. I remember the turntable in my folks' first house, I remember the putting on the record and moving the needle onto the record, and I remember the record shelves that the turntable and speakers sat atop of. I remember holding the records, and looking at the covers. I just loved the entire package. The fact that it also held music was like this amazing bonus.
Can you tell us about your college days?  You hosted a radio show in Nashville at WRVU with Count Bass D.  How did that experience shape your love and quest for vinyl?
Well, I chose my university because of three factors: 1) they offered me a great financial aid package 2) they had a well funded, progressive – and large – college radio station and 3) there were record stores in walking distance and I knew after my first visit there that I was going to have very little competition for the stuff I was looking for. I met Count Bass D in one of those record stores, the Great Escape, and he saw I was buying an Iron Butterfly album with "Get Out Of My Life Woman" on it and we struck up a conversation. Turned out he knew one of my mentors from New Haven, and we just became friends from there. Count was, and is, a special cat – and he loved just how deep I threw myself into finding the most obscure records I could. But he was more pragmatic – the kind of guy who was just as excited to flip the drums from a Floyd Cramer record as some track from "Song of Innocence," the latter of which was like "the" record to collect (in our circle) at the time. He never thought once as to what some other record collector might think of his collection, say – he just thought about what he could make with the records in it. I always dug that about him and we had a good yin/yang thing going on there – he certainly always drilled into my head that some of the best records weren't the rarest.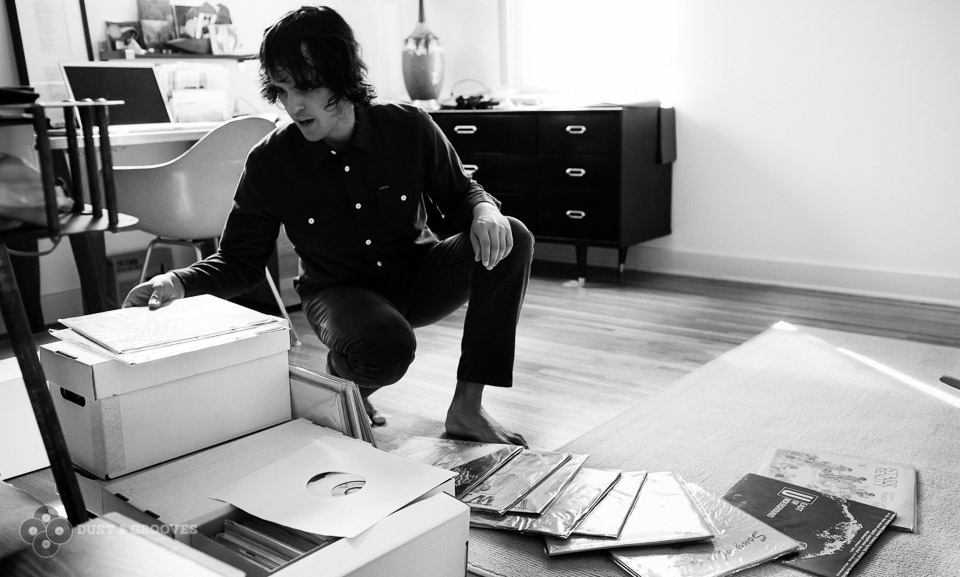 Tell me how your passion for vinyl has affected your professional life.
I got my job at Stones Throw due to my record collecting – it's how I met up with Peanut Butter Wolf, how I impressed him (well, partially how I impressed him) into giving me a job, it's how I befriended Madlib, DOOM and Dilla (initially) and how I was able to start Now-Again. It made everything possible for me, and I never forget that – which is why I never, ever, stop looking for new (old) records. I'm very conscious of this passion of mine which has given me everything that I've ever wanted.
So it seems like you're some kind of a musicologist trying to trace the roots of music and connect the dots between different genres.
Yes, but it's a natural and not an academic thing. I'm more about human stories, the inter-relatedness of us all, and how race, creed, and age are no barriers to like minded people coming together, fostering creative movements, supporting themselves, their peers, their families. So I search out the roots of the music I love, I see where those roots spread, and I try to find stories that back up my belief in those things.
Two Zamrock masterpieces, my copies of Amanaz and Paul Ngozi and the Ngozi Family's first album.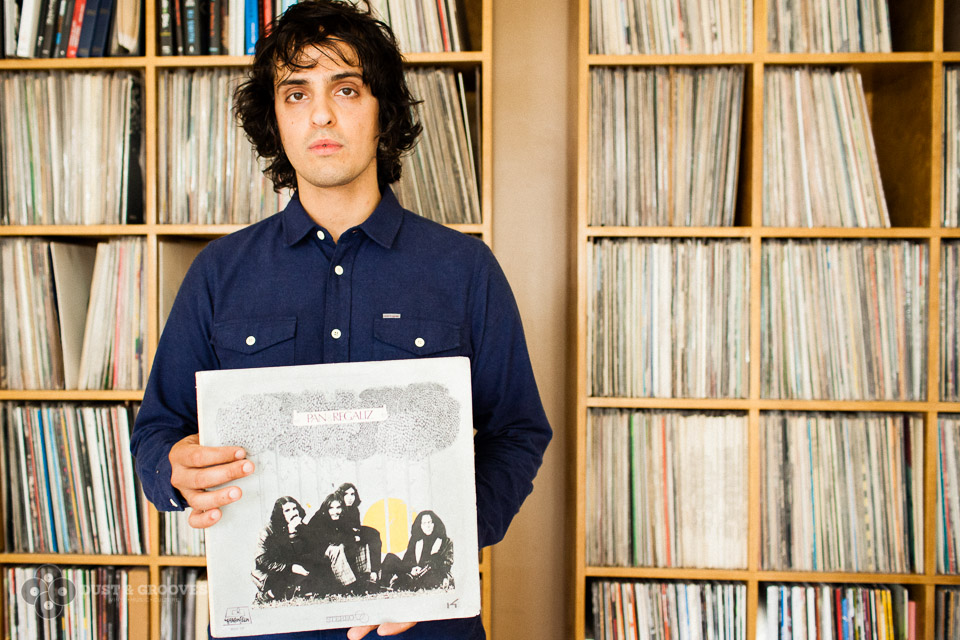 Thanks to Madlib for hipping me to this amazing Spanish psych funk masterwork.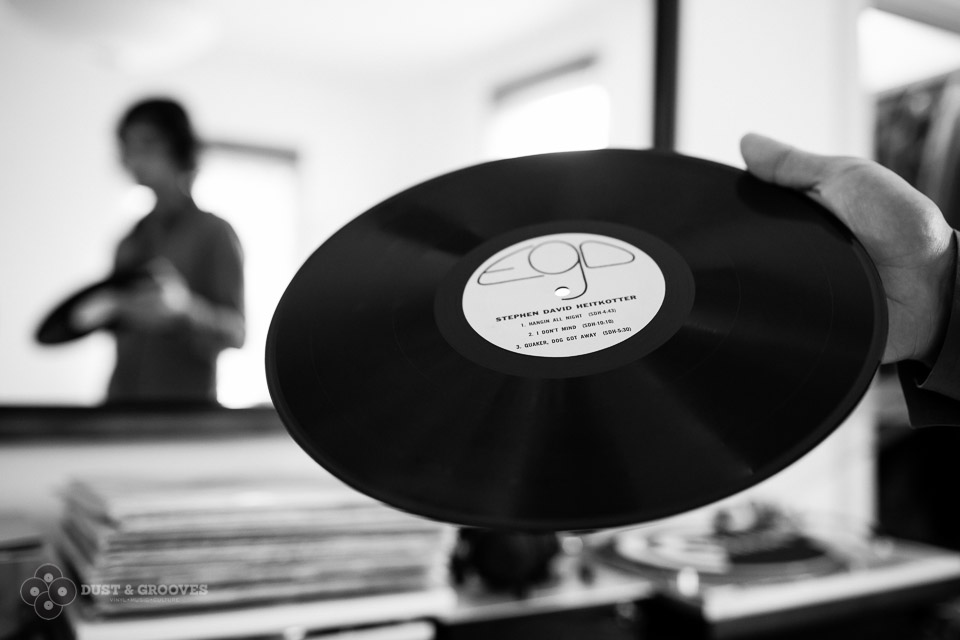 One of about six or seven known copies of the Stephen David Heitkotter demo (thanks Madeline Glenn….) 
I challenge you to connect all your dots for these records…
That's a rather personal tree that charts my record collecting habits from the time I left my parents' home and starts at the top with the deepest record I ever thought I would find – when I was 18 that is –  The Stark Reality's sole album. Amazing psychedelic, funky jazz all based on music written by Hoagy Carmichael for children. On the left of that record is another record which fit that unobtainable mold a bit later – this time in the soul/funk mode –  the East of Underground's only release, a beautiful album recorded by US Army musicians stationed in Germany in 1970. Under that record, again to the left, is Damon's  Song of a Gypsy, which I discovered after East of Underground, after I moved to LA. One of the top psychedelic albums of all time; certainly the best to spring from Los Angeles' indie scene. And then, further down that psychedelic rabbit hole is Stephen David Heitkotter's demo, another Californian rarity – this time, with less than thirty copies manufactured – that I found out about after Damon's album. That little tree just focuses some key records which spoke to me, which I said to myself I would search out, and I did.
On the right of the Stark Reality is a divergent stream, and one that started around the same time that I heard the Stark Reality's music and then heard the Ethiopiques anthologies. I never, for a moment, thought I would ever source some of my favorite instrumental albums from that country, but I did find two of the four main ones that I'm after. And the latter two are all by Mulatu, and I'm familiar enough with those that missing the actual artifacts isn't a big deal.
Spreading out from the right of East of Underground are a series of Brasilian records that I threw myself into after marooning myself in Sao Paulo for a month in 2002 after The Red Bull Music Academy. The Os Mutantes lead me to Rogerio Duprat (thanks to a tip from Madlib) who lead me to Marconi Notaro's indie release and then finally to Paebiru, the epitome of Brazilian psychedelia, to me.
Outwards, and then back up again, towards the Ethiopian albums, are two Angolan albums that I bought in Portugal. I'm married to a Portuguese/Angolan woman and, as you probably know, there is quite the triangle running between Portugal, Angola and Brazil due to the imperial aims of the old-school Portuguese monarchy.
Delving out from Rogerio Duprat, to the left, are the psychedelic African records that have taken me to my latest obsession – Zambia's 70s "Zamrock." We start in Nigeria with the standard, if great, Question Mark album, hit Edzayawa's progressive album, and then head first into Zambia with Amanaz, the first band I heard from the country, WITCH's third album, which convinced me I must start looking into music to reissue in Zambia, their first album (in both the commercial and private press) and, lastly, Paul Ngozi and the Ngozi Family's first album, Day of Judgement, which is the most punk rock record I've ever heard – and it was recorded by a landlocked Zambian band in 1975.
How do you lay your hands on such obscure records from remote places? like Iran for example.
I meet people who introduce me to people who introduce me to other people: eventually I find people "on the ground" who trust me and either start selling me records they have or find records for me. Sometimes that person is a collector – in which case perhaps I can swap – or a dealer (likewise) –  but sometimes that person is a musician from the era who wants to help me on my quest, and make some spare money. Well, more than spare. I've sent bucket full of cash, literally, to Zambia, via Western Union.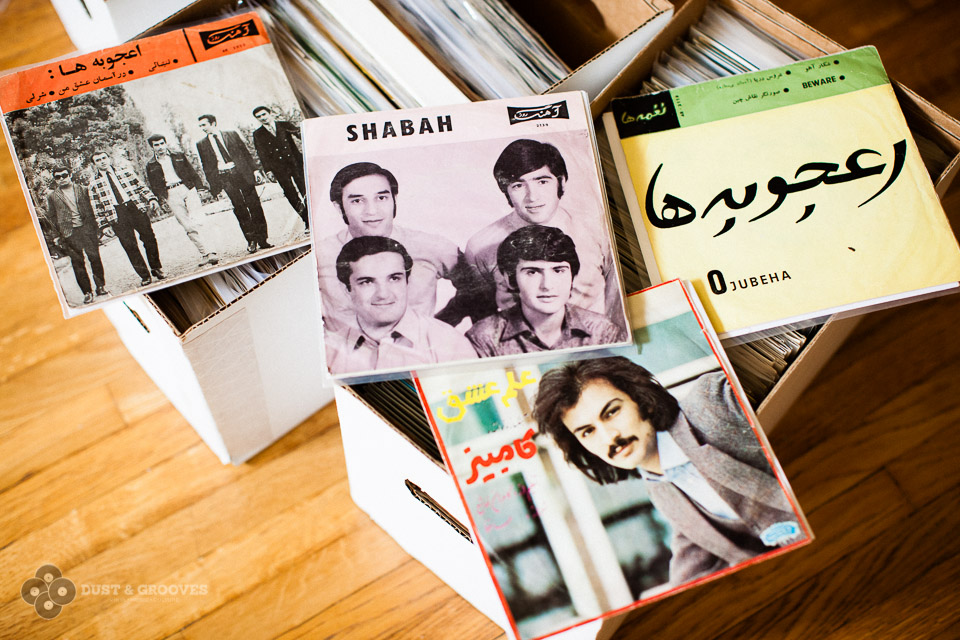 A smattering of interesting 60s and 70s Iranian rock 7-inches ranging from garage to progressive.
Have you ever been to Iran? Are you a world traveler?
No, never Iran, never any country in Africa, never Indonesia. I'm a world traveler, but mainly in America, Europe and Northern Asia. I find myself in other interesting places, Russia, Australia, Brazil, but I mainly travel for the business that I do with Madlib, the producer I'm partners with, so we go to where he's demanded. Or where my wife's family is. My closest family is in the States. Though I have lots of relatives in India, I don't know them well – and there haven't been any offers to come over there (yet!).
My play copy of Marconi Notaro's album. Hate to say it, but this is one of those records I bought twice, so I would have a mint one to play thirty years down the line. I've about worn this copy out.
Lula Cortes and Ze Ramalho's "Paebiru" album, a logical progression from the Marconi Notaro album, as they're both from the same scene in Recife, Brasil.
Can you tell me about your partnership with Madlib?
Well, it started at Stones Throw, where, over time, I became the one who handled most of his business affairs. We formalized the partnership in 2008 and kickstarted Madlib Invazion as a label, touring entity and production company with the Madlib Medicine Show, which issued thirteen albums, a series of tee shirts, and produced a series of international tours over the past four years. It's the entity through which we run all of our business together at this point: we're currently finishing up an album with the rapper Freddie Gibbs, are building out a retail webstore at rappcats.com and are doing too many other things to list in a short space. Most importantly, though, my partnership with Madlib outlasted by tenure at Stones Throw – and I always thought that both would always go hand in hand. Honestly, I'm happier where I am now and wouldn't for an instant consider what things might have been like the other way around. It's too miserable of a thought: as difficult as it can be to keep things going in the music industry, it's always a joy to work with Madlib. Any small frustrations we might have in working together disappear the moment I hear new music he's created, and that's been the case for over thirteen years now.
Tell me about the most unlikely place where you found records?
One time, a friend and I found an incredible assortment of records in the balcony of an old opera house in a small town in between Nashville and Chattanooga. That was about as bizarre as the records in Mr. T's Barber Shop in Chattanooga, a spot we hit right afterwards.
Love the hat, Rob! And you'll never guess it, but this guy Madlib will wear one just like twenty-five years, and about six thousand miles, apart from you. Unfortunately, he won't wear the bell bottom corduroys.
What do you look for in a record?
At the moment, I look for records that just strike a chord in me, for whatever reason. I think that, after a certain point, an enthusiast starts looking less and less for words to describe what he's feeling and more starts reflecting on that the feeling. The connoisseur does the opposite. I firmly consider myself an enthusiast.
Seems like mainstream music has no place at your record shelves. It struck me when you referred to Mulatu's albums as mainstream ones. how rare could it get?
Well, by "mainstream" I don't necessarily mean "bad." I just mean: at a certain point, I can listen to all of the Curtis Mayfield and Jimi Hendrix that I want without having to have all of those records around my house. Rather, I'd like to surround myself with the alternatives to those albums – albums that I can only listen to by seeking them out myself. Mind you, I really have to want to listen to these albums, so they can't be super avante garde weirdo stuff – but, at a certain point, if you put me in front of a Mulatu album and a Getatchew Mekuria album, I'll take the Getatchew. It's just a different experience.
"Muziqawi Silt," a killer Ethiopian funk instrumental, is on this album.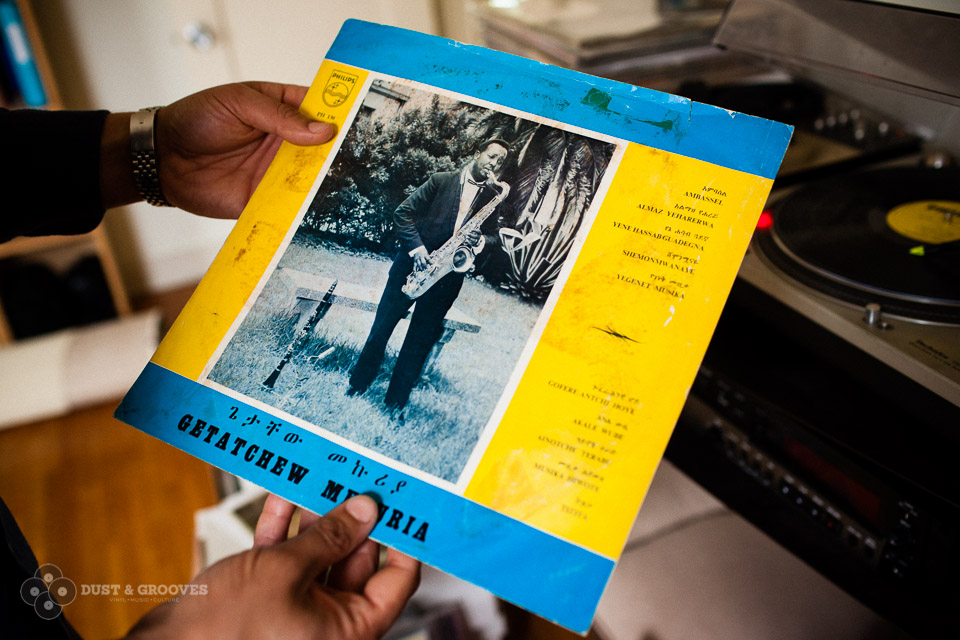 A friend of mine once said "compared to Getachew Mekuria, Mulatu might as well be Madonna."
Mulatu might be like Madonna compared to Getachew Mekuria, but "Yegella Tezeta" is essential.
How do you organize your collection? Can you give me a useful shelving tip?
I organize by genre or, when it's appropriate, country. Useful shelving tip? Build yourself some custom shelves – the best you can afford – and say "I'll only keep this many records in my house as this is the most I can actually listen to" and then stick to that rule. Nothing worse, in my opinion, than a record collector who doesn't actively listen to his records.
Do you think collecting vinyl helps preserve our musical heritage and culture?
Yes, in a lot of ways – but it's a cyclical thing: music hasn't moved on from the innovations of the late 60s and early 70s, so what we're really doing is keeping the flame that was first lit then burning, even as it looks as it it might go out. Why? Well, that's a good question. Maybe because nothing has come around in the past forty years to supplant the innovations from that revolutionary time.
Does it really? or maybe we are just flooded with so much music that we just can't really keep up. The paradox of choice you know…
Yes, that's possible. But to myself, I hear what most people hear as innovation nowadays as derivative novelty. I really don't think that the revolutions of the late 60s through early 70s have been bettered – I just think they've been divided, simplified, combined and recombined to the point that most have forgotten about their singular starting point.
Do you think music can still change the world?
No, not in the way my parents' generation did –  but I think good music makes life better, in the same way good wine and food does.
Vinyl sales are steadily increasing in the past few years. Why in your opinion people are going back to vinyl?
Well, my vinyl sales aren't increasing, they're decreasing – and markedly. People who buy vinyl because they just bought some crappy portable turntable in Urban Outfitters and want to have some 180 gram deluxe reissue of the Velvet Underground and Nico's album sitting on their coffee table because it looks cool might be temporarily driving some portion of the market up, but I can safely say, from vantage point, that it's harder and harder to sell the same amount of records, year after year. And most of my peers are in the same boat.
Your label Now-Again specializes in re-issues and compilations on beautiful vinyl and some special packaging. Do you think you would have the same passion to pursue this solely on CDs?
No. If not for the vinyl portion of it, I'd just do books full time and offer the music as a free download or something.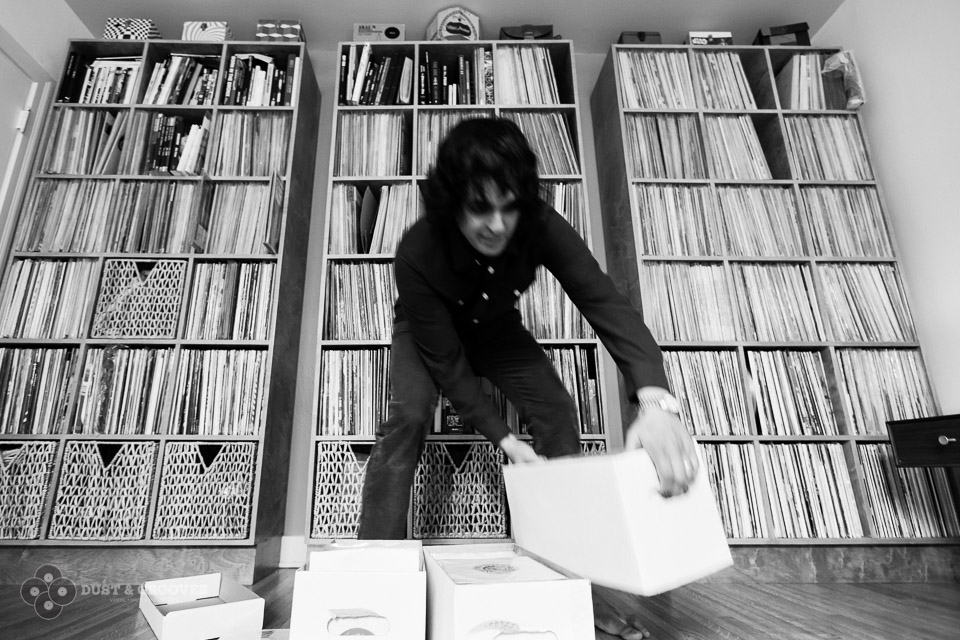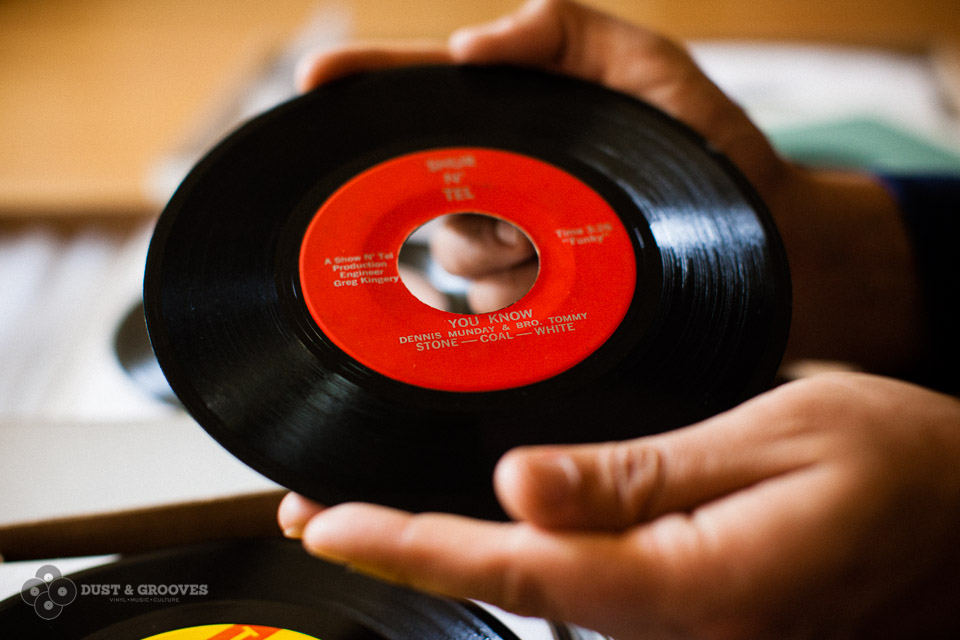 Like I said, I'd rather have records like Stone Coal White's "You Know" 7" in my collection than some first state, UK press Jimi Hendrix album. I know one begot the other, and I love Hendrix, but while he's perfect, Stone Coal White is just too damn irresistable. It's kind of similar to the way that any top Burgundy lover will tell you that his secret wine passion is Vin Jaune.
What's your partner's reaction to this obsession? Have you ever kept a particular purchase secret from your her?
Well, she loves music, and loves all kinds of music, and she knows that I have to do this not only stay connected to the things that I love, but for the things that keep a roof over our heads. And no, I've never hidden a purchase from her – in fact, I've told her exactly what my collection is appraised for, and where the rarer records are located, so if I die unexpectedly she knows what to sell first and through whom. I hate the stories of a collector dying and his spouse selling his rare records at a pittance to so called friends. This is an opportunistic sport for most, after all – and the idea of getting over on someone figures high in most collectors' agendas – at least, many of those that I've encountered.
Do you still go digging in flea markets, record stores?
When I have the time. Largely, at this point, I like buying or trading through specific people who understand what I'm looking for. But if I'm around records, I search.
What's your comfort record, the one you could always go back to? What makes it so special for you?
Baden Powell and Vinicius De Moraes' Afro Sambas, Arthur Verocai's album, Amanaz's Africa, Damon's Song of a Gypsy – those records are all different but are marvelous, varied listens all the way through.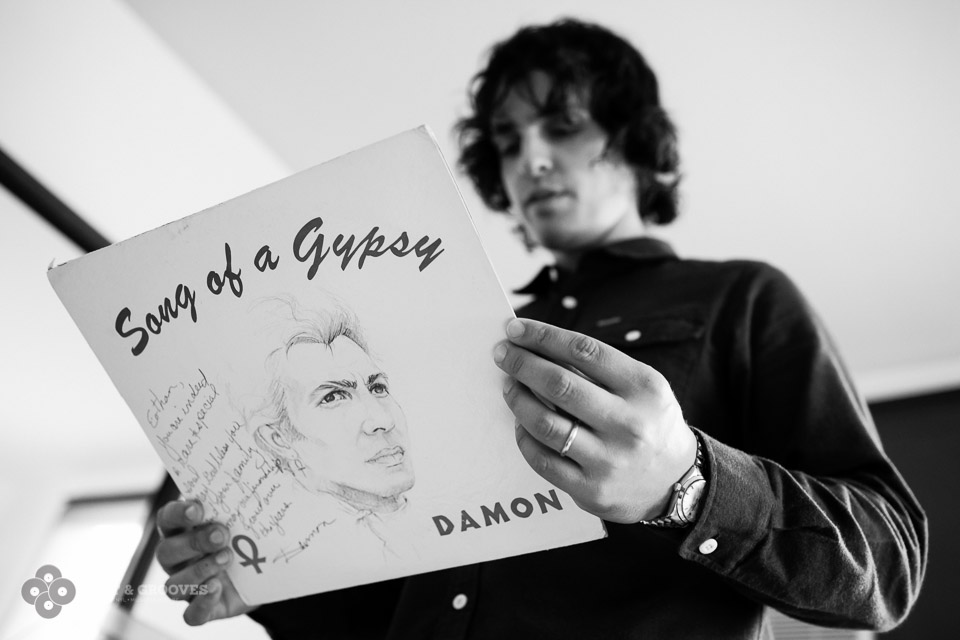 Damon gave me this album as a gift when my son was born. My only condition to accept it was that he personalize the album to me, thus taking its resale value down, significantly. No matter how bad things get, I never, ever, want to sell this album.
Show me a hilarious album cover
The He 5's Merry Christmas Psychedelic Sound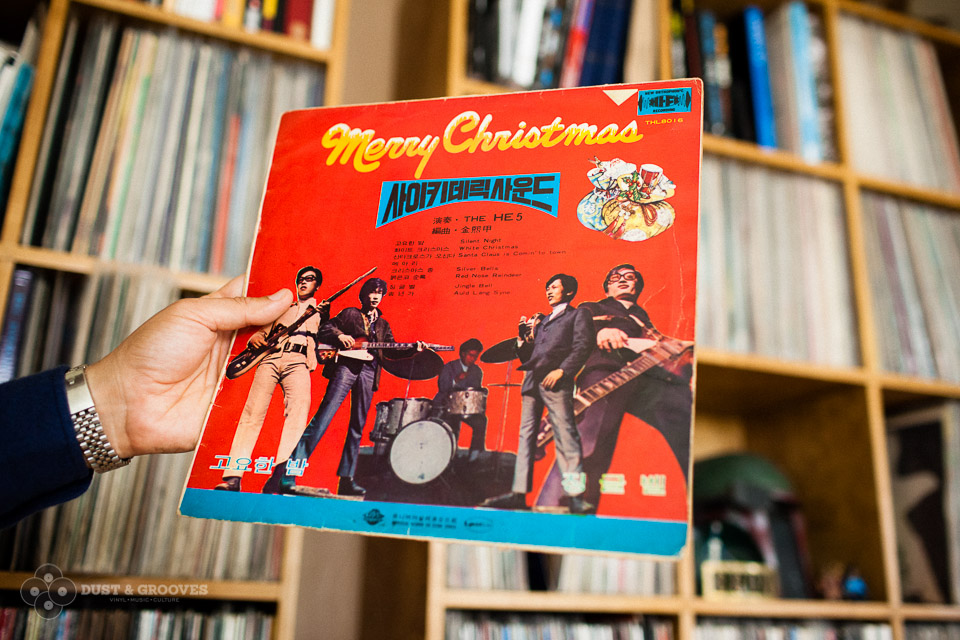 The He 5's Merry Christmas Psychedelic Sound. It contains an amazing 12 minute version of "Jingle Bells" that morphs into "Inna Gadda Da Vida" and "Paint It Black."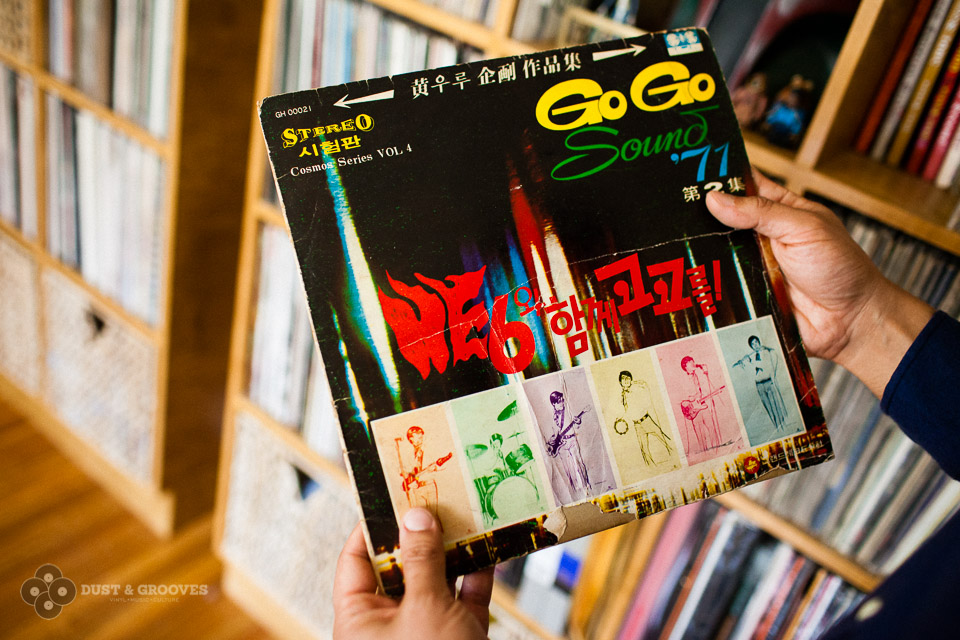 This is a damn good South Korean psych record, but Vol. 1 is even better. The fact that they called something so heavy "Go Go Sound" is hilarious to me.
To my ears, the two best Indian psychedelic rock records. Simla Beat 70/71, released by the Simla Cigarettes Company. Note the rodent damage to the cover of '71.
The year – 1970. The pitch – "Hey kids, smoke our Simla cigarettes. They're good for your health, they probably cure cancer, and we put out the best psychedelic rock records in India. We promise to put out an album every year… Or at least for two years. But the habit you develop will be a bear to kick."
Can you pick an album that has incredible music inside a terrible cover?
Dennis The Fox's Mother Trucker. This guy really had it all and is one of the nicest, most normal guys you'll ever meet. He just happened to make an album that sounds as if some seedy weirdo Northwestern biker dreg made it on his way to the pen.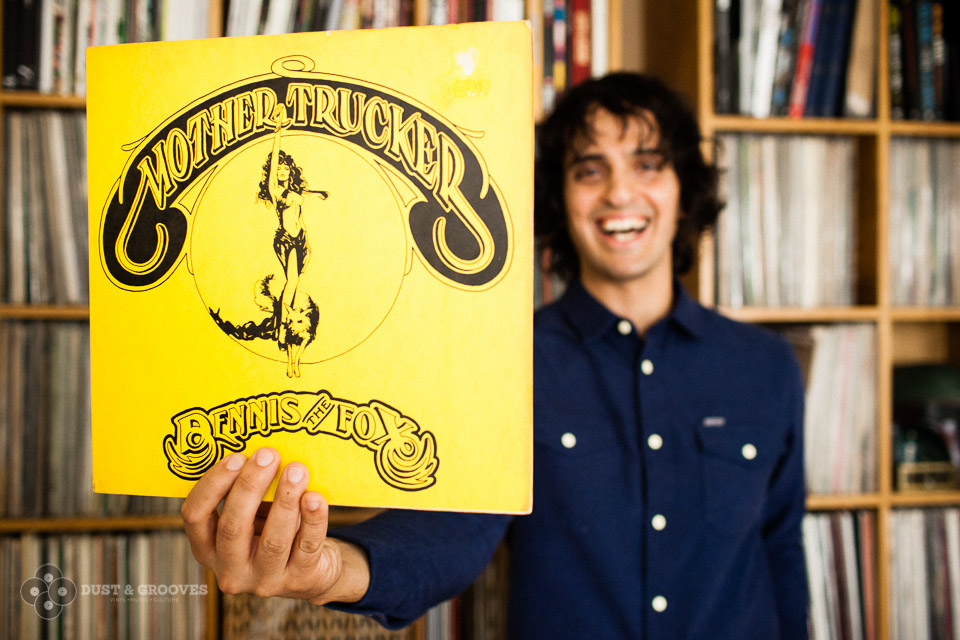 Dennis The Fox's Mother Trucker
Tell me about a dollar bin record you would never part with!
The HAIR soundtrack. One of the most important records in my life.
Is there an artist or a label you're trying to complete?
To be honest, I would like to have every test press made from Stones Throw's inception to the point I left. I have like 95% but there are some I'm missing. It's not like I'd do anything with them. It's just that it was part of my job – well, I made it part of my job – to archive them over the 11 years I was there, and I had many from before I started working there.
What about digging buddies? Do you share or you go solo?
I used to dig with Cut Chemist a lot. Prior to my missions with him I used to dig with my pals Ben Nichols and Jon Doe, while I was in Nashville. They were up for WHATEVER, and we found ourselves in all types of places, but then again so was I – I was young and broke, but without real responsibilities or bills.  But, over the past ten years the only person I really dig with is Madlib – and J.Rocc, if he's around when we are. But even Madlib has gone out less and less when we're on the road – probably because he has so many records (he probably has a thousand times what I do). So I find myself meeting new people in every city I'm in. It doesn't matter how tired I am or how little sleep I have or how difficult it is – if I'm in a new city, I simply must search out the folks that have the knowledge, if only to glean a bit of that knowledge.
Tell me a particularly sad record story!
Well, I've certainly lost friends over records – found out how greedy or self-centered they were through their dealings with these small, plastic things. Beautiful, intriguing things – but things none the less. I guess it doesn't get sadder than that.
Tell me about a record that has healed heartbreaks! Name one that made them worse!
Universouls "New Generation" is one that has the power to heal. I would say The Group's The Feed-Back would probably make any problem worse. It's a hectic album – awesome, but hectic.
Universouls "New Generation"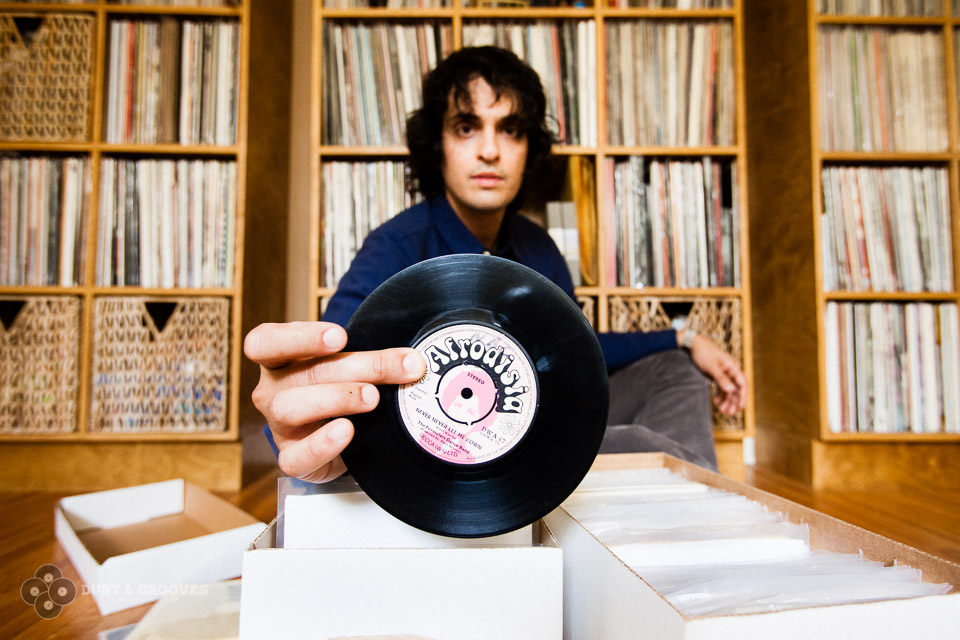 One song to heal heartbreak, this one from Nigeria.
Regrets! Tell me about a record you still regret not picking up?
Too many to name – mainly collections, or warehouses, I wish I'd bought lock, stock and barrel early on, so I could have taken my time going through them rather than rushing and cherry picking. I'm sure I missed some marvelous things at Eddie 3 Way, for example – and I probably could have bought the whole place for 20 grand, if I'd had access to that kind of cash back in 1998 or whatever it was. It pains me to think of, for instance, the hundreds of copies of Eddie Bo's "Lover and a Friend" I just left sitting there. They would have made for great gifts now!
Mentor. Has there been a person in your life that inspired you to collect records and has been a role model, a guide in the art of record collecting?
Yup. First, my father. For reasons already stated, and also because he showed me how patience and persistence in collecting – returning to the same haunts, looking anew through what looks like the same pile of stuff – might lead to something unexpected.  Secondly, the New Haven rapper and producer Dooley O. He was the first person to bring me into the hip hop fold, when I was about 16 or so, and show me how all of the music that was around me as I was growing up could be part of this amazing music I was so in love with.
Kieran, my son, was really, really into "Mother Sky" last Christmas. He grooved to the bass line so readily. Now, not so much. He's into "Penguin Music" as I mentioned above. 
What do you wish will happen to your collection when you check out?
I hope my kids get a record or two out of it that they use to remind me of them, and I hope the rest of it puts some good money in their pockets. And I hope that the next person who gets the one of kind records currently sitting in my shelves does so because he or she appreciates them and not because they're valuable or an investment or whatever.
Who would you like to see next on Dust & Grooves?
Madlib.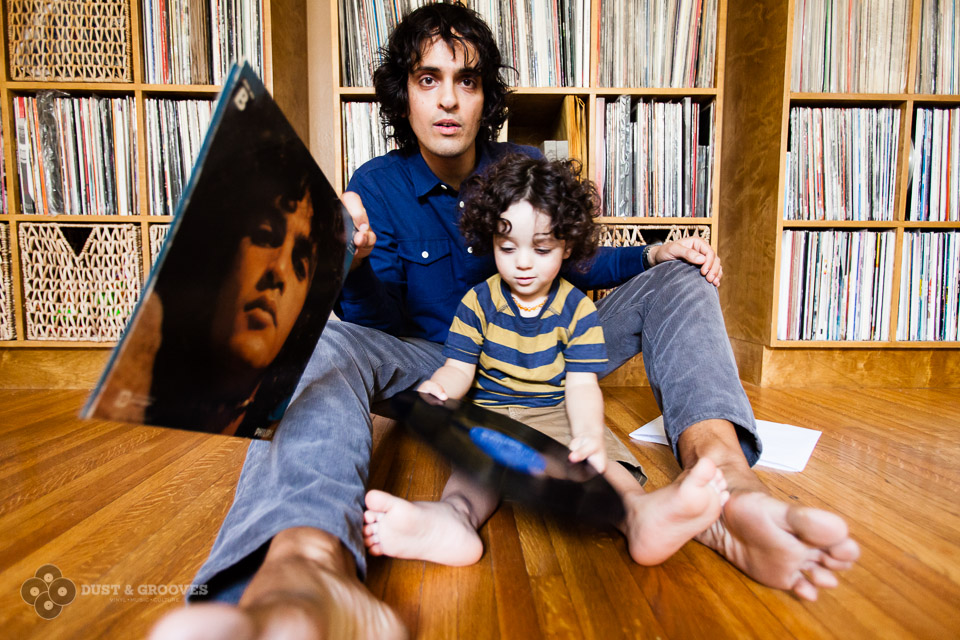 Kieran's favorite thing – "Bichos" ("bugs") – and a Caetano Veloso album of the same name (with the song "O Leaozinho" on it, a lullaby my wife's father used to play to her, which we now play to Kieran.)
"Don't let records take over your life, but make them an enjoyable part of your life. I always say that I try to keep my drinking of wine in check because I don't want to become an alcoholic and have to give it up – I dig wine too much to do that. Same thing with records."
Now-Again Records – www.nowagainrecords.com
Egon and many other vinyl collectors are featured on the Dust & Grooves: Adventures in Record Collecting book.
Please consider purchasing the book and continue your support of the Dust & Grooves project.
---
Is Dust & Grooves a frequent destination for you?
Dig what we're doing here? Want more interviews and mixes? 
A $2 subscription will make Dust & Grooves keep going!