Jeff Gold – Venice, CA
Interview and Photos by Eilon Paz
Tell me about yourself.
My name is Jeff Gold, I'm 57 years old, and I live in Venice, California.
In one sentence, can you define your record collection?
Years ago I read an opinion piece in the New York Times–the writer talked about how collecting doesn't have to be just about accumulating, it can be about editing, about collecting only the most essential examples of something. That's how I look at my record collection. If I'm not going to play a record, don't need to own it. So I only have records I truly love and play.
Do you remember your first record?
The first album I remember owning was Mister Ed, The Talking Horse, which I got as a gift. But the first one I chose myself was Beach Boys Concert. I was given a children's album as a gift and made my mom take me back to the record store to exchange it. I have a copy, but unfortunately not my original one. The first 45 I got was The Beatles' "I Want To Hold Your Hand," which my parents gave me as a gift. I think I'm pretty lucky that these were my first records. I loved records as soon as I knew what they were. My parents had a few Herb Alpert and the Tijuana Brass albums that I loved and played constantly. Many years later I had the good fortune to work for Herb at A&M, and we're still friendly. It blows my mind. Still.
The first single I ever owned. Unfortunately, not my original copy, but glad to have it anyway.
Where did your interest in music begin?
I remember being entranced by my parents' records and their suitcase stereo at a very young age—maybe seven or eight years old. I became obsessed with songs like Herb Alpert's "The Lonely Bull." With other songs sometimes I'd put my hand on the record to slow it down so I could copy down the lyrics and sing along. My grandfather gave me a transistor radio, and growing up in LA in the '60s, there was great radio. I listened to my radio constantly and put it under my pillow at bedtime so I could fall asleep while listening. I'd get the Top 40 radio surveys at the local record store each week and as soon as I had an allowance, I began buying 45s, and later, albums.
Why vinyl?
All my original records were vinyl, and I was fortunate to grow up in the late '60s and '70s in Los Angeles. There were record stores everywhere, and most of them had lots of cheap used records. I quickly became obsessed and began collecting, especially Jimi Hendrix records—every variation I could find from around the world. I loved playing records, owning records, hunting for records. Very early on I met some serious collectors and began to haunt the LA Record Swap Meet, which was at the RCA Records building in the early '70s and then moved to the Capitol Records parking lot. I began to take road trips with friends to look for records, and in 1975 began to travel to Europe to hunt. I was very fortunate to have begun when records were easy to find and pretty inexpensive.
Do you collect other formats?
My main focus is on LPs, but I have a small but good collection of 45s, lots of CDs (though I'd always rather have an LP), and a very extensive collection of music memorabilia—everything from concert posters and signed albums to lyric manuscripts and original artwork.
How has record collecting affected other areas of your life?
I'm sometimes embarrassed by how primary a role music plays in my life. The only real jobs I've ever had are working at the Rhino Records store in LA (I was their first employee), dealing records, and working for A&M Records and Warner Bros. Since leaving Warner Bros. in 1998, I've returned to being a dealer, music historian and consultant, and I just wrote my first book on records: 101 Essential Rock Records: The Golden Age of Vinyl, from The Beatles to the Sex Pistols. I married the daughter of a record label owner (Larry Uttal, who had Madison, Bell and Private Stock Records), most of my friends are in some way connected to music, and most of the books and magazines I read are somehow music-related.
"Go To Rhino Records" by Wildman Fischer, produced by me, in the back room of the original Rhino Store on my $49 Panasonic cassette deck.  This was the first record released by Rhino, and was #48 on the legendary UK DJ John Peel's all time Top 50.
You run the site recordmecca.com where you sell high-end music memorabilia and records. How did you get started with collectibles? Do you remember the first piece you picked up? Did you know it was valuable at the time?
In my hunt for Hendrix records, I would find other records I knew were rare, but that didn't interest me personally. Soon I began picking these up and using them for what we used to call "trade bait," or selling them at the Capitol Swap Meet to pay for things I did want. I have a pretty good memory, and a good intuition for what might be interesting to others, and when I began going to the UK regularly in 1975, I'd take a suitcase full of rare US stuff with me—The Chocolate Watchband, The Standells, The Stooges, etc.—and sell them or trade them and come home with a suitcase of rare UK pressings—The Yardbirds, The Pretty Things, etc. I'd pay for my trip and have inventory to sell at the swap meet for months when I got back. Over time it turned into a business, and I opened an office and hired an assistant while going to college and working at the Rhino store.
Has your involvement in the music industry brought you closer to the "source"?
Yes, I've met many people who made the records I love so much—artists, producers, engineers, art directors, etc. I love hearing their stories, showing them the things I come up with from their careers, and sometimes buying their collections. I had the good fortune to work for Mo Ostin, the legendary head of Warner Bros. Records who signed Jimi Hendrix and so many more. I blew his mind when I found a royalty check he'd written and signed in the 1950s to the legendary stride piano player Meade Lux Lewis.
You own records that once belonged to Jimi Hendrix. How did you acquire them?
Twelve or so years ago, a UK auction house had an all Jimi Hendrix auction. There was amazing Hendrix memorabilia, much of which came from Kathy Etchingham, his London girlfriend about whom he wrote "The Wind Cries Mary" (Mary is her middle name), but the thing that excited me the most was a collection of albums that Hendrix had owned. There were jazz and blues, and his Dylan albums—pretty much what you'd expect. I felt I HAD to own these. As a record collector and Hendrix fanatic, this was as close as I could ever come to Hendrix's mojo—the actual records that had inspired him. The auction was in London and I stayed up long into the night to phone bid. I was prepared to pay a lot more than I did. It seemed nobody was much interested in these records; they wanted more flashy things he'd owned—a guitar, equipment cases, jewelry—but I wanted those records, and got them for what I considered a very reasonable price.
Hendrix's Robert Johnson and Howlin' Wolf albums
This is Jimi Hendrix's copy of Bob Dylan's Greatest Hits. Hendrix was well known for his covers of Dylan songs.
Jimi's psychedelic doodling on the back of his Dylan album.
Are there any records you'll never sell?
There are plenty of records I won't sell—at least not until I'm on my last legs. Those Hendrix albums are at the top of the list, but I also have two different acetates of the unreleased 1964 Dylan live album, along with Brian Epstein's own acetate of the unreleased Beatles 1964 live at the Hollywood Bowl proposed album. I have a very distinct line between the things I will sell and what's in my personal collection.
All different versions of Electric Ladyland
Electric Ladyland by The Jimi Hendrix Experience is my all time favorite album. In the UK it was issued as a double album (with the nude girls cover) and as single discs—this is the cover for Vol. 1. I always called this the "end of the world cover" and it's probably my favorite album cover ever.
Because you are both a collector and dealer, do you ever feel conflicted about whether or not to let something go? Have you ever regretted selling something?
I'm fortunate to have very few regrets about things that passed through my hands. I sold a handwritten letter from Hendrix to the Warner Bros. Art Department just before I went to work there—I didn't want anybody questioning where I'd gotten it. That, I regret, but overall I've hung onto most of the things that I really loved.
What other gems have you found while looking for records?
Well, I'm always looking for music memorabilia, which is something else I collect and sell. That includes concert posters and handbills, artist-owned things, documents, letters, signed items—anything that I either want myself or think I can sell—or in some cases, something that might not have financial value, but is historically important, which I donate to the Rock & Roll Hall of Fame.
A set of two acetates of Bob Dylan's The Times They Are a-Changin' with an alternate track, "Hero Blues," not released on the actual album.
The cover letter for the acetate from Dylan's producer Tom Wilson, asking the reviewer not to mention "Hero Blues" in her write up. Wilson later discovered and produced The Mothers of Invention and Velvet Underground.
Can you show me some of your most prized possessions?
The Stones album in front is one of the very first UK pressings of their debut album, which mistakenly included a demo (with off key singing) version of "Tell Me." It was replaced by the "right" version almost instantly, making this one very very rare. It took me many years to find one on eBay and it was expensive. But I love the album and had to have it.
The Rolling Stones eponymous debut album. On the left, the UK version was the first pop album with no type on the cover, thanks to their innovative manager, Andrew Loog Oldham. Of course, their US label, London, insisted on titling it and putting the band's name on their version.
Acetate of The Beatles Live at the Hollywood Bowl in 1964. Capitol Records wanted to issue it as a live album to capitalize on Beatlemania, and sent this very acetate to their manager Brian Epstein. The Beatles and Epstein declined to allow them to release it.
The acetate is of a 1964 concert by the Beatles at the Hollywood Bowl, which Capitol wanted to release shortly after it took place. This copy originally belonged to the Beatles manager, Brian Epstein. He and the band refused to allow Capitol to release it. The label wanted to squeeze every last dollar out of Beatlemania, not knowing how long it would last. The Beatles had longer term vision. Eventually part of this was released in the 70's along with their '65 Hollywood Bowl show. Anyone interested in this kind of thing should note that eBay is filled with fake 60's acetates, especially Beatles ones, selling for high prices. I have written about this on my blog for anyone who's interested.
Talking about prized possessions. What's the story behind this Bob Dylan Acetate?
This is one of two single-sided acetates of Bob Dylan's album The Times They Are A-Changin' sent by the record's producer, Tom Wilson, to a critic. It has one song that didn't make it onto the finished album, "Hero Blues" and came with a note from Wilson to the reviewer asking that she not include that song in his review as it didn't make it onto the final album. It's the only example to surface in 49 years. I love Dylan, love the album, and Tom Wilson is one of my heroes. An African-American A&R man and producer, he discovered and signed Sun Ra, Frank Zappa and the Mothers of Invention, the Velvet Underground, Simon and Garfunkel and produced John Coltrane, and some of Dylan's best albums. I was friends with his son in high school, and met him a few times.
B-side to one of the two The Times They Are a-Changin' acetates. The surface has been scratched to indicate "Do Not Play." Acetates are expensive to cut, so if the engineer had one with an error, he just scratched it like this and started over on the other side.
How do you organize your collection?
Everything is alphabetical, and I never let it get out of order. When I've pulled out more than 10 or 15 albums, I always refile them before pulling out any more. I have a section that combines rock, folk and soul, and then, for some reason I can't explain, I have my blues records alphabetized separately. Jazz is also separate, along with the few classical records I own.
What do you look for in a record?
I'm always buying collections, so there are always records coming in that I don't know and am curious about, or ones that I might have listened to years ago but want to revisit. I love finding new things that interest me. I read music magazines, books and websites constantly. I'm primarily into rock, folk, soul, blues and some jazz. At this point in my old age, I want records as close to mint as possible—and am happy to pay the price. I rarely buy records that aren't in excellent condition. I wait until I find one that is clean, which almost always comes along.
Does an album's cover art play a role for you?
I've always paid a lot of attention to album covers. While in the record business, I art directed probably 50 album covers, working with such artists as Prince, R.E.M., Cat Stevens and Suzanne Vega. I won a Grammy Award for Art Direction for Vega's album Days of Open Hand. In doing covers, I always tried to come up with something that matched the music inside. And I've bought many albums because of the covers. Sometimes you go terribly wrong, but I've found some great albums that just looked interesting, like Ruthann Friedman's Constant Companion, or Faust's first album, which was a clear disc in a clear sleeve.
Faust's eponymous debut album, released in their native Germany, has a clear disc in a clear cover with a clear insert. Faust means "fist" in German, and the only artwork here is an X-Ray of a fist. One of the seminal records of Krautrock.
What's your partner's reaction to this obsession? Have you ever kept a particular purchase secret?
My wife, who grew up in the music business, used to tolerate what I do, but now it actually interests her. Not so much the particular records, but the war stories about a particular deal or find. And she was very helpful in putting together my book, and has a great sense of the visuals. I envy her, as she's a bit older than me and saw The Stones in '64, Dylan in '65, and The Beatles, John Coltrane and Miles, all in their prime. I have never hidden any purchase from her, but sometimes she shakes her head when she hears what I paid for something. But after all these years, she knows that I know what I'm doing.
I'm also a big fan of Devendra Banhart, who makes very eclectic albums and has been called "Freak Folk," whatever that means. He is a visual artist and an extraordinary one. His albums look and sound great.
Do you have a record collecting philosophy or routine when you enter a store?
If I'm at a record show or a collector's store (with "wall records"), I make a quick tour of the place, grab anything that I think might not last long, and then dig in. I can rifle through LPs very quickly, and may not see 100% of what's there, but I catch at least 95% of it, and I figure the additional ground I cover by going quickly more than makes up for the occasional thing I might miss. And I've looked at so many records in the 41 years I've been doing this that I have kind of an unconscious ability to stop at anything that looks interesting or different, without thinking about it. It just happens.
Do you have a record you keep going back to? What makes it special?
Early Dylan albums, Electric Ladyland by Jimi Hendrix, the first few Mothers of Invention albums. Sandy Denny albums, Bowie's The Man Who Sold The World, the first Flying Burrito Brothers album. I could go on and on.
An early Dylan bootleg, on the PoPo Productions label.
This is a 6" Jimi Hendrix single with excerpts of 6 songs, made in France. The series was called "Disques De Pouche" and it featured a kangaroo logo, meant to illustrate it was small enough to fit in it's pouch.
David Bowie's original cover to The Man Who Sold The World, featuring Bowie in a dress, was evidently too much for his US and German record companies to take. Both released the album in their own unique covers; this is the German one, which folded out into a 2 foot in diameter circle.
The first UK issue of David Bowie's The Man Who Sold The World on which Bowie is pictured wearing a "man's dress."  My copy is signed by Bowie, guitarist Mick Ronson and bassist/producer Tony Visconti―the result of my waiting outside rehearsal studios and hotel rooms for probably a cumulative 24 hours in the 1970s.
Is there an artist or a label you're trying to complete?
After 40+ years, I'm happily not looking for anything specific—I've got everything I've always craved. But there are always new things that fascinate me. The last few years I've really gotten into Alice Coltrane, for instance.
I have a small collection of records previously owned by artists I admire. This is a copy of the Velvet Underground's Loaded from the collection of the late great Sterling Morrison, Velvet's guitarist.  He kept it in a Buddy Holly album cover that he re-titled.
This is Sterling's copy of The Velvet Underground and Nico. Note the mold on the album cover.
Ian Dury, who I met a few times, signed this single "Jeff Took Away My Breff."
The Yardbirds single sung in Italian, "Questa Volta/Paff…Bum."  I went to Italy for the first time in 1975 and dreamt about finding this very rare single. I found it in an ice cream parlor that had some records. I found the sleeve first, with no record, and a few bins down, found the 45.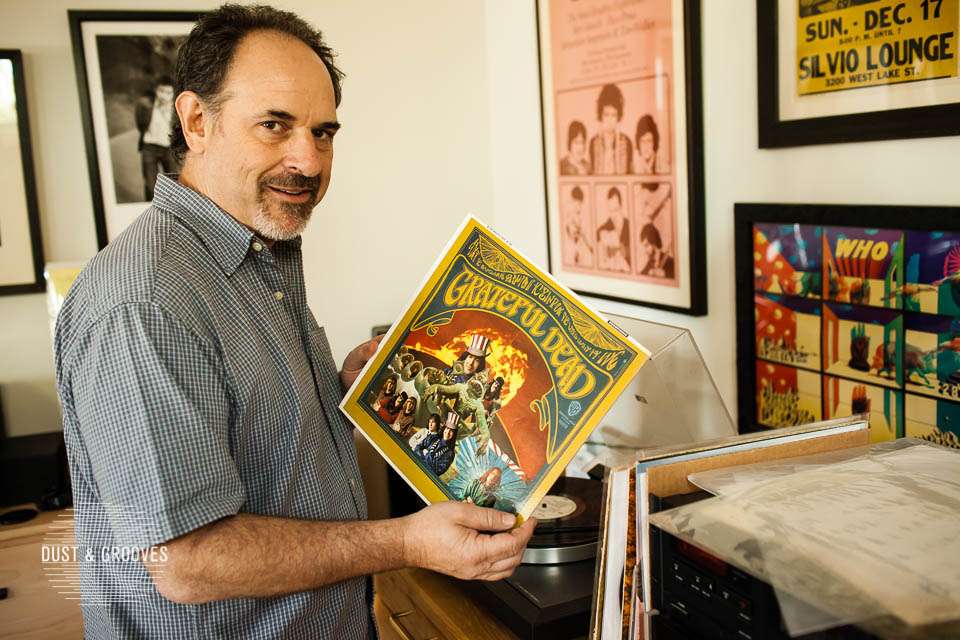 The Grateful Dead's 1967 self-titled debut album.  A great cover, a great album, and another key element in the birth of the San Francisco Scene.
Howlin' Wolf is probably my favorite blues artist.  This is his 1959 debut album, Moanin' In The Moonlight, and it contains many of his singles to date. Great, great stuff.
You can't always judge a record by its cover. Can you pick an album that has incredible music inside a terrible cover?
Most of the time the music fits the cover. Something like the first 13th Floor Elevators album has a cover so bad, so inept, it's actually something that appeals to me, and is somehow appropriate. The first Modern Lovers album, with a black background and a blue heart—that's a great album with a terrible cover.
Any memorable dollar bin records?
It's funny, yesterday's dollar bin records are today's wall records. I was listening to the first two Malcolm McLaren albums the other day and loving them—and I doubt I paid more than a buck or two for those.
Do you dig with other collectors or friends? Or do you prefer to go on your own?
I used to go on road trips with friends all the time, or to the Austin Record Show. But as that's declined (as have most fairs), I do most of my record shopping on my own, and a lot of it online.
I've always loved bootlegs, especially on colored vinyl. I bought this at the Rose Bowl Swap Meet in Pasadena, in the mid 1970s.
"Come and Play With Me In The Garden" by the great UK psychedelic band John's Children, which featured Marc Bolan (on the B-Side).
Where is an unlikely place you've found records?
There was a store in the '70s in Brighton, England, called Royce Radio where the grumpy owner wouldn't let you inside. He had stuff in the window, but he'd meet you at the front door and you couldn't go in, only ask him if he had particular things you were looking for. There's marketing for you!
Tell me a particularly sad record story.
In the mid '70s at the Capitol Records Swap Meet, I was waiting to look through boxes of 45s in the trunk of someone's car when the guy standing directly in front of me found a Rolling Stones "Street Fighting Man" picture-sleeve single—now worth more than $10,000. I almost died.
Do you sometimes pick up a record you have no clue about? How do you make an educated guess about a record?
It's usually a combination of the album cover, what I can infer from the credits, song titles, and overall vibe. This is an album I found a very funky used record store in Havana, Cuba. I bought about 20 albums at the store, with virtually no idea what I was buying. The man selling them was doing his best to recommend things in Spanish – a language I can speak very little of. I was using key words like "jazz" and "traditional" and he would suggest things for my consideration.  I'd look at the cover and the disc and decide if I wanted to give it a shot or not. He was enthusiastic and I was doing my best to communicate and what I was looking for. Amazingly 15 of the 20 turn out to be really good records so I guess somehow the process worked.
I was recently in Havana, Cuba, and got this great album. I had no idea what I was buying, so I just went off the cover art and group names. I like the "Experimentacion" in the group's name, and picked a winner—at least this time.
Who have been your record-collecting mentors? What have you learned from them?
My earliest mentors were two slightly older guys who had been in the game a long time at that point. One, Howard Krumholz, worked at Tower Records in Hollywood, and we'd hang out there and absorb the wisdom. I have many friends who I regularly learn from. There's a group of us, almost all overweight, who have steak dinners and talk records a few times a year—we call ourselves LARD: Los Angeles Record Dealers.
What do you want to happen to your collection when you're gone?
I hope I can sell everything just before I go and give the money to my wife and kids, who could care less about records. But I have a provision in my will for a good friend and dealer to help with the sale should I check out without warning.
Who would you like to see next on Dust & Grooves?
Geoffrey Weiss and Johan Kugelberg, both great guys with very eclectic and large collections, whom I'm always learning from.
Don't blink—buy! Buy it now or you'll regret it later.
My new book, 101 Essential Rock Records: The Golden Age of Vinyl, from The Beatles to the Sex Pistols, is available at 101EssentialRecords.com
My collectible records and music memorabilia site is recordmecca.com
And my collector's blog is http://recordmecca.com/blog/
This interview was edited by Josiah Titus
Jeff and many other vinyl collectors are featured on the Dust & Grooves: Adventures in Record Collecting book.
Please consider purchasing the book and continue your support of the Dust & Grooves project.
---
Is Dust & Grooves a frequent destination for you?
Dig what we're doing here? Want more interviews and mixes? 
A $2 subscription will make Dust & Grooves keep going!