Keb Darge – London, UK
T
he name Keb Darge has been a synonym for vinyl record culture for the past four decades. The outspoken Scotsman, responsible for starting more than his share of music scenes for the past 40 years, knows all too well the ups and downs of a record collector. Having owned and sold many of the world's rarest records in his lifetime, he has seen the many of these leave his record box more than once, without regrets. Credited for discovering unknown records and bringing them to the public, Mr. Darge has been adamant about one thing: the music.
A Northern soul boy at heart, he started dancing at Wigan Casino, the Mecca for Northern soul music and its culture in England. Thereafter, he started DJing at the Casino,, becoming a leader and tastemaker in the Northern soul scene. When Wigan closed in 1981 he took his reputation to London and stopped DJing all together. However, the promoters came ringing, and the demand for Northern soul was too great for Keb not to get back involved. He helped jump start the Northern scene in London, bringing in the crowds from Northern England, however the Northern scene, like any other music scene, soon faded.
During his trips digging for records in the United States, Keb loaded up with African-American funk and soul records he would often refer to as 'junk music'. This so called junk music built the Deep Funk movement that he would go on to found. Digging deeper than most, he unearthed copies of records that people hadn't heard before and lit the original fire that still burns bright today in new generations of funky 45 collectors.
These legendary Deep Funk nights at Madame JoJo's, a seedy strip club turned music venue in London, laid the foundation to a 20+ year scene that is still going strong. His Deep Funk compilations had collectors scrambling dollar bins and regional record stores to turn up copies of Ernie and The Top Notes' "Dap Walk" or Arthur Monday's "What Goes Around, Comes Around" to no avail. He paired up with legendary producer and DJ Kenny Dope to further release rare material on Kay Dee Records, and produced newer music with bands such as The New Master Sounds, filling up his resume with more great releases.
The man knows how to find records. Not just any records, but records no one has. He then takes them to the masses, causing hysteria throughout the record community. The hunt for these records begins, prices for said records go up, and scenes begin all over the world. Just when these scenes hit their pinnacle, the man switches to a different genre. Just like that. At the height of the funk and soul 45 craze, Keb Darge did something that no one predicted. He shifted his focus to early rhythm and blues, Rock and Roll, and Rockabilly records. Yet another scene was jump started. Call it a combination out of necessity, misfortune and innovation, Darge has been able to shift the scenes just at the right time. The right time, is of course when Keb says it is, and the world's record enthusiasts and collectors always follow.
Eilon had been aware of Keb Darge through his funk compilations, and at the age of 27 while living in Israel, a cheap ticket became available to London. He and a few friends bought them and jumped on a plane immediately. They were there to see London, but as their luck had it, they went to Madame JoJo's to check out Keb's famous Deep Funk night. To see the man live was something that had been on Eilon's bucket list since he first discovered those compilations. It was the first time he had ever been in this kind of atmosphere: B-Boys and B-Girls all dancing in harmony to these rare funk and soul records. Everyone was friendly and got along, no ego, just good music and vibes. Eilon felt like it was like meeting a family that he didn't know existed. Vinyl records and the music pressed on to it had shown him how powerful it really was. 
Fast forward to 2010, a few years later after he started the Dust & Grooves project. An unprecedented forced layover in London while flying from NYC to Israel due to an erupting Icelandic volcano that halted all air traffic in Europe occurred. Eilon saw this Act of God as a chance to interview the man himself. After a few phone calls to the United States, a mutual friend put him in touch with DJ Andy Smith, who was able to put Eilon in touch with Keb. During his layover, Eilon and Keb had met at his flat in the Islington section of London on a typical overcast day. Upon his arrival, he had all his record bags packed, sorting them out for a move out of the country that Eilon was unaware of. Eilon's intuition was correct. This was the ONLY time he'd get to do this interview. Had he not been forced to the ground by a volcano eruption, this interview might not ever have taken place. Over many cups of hot tea, and an impromptu martial arts sword lessons, Keb spoke candidly about his career as a record collector and DJ, and his philosophy on record digging. They were joined by his wife and current DJ collaborator Little Edith, who is a familiar face at his Rockabilly and r&b Lost and Found nights at Madame JoJo's. Keb told tales of acquiring, losing, and selling records, as well as his take on what it means to play records for a living. He and his wife have since relocated to The Philippines from the UK (and since relocated back to the UK). He continues to DJ throughout the world, turning people on to unheard records, and keeping them dancing to the wee hours of the morning.
Who are you Keb Darge?
Born in the Highlands of Scotland in February 1957 with the DNA of the Picts in my blood. So I reckon my family did not enjoy the thrill of travelling far for thousands of years.
How long have you been doing the funk?
20 years, about that. I went to Japan in 1990 and a year before that I started going daft on the funk. So about 20 years. I was a Northern soul boy though. I suppose I started going off to the funk in 1990. It's a Northern thing. You learn the labels, that's gonna be good, that's gonna be shite. You have to be fast, and have to go through it in a minute. You have to do it for a good few fucking years until you can do it like that. You can tell by the label design what year it was. You get to know your labels. You get the odd fluke record that doesn't look like it sounds. You look at the label, then you look at the titles. "Going Fishing in the Park" and "Sweet Summer Love". Shite. But "My Baby's On Fire" is good. The first thing pretty well is the label. This was the 90s, so I have had 17 years of training by then. I also don't buy records I know. When I'm going digging, I'm looking for unknown tunes, things nobody knows. I won't say James Brown, let's have some of that, fuck off. Leon Gardner, this looks interesting. You sift through your boxes and then listen to them. You used to ship it back and listen to it at home, there was no Sound Burger jobbie [a sought after high end portable turntable.] I'd go back to the hotel and sit through the night listening and bring them back in the morning.
Syng McCowan – "That's What I Want" – The first Keb Darge discovery back in the mid seventies. I beat the Wigan Casino djs to this one.
How were you trained to find these records?
I was trained by experience. I'd turn up in 1976 and someone would put a box in front of me and I'd listen to every record. The I'd turn up in 1977 and someone would put a box in front of me and I'd listen to half the records. Now I turn up today and someone puts a box of records in front of me and I won't listen to any. They can put 100 boxes of records in front of me and I will listen to 100 records. You've seen them all before. You go diggin', and we don't relax. If you want to do it properly, you spend 15 hours, you try to get the guys to lock you in, a couple of guys have locked me in warehouses overnight so I didn't sleep and kept going, kept going, kept going.
When was the last time you went digging?
Apart from John Manship? Well, Manship's IS digging. He has three warehouses and he had just got a load of 75K records from America. That was 6 months ago, so yeah 6 months ago was the last time I went digging.
Harold Jackson and the Jackson Brothers – "The Freedom Riders" – blew my head off when Barney Koumis first played it to me.
Record collecting, Disco dancing and martial arts. Do they all work together? 
The old northern soul dancing and martial arts worked well together. We invented most of the "breaking tricks" we did at the weekends from the stuff we were learning at our martial arts clubs on the Tuesday, and Wednesday nights. If there had been no Bruce Lee I don't think the dancers back then would have been so fancy. The record collecting simply gave me something to dance to back then. Cassette players were just about to hit the high streets, so records were all we could dance to at home. Everybody bought records then. It was the only way to have the music you liked; otherwise you had to trust a couple of pirate radio stations or mainstream radio. I suppose I just stayed that way.
Some videos on Youtube suggest that you're a profound Disco dancer… and you had hair! Tell us about the dancing days and dance competitions.
I was never really a disco dancer, or entered many competitions. By 1978 Aberdeen was full of northern soul punters. I was considered the best dancer by those punters. We all went to see a "disco dance" competition at the Beach Ballroom one night for a laugh. When they announced the amount of prize money my ears perked up, and my mates pushed me onto the floor saying "Keb you can't let one of those ponsey John Travolta lookalikes win this". I got down to the final 4, and was told later that the judges were told "if Keb doesn't win you are getting the shit kicked out of you". You must understand that back then northern soul drew in the roughest of society, unlike today. I won..ha ha ha,  Then  was flown down to London for the finals there. I had never flown before, nor had I seen that much money in one hand before. After that I got asked to be in a few adverts, and a movie or two. I also remember very clearly how embarrassed I was when doing the disco dance competition that is on You Tube these days. Not cause I was shy, but because the producers made me wear a fancy costume, and wave my hands around in a daft fashion, and I knew my mates would all burst out laughing when they saw that. I really just used to dance at northern soul nights. It was not like the breaking scene. No circles, we just used to find a space and dance there all night. 
You started out with Northern soul, then moved on to be the top funk and rare groove DJ, now you've moved along to rockabilly and 50's rhythm and blues. How long have you been looking for these kind of records?
I didn't really get into it until 1989. I was doing the Northern soul, and it started to creep into London in '80 or '81. It was a new thing there. So I got booked to play at trendy clubs, The Doc Box, Surprise, 20/20 Club at the time. I played Northern, Jay Strong who played Rockabilly, and some cunt who played new music of the day, new romantic shit or late punk. But it was a friend of mine who had some friends in town who asked me to go to a Rockabilly club. So off I went, sat down, general conversation, and said "What the fuck is this?" It's Johnny Burnett. What does it go for? 80 quid. Where can I get it? From that guy over there. So I went over to this cunt Rockin' Rex and asked him for it, "Rockabilly Boogie". He said he didn't have an original, he had a repro for 3 pounds. I said I have 120 pounds in my pocket and pick me out the best, I trust you mate. He gave me a wee pile. I went home and listened. I sat there going "fucking hell, fucking hell, this stuff was brilliant." Then I went mad, but I went a bit too mad. I started selling Northern and funk records and buying rockabilly originals at 1000 pound at a time. I got this marvelous collection of Rockabilly. The first booking I did it was with all the top Rockabilly DJs and my first Rockabilly set all the other DJs were like: "What the fuck are you doing?" You're not playing originals are you? Yeah I am. In the Northern soul scene you can't play bootlegs. The guy says no, look after the originals, that's what the repros are for!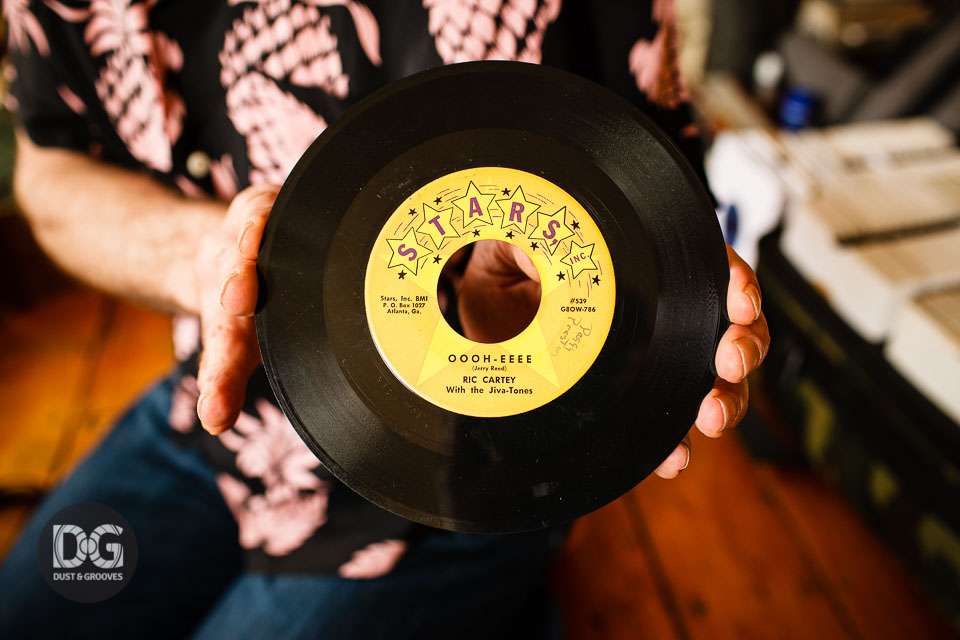 Rick Cartey with the Jiva-Tones – "O O O H – E E E E" – A very popular semi known jiver played at Lost and Found
Did you end up playing repros or stick to the originals?
I did. I started becoming DJ conscious, I could make a living out of this properly. I had thousands of pounds of Rockabilly originals, they're only really for me, so I sold all the originals. I loved all the repros, I kept them. I've got every repro there was, including the shite ones, just in case they grew on me. Then I got back into originals. Since the Johnny Cash movie came out and the Amy Winehouse record came out, I started to play a bit of 50's stuff at the end of the night. After Johnny Cash came out, I was playing the 50's stuff, the Black stuff, and the Rockabilly and Folk were like "this is interesting". I started the night on Sundays with Andy Smith and I thought: "I have to start buying Rockabilly originals again." Music, for years, was the majority had to be into the latest thing. Now being into the latest thing is not cool, its shit in my opinion. And most people's in comparison to the past. People are beginning to be able to see music they couldn't access. It was hard to access. Now it's everywhere. It's impossible to get someone out of Rockabilly or Northern once they've developed a taste for it. No one can invent a new music that was done in the 50's, 60's or 70's. Nothing will ever replace it.
The Valentines – "That's It Man" – To me it sounds like the first funk record. recorded in 1959.
Have you done any digging in the US?
Not recently, the last time I went out with John Manship. We did two weeks, about 12 hours a day trolling through warehouses. John's a dealer and he found thousands of records, I found three records for myself. That was '95 or something like that. That was a waste of time. You used to go and come back with wads of stuff. We went up to New York to see Phillipe at Desco and did some dealing. Most of it was in California with a guy called Rick Blade, he was selling his stuff to a guy called Craig Moher. He wanted us to come cherry pick it before he comes to pick it up.
Kenny Gamble – "The Jokes on You" – Kenny Gamble doing what sounds like a garage tune. Probably my favorite northern soul record.
If someone offered to digitize all your library, one by one, and put it on a hard drive so you could play them on the road through a laptop and it made it easier to travel and DJ, would you?
No. I did some gigs with Jazzy Jeff and Louie Vega in Barcelona and Japan. When the Jazzy Jeff gig started, about 14 records in, he comes up and says- Keb can you carry on? My laptop has crashed." Lil Louie Vega's computer crashed even before the gig started. Even CDs skip when they're DJd. If a record skips, you pick the needle up and it sounds perfect right after the skip. For me, and this kind of music, it's a certain mystique about the actual records and gives it a bit more class than that. I do believe digitally you don't get the same warmth you get with the records. I don't mind if other folks do it, but I would never do it.
What's your attitude towards DJing?
I don't think we started to DJ because we wanted to be DJs, but because we were getting these records and were on a mission to get folks into good music. To get people to listen to the music that I like. My attitude to DJing is: come on you cunts listen to this. Why would you possibly listen to hip hop when you can listen to this? You don't skim the surface constantly and don't bother to look what's underneath it.
Benny Ingram – "Jello Sal" on Bandera – The second rockabilly bopper I "had" to have on original.
B side or A side?
It is most of the B sides we're playing. Generally with Northern the A side has the ballad and the B side had the dancer. Most collector's records, 70% of the records I collect, it's the B Side I want. The other side is them. That's their real sound.
Is there a particular instrument that gives you goosebumps?
No, not at all, it's a funny thing. If you put a harmonica on a soul record I'll throw it in the bin. If you put a harmonica on a Blues record, it's like "WHOA that's great!" Guitar on a soul record, it goes in the bin, but put a guitar on a Rockabilly record… that's great. It's like horns on a Rockabilly record, it goes in the bin. Certain instruments suit certain types of music. A Hammond organ in the rockabilly record..Ugh. Fuckin' hell that's shite. Organ in the funk records, yeah that's good. It doesn't really matter that much. It really just depends on the song.
Do you play any instruments?
No. I did and still do a bit of writing, and arranging. I currently am working on a new Lucinda Slim and the Lone Stars album, but I am no way as good at it as Gabe Roth, so I don't push that side of me.
Tell us about this record, Paul Simdab – "Do Whatcha Wanna Do"
I've had eight copies of this record in my day. There was a rumor going around the Northern scene in the 70's that there were one or two copies of this record that had the same label but the B side was different. It was a great stumper. So I bought eight copies trying to find one.
Paul Sindab – "Do Watcha Wanna Do" – One of my all time favorites from the Wigan Casino days.
What do you mean you bought eight copies?
This record came out on Hype with "Give Me Your Heart" on the flip side, but the rumor was there were copies that got pressed up with a different song but the same label. Different song, but nobody ever found one. Which is crazy because they're 400 pound a throw. I finally got one about 8 years ago with the B side on it. I did get one in 1987 when I was DJing at the Honda Club, came back here, Hennigan was sitting here, I was knackered, put it on, flip it over and FUCK! That's the B Side! I traded it then, but finally got one eventually. It's a Northern collectors story. I'm sure there were people who got 30 copies of this record trying to find that B side.
Why did you have to have it?
Because it's a great record!! When I went to America in the 70's to get records, I'd have a budget. But I'd always want more, so I'd hide the records. Move this box, put a paper bag in the back and come back and get those. Many is the time I came back and they says 'we sold it to a couple of Japanese guys, they bought everything'. So it was probably one of the big Japanese collectors, I know them all, who found one of these records with the B side on it. The rumor had gotten to the British crowd that this tremendous B side was out there. We all went mad trying to find it. The idea of being a DJ to me, is finding records that people haven't heard before that are great. And also things that are going to stay pretty rare so the record has more life. When the repros come out, the records will die from the crowds. They'll get overplayed. With this record, I can play it for the next 100 years, and it will be me and two or three other people playing it. It will still be interesting for the crowd. They'll have to come to where I'm playing to hear the record. They won't hear it every week.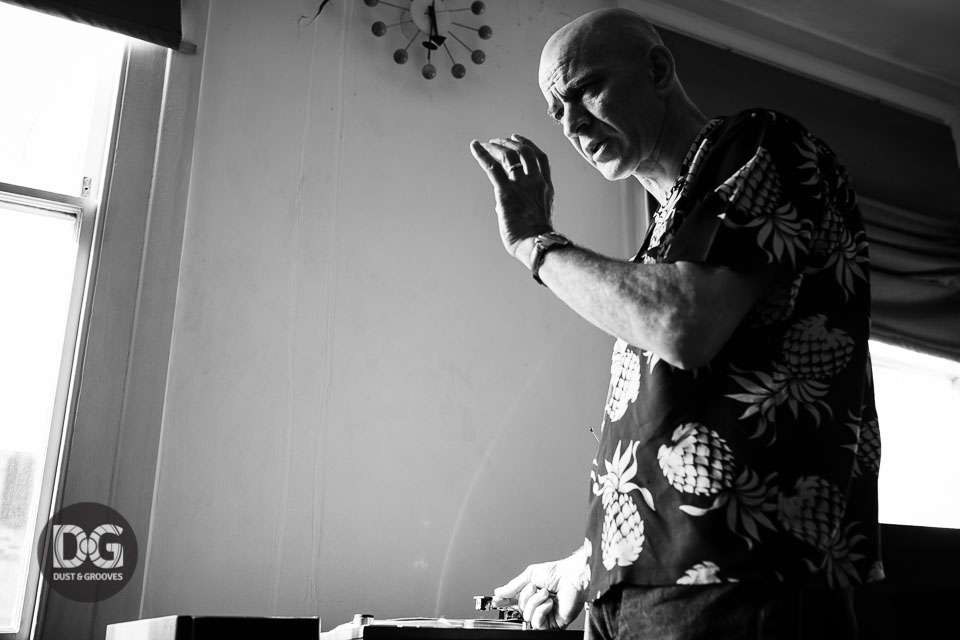 In your honest opinion, is this a personal obsession with records? Was it just to find the good music to play and that will last for a long time, or is it a personal mania for having rare records?
Obsession, me sir? No, I've had many super rare records, but they aren't good enough so they will go in the bin to get sold, I've had many records that I'm like Fuck Me, it's the only copy in the world, but it doesn't mean anything to me cause I don't really like it. If I was a collector, maybe I'd be like 'YES! I have the first ever acetate of this. But I don't like the record so I don't keep it. With the "Do Whatcha Wanna Do" record I just wanted a really good Northern stomper that is relatively unknown (apart from the Northern collectors that know it exists) but no one really heard it and I wanted it and got it eventually.
When you play to the right audience is that your real moment of glory?
99% don't know anything about it[the music], and that's more glory for me. No, it makes me more happy that people love this music. It makes me more happy than playing for 1000 people who are really into it. Here's a story: I got into this warehouse in about 1983 and I got into this collection of a million records this guy had just bought and he was like: Ok I'm off to Jamaica for holiday for 3 weeks. The records had been tipped into the warehouse by two giant lorries and there were 3 giant dogs jumping all over them. The guy asked me if I went up there to look after the dogs and pay the builders because they were building a barn, and I'll let you sort through the records and we'll sort out what you want when I come back. So I went to this place and I'm like holy fucking shit. I came out with two boxes of quality Northern soul that no one had heard of, out of a million records. So after that I went to a gig and there were all the big Northern soul dealers at a record bar, who knew all the tunes since 1968. I played this set and watched them empty the record bar. It' was an emotional memory, I had done it. What the fuck was that they all said? Two hours of records no one had ever heard of. 
The most pleasurable night I ever had DJing was at a Saturday night when 3 London girls (Sharon and Traceys who were out for the night) asking me to play Madonna. I tell them to stay about, it will pack out soon. Off they went. 4 hours later they come back saying its brilliant. What's it called? Rockabilly? Where can we get it. That's it for me, they were anti at first, then after 4 hours they were changed. It's better than the collectors who really are just out for me. I say if we can change the Sharon and Traceys of the world we can change anyone. A lot of people come because they hear it's a great night out, but they convert. They have a great time and get into the music. As long as they're enjoying themselves I'm happy as fuck. I don't care if they don't dance well.
Could you tell us how you and your wife met? Was it a shared love of records and music? She now DJs herself under the name Little Edith. Has she DJd before, or was that a result of being around you and your records?
I met Edith on an internet dating site. I had two divorces based on the "You love those records more than you love me" theory, and one divorce on the "You are having sex with other women every time you go abroad to DJ" theory. I had it on good authority that South East Asian women don't moan as much, so I gave it a shot. Edith is from a small jungle island which had no electricity until recently, so she had virtually no knowledge of music. I gave her all my BBE comps on our second meeting, and when I went back a month later she said she liked the red one, the rest were boring. The red one was the rockabilly comp I did with Cut Chemist. After a couple of years of trying to get her a visa for the UK she eventually arrived on the same week that John Manship phoned to tell me he had just bought a warehouse full of fifties records which he didn't know what to do with, and would I come and have a look through. I took Edith up with me so she could see the pretty English countryside, but she insisted in helping me go through the records. It was going to be a week of hard work, looking through dusty boxes from 7am till 11pm so as a reward I said to her "OK honey, if there are any you like you can have them for your own box", expecting her to pick a handful. That punk picked over 300 records ranging from Elvis and Chuck Berry hits to K C Mojo Watson "Love Blood Hound". Luckily John gave me a great deal for the few northern records I had taken to swap.
Edith would then sit behind me at Madame Jo Jo's as I was DJing, and tap me if she heard a 45 she wanted. Luckily she didn't know what a repro was then, so I got her most of her desires on that format. Then she began asking if she could play some of her 45's there. Andy Smith and I agreed to give her an early set one week as nobody really danced till after 11pm. She had the floor packed by 10:30 with a mix of what to us were obvious hits and "nobody here knows this" tunes, but to Edith they were just her favorites. Her ears were more honest than ours, she did not know that Little Richard was famous, and that Mel Dorsey was not. It worked so well that from then we used her talent to get the crowd going early, and to finish the night with half an hour of Edith's favorites every week.
You've recently returned back to the UK after living in The Philippines, could you tell us about that experience? How is the digging scene over there?
Well it was an experience, no digging though as I lived on a small jungle island. I was hopping between Japan, Vietnam, China, and Australia for work, and did a bit of "digging" in Japan, but I only played in Manila a few times for no money to try and get folk interested. Sadly there was not enough interest for me to try putting a regular club on. MTV rules over there.
After the typhoon I spent three weeks pulling dead bodies out of the rubble, and trying to convince the locals to burn or bury them without waiting for the fuckin' priest to return from his hiding place. I ate boiled rats, and a root vegetable that tasted like earwax. Then went to war with the local mayor who was pinching all the relief goods so he could ship them to Manila to sell in the supermarkets. I would race after any helicopters to try to get to them before the mayors armed to the teeth thugs got there. Sadly the US marines I met said it was the same in Haiti and Syria, but they had orders not to intervene in local affairs, all they had to do was deliver the goods. The locals then warned me to get out as the mayor had already personally shot three men for going against him, and I would probably be next.
Edith and I sneaked away to Manila at night. Took us a couple of days to get there, but when I saw all the relief goods on sale in giant supermarkets I went on an internet campaign to try and make the foreign governments aware. A few newspapers and TV channels took heed, and I was interviewed a few times. However this led to me becoming an enemy of the Philippines government who were behind the mass theft. A local lady who was giving me information was dragged off, her son shot, and I was warned they were looking for me. Edith explained that what they would do is go to the death row inmates of the prisons, give them my photo from one of the newspaper interviews, give them a gun, a pardon, and some money, and it would be bye bye Keb. So we came back to London. Luckily I had become close friends with the head of immigration at Manila airport months before. He was anti-corruption so getting out was easy.
What kind of music were you playing there?
I was playing a mix of rockabilly, surf, and northern records by white artists that I later found out were called Garage by everybody else.
You've been posting a lot of surf and garage music online lately, are we seeing a transition to another genre for Keb Darge?
Just after coming back from the Philippines I started looking for records like the ones I loved at Wigan Casino, the likes of Burning Bush, The 7 Dwarfs, The Seeds, etc. I had never come across the garage scene for some unknown reason, but did now, and fell in love with a lot of the tunes. [Keb Plays "Hi Fi Baby" by Teddy Mc Rae for us].
Teddy (Mr. Bear) McRae – "Hi' Fi' Baby" – An anthem from the "lost and found" nights at Madame Jo Jo's.
What's the story behind these dupes of "Hi' Fi' Baby" ?
The copy in my hands is a nice crisp original that today sells for around $600. The copy in Edith's hands is a nasty bootleg that my friend made after I told him how popular the tune was at Madame Jo Jo's… The boot looks very good though, but as with a lot of them has a muffled sound in comparison.
"Hi' Fi' Baby" – Bootleg and original.
We are big funk fans here at Dust & Grooves.
So was I, but you know… it's r&b, I think it has got much more to it than funk, it's funky as well and has got more to it. 
What about punk, garage, or jazz?
A few I quite like and I appreciate, but it doesn't butter my biscuit. A few 60's things I like, a few soft things I like. Something like Ska, I don't like it, it does nothing for me at all. I like big bands.. jazz for me is too clever. I like 'Wiggle Waggle' by Herbie Hancock, but when he used the voice thing, it was too much. Late 70's early 80's, they became too cheesy for me. I went to bed Dec 31, 1979 and woke up the next morning and thought "what the fuck happened? music has just finished". Why would a new decade bring about the death of music? The answer of course is technology.
What's the story of this record here? King James – "River of Love".
A blues record which no blues collector knows, and it's not listed in the book (blues guide). Nobody knows it. We got it at John Manship's for 5 pounds. Pulled it out of the boxes for a fiver. As far as the collector's books (and websites) go, King James only made one record. I've spoke to an expert and he said he only made one on Ardell. Ok, I have another one. No you don't. Yes I do, here it is. It was hard to fuck with that one. 
That's the kind of thing that I have had many of in the past. Sadly, I have been divorced 3 times, and all the record dealers come straight away and want all the giant tunes. I got left with the semi-rare stuff. If I ever got divorced again, which I won't, this is the kind of record they would come for. Oh, hey Keb, you need money for your divorce? I'll give you five thousand for that one. So I've done this many times before, found a record that no fucker knows, and sold virtually all of them. This is a thrill though. When you find one that the world's experts on blues says it doesn't exist, and you've actually got it in your hand and you play it to them and they're like 'oh, fuckin hell, it's good too!' (sings Riiiiiver of Love…Riiiiver of Love). That's what a real record looks like. That's been hand designed, there's no numbers, very few details, know what I mean? It means this is a really rare record. Really cheaply done with minimum of information. That tells you instantly that that's is interesting. That's obscure. Which isn't entirely a thing (he picks up another record) because this one is covered with numbers and things and covered with information and is a 2000 dollar record.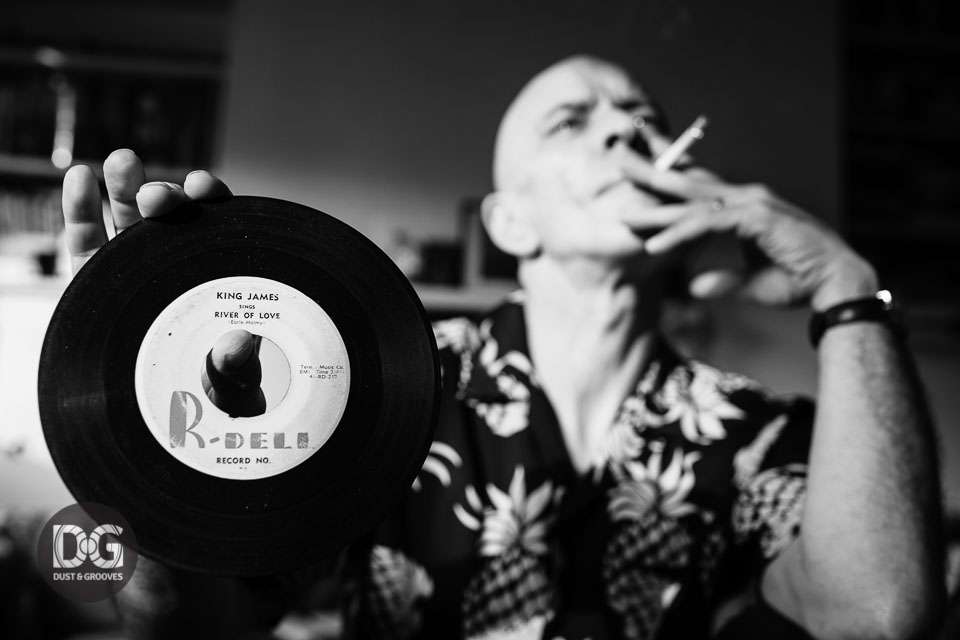 King James – "River of Love" – None of the collectors of this stuff knew this when I found it.
Would you say most of your stuff is from actual digging, going somewhere to dig through records?
Not now, no. 50% is from digging and 50% is from dealers and ebay. There is a really good record shop in Camden called Sounds That Swing and you'll walk in and Barney will hand you a box of really rare records to look through. I'll go in there if I had the money and spend 20K pounds in an hour. If I had the 20K I would do it.
You've said in the past: "I play records I fucking like, and that's my style." Would that explain how you can switch from one genre to another without much emotion? Do you not get attached to these objects, but rather see them as a tool or vehicle that has a place for a certain period of time that you get rid of when the moment is up?
I do now play records I like, but for a long time I was collecting the rockabilly, but it never worked when I played it out. I was actually buying rockabilly before I started the Deep funk thing. That's how I think I hit it off so well with Snowboy first time we met. Nobody on that rare groove/acid jazz type scene would entertain the thought of rockabilly, but then stood in front of me at the very first deep funk night was this huge man in full rockabilly dress. I think I walked up to him and said "what are you doing here?" to which the reply "I'm DJ'ing tonight" came back. Greg Belson had insisted I book Snowboy for our first night, and oh how happy I was to meet somebody else who could hear it all.
I suppose I am a selfish DJ who likes to play at "normal" clubs instead of scenes now. I never liked to play the same established tunes over and over. In my northern soul days it was all about new discoveries, same thing for the deep funk nights. However with the rockabilly there had been a scene long before I got into it, so I was playing tunes that were new to me, and my audience, but old hat on the real rockabilly scene. I just got great pleasure out of hearing them, and watching "normal" people being enthralled by them. I did make a few discoveries that weren't known on the scene, but only a few.
I switched from northern quite simply because after my first divorce I couldn't afford to come back and compete with Mark "Butch" Dobson on the level I wanted to. Nobody was interested in rockabilly in mainstream clubland back then, the rare groove scene had just been swept aside by house and hip hop, (which I hated with a vengeance), and it just felt ripe for me to dig into a rarer rare groove type thing. It worked. Rare funk was very cheap back then, (or free from old northern soul mates who hated the stuff, but had it), and a wee gang of us (Ian Wright, Malcolm Catto, and Snowboy) soon had boxes brimming with new discoveries.
After about 10 years the discoveries started to dry up, and for me as luck would have it the stage seemed ripe for the fifties sound to break. The Johnny Cash movie and artists like Amy Winehouse created this interest. So I began playing my beloved rockabilly, mixed at that time with jump blues, blues boppers and a hint of northern soul because people still had a hard time accepting music that wasn't black. Gradually I weaned the crowd at the "Lost and Found" nights at Madame Jo Jo's onto the harder edged rockabilly and surf that I preferred. That night lasted 8 years, then I left for the Philippines and by that time the likes of Mel Dorsey or Jimmy Grubbs were floor packers for people who had no connection to the rockabilly scene.
Now I am back in London, and it seems like everybody is playing a "Lost and Found" set. Many who slagged me off at first for thinking of playing rockabilly in mainstream clubs are now running rocking nights.. ha ha ha. I know I am late on this garage thing, but it excites me. There are so many great records I didn't know until last year, and they fit so well with the rockabilly, surf stuff. I only managed to get two boxes out of the Philippines with me, but in them were a host of very rare rockabilly tunes, that the bandwagon jumpers are all playing off repros now, so after a little thought I sold them, and ploughed the money into these garage records. There are still so many I want, and probably loads I have not heard yet, so I think this will do me until I am too old to DJ anymore. I suppose the garage and surf has that big exciting sound that first got me into records at Wigan Casino 40 years ago, so I've kinda gone full circle. Some of the rockabilly has that big sound too, but most of it just sounds beautiful to me, I love the honesty of it. Maybe something to do with my own roots being close to their roots as the southern states tended to be settled by Scots/Irish.
Any words of wisdom for the new generation that is getting into record collecting, or particularly 45s?
Yeah… Don't! unless you are very rich, or you can find a way to make the records pay for themselves, like I did eventually. It's a slippery slope to divorce, financial stress, and desire based stress. The dangerous thing these days is that most rare records are a lot easier to find, they just cost a hell of a lot more. I am not a collector now, I can't afford a fraction of the records I want, so I just buy to DJ.
If you are going to do the same, and just starting then don't go chasing the giant records everybody is talking about. You'll soon be skint. Try and find lesser known tunes that you like just as much, you'll get more for your money, and will be respected as somebody with their own taste. I never really bought anything but 45s as I thoroughly believe there are far more great tunes on 45s than any other format, and you have a much better chance of finding truly unknown tunes.
Is your record collection at the present enough, or do you have to have more?
It's nothing. This is a tiny collection, a pittance. I used to have a huge collection but I got divorced 3 times.
Keb Darge and many other vinyl collectors are featured on the Dust & Grooves: Adventures in Record Collecting book.
Please consider purchasing the book and continue your support of the Dust & Grooves project.
Special thanks to Ollie Teeba who helped us record the mix.
---
Is Dust & Grooves a frequent destination for you?
Dig what we're doing here? Want more interviews and mixes? 
A $2 subscription will make Dust & Grooves keep going!