Zach Cowie – Los Angeles, CA
Z
achary Robert Cowie AKA Turquoise Wisdom. 32 years old, born and raised in Chicago and its surrounding suburbs. Currently living in Venice Beach California.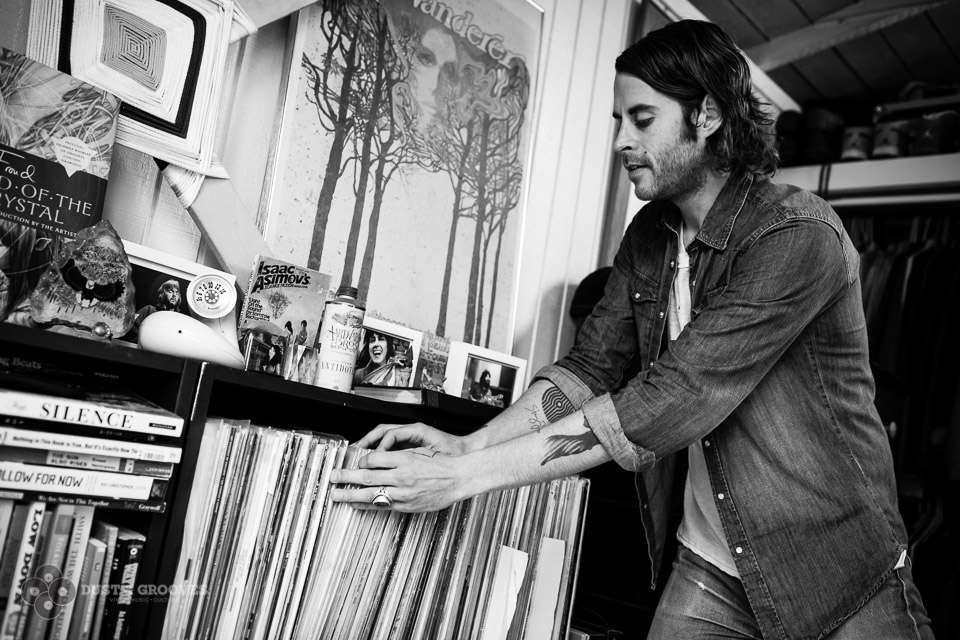 What's playing right now on your turntable?
It's February 23rd, 2013 and these are the records that are sitting in the NOW PLAYING bin that I keep next to my desk: Justin Hines and the Dominoes' Jezebel (thanks Barker), David Behrman On the Other Ocean, Tommy Awards EP and Brenda Ray's "Naffi Years" comp (thanks to Andy Cabic for turning me on to these), Michael Chapman Rainmaker and the upcoming Big Boys reissue– both grabbed on a recent visit to the Light in the Attic office, two Suzanne Kraft 12-inches (Hi Diego!), Psychemagik's 12" of their Fleetwood Mac "Dreams" edit, the Brand New Wayo compilation, Wicked Witch Chaos, The Kiwi Animal Music Media and a Would Be Goods 45 (recommendations from one of my favorite shops in the UK called Kristina), Theo Parrish/Andrew Ashong "Flowers" 12-inch (thanks to Aaron from Peaking Lights), Primal Scream Screamadelica (back in heavy rotation lately after watching the "Classic Albums" special on Netflix), the Lee "Scratch" Perry and Orb LP, Shabazz Palaces Black Up (still one of my favorite 'new' things of recent years), Yo La Tengo Fade, Cocteau Twins and Harold Budd The Moon and the Melodies, Carroll Thompson Hopelessly In Love, Larry Heard "Missing You" 12-inch, the three blues reissues Third Man Records is about to release in collaboration with Document Records (thanks Swank), and some of the jams I grabbed at Mount Analog a bit ago: Goblin's Tenebre score, the new Burial 12-inch, The Go-Betweens Tallulah, and a couple 12-inches on L.I.E.S. that I was missing.
When I stepped in to the room, there was an Alice Coltrane album playing. Tell me more about it?
Alice Coltrane will always be my go to spin when I'm in between ideas/directions, a palette-cleanser if you will. Her arrangements are borderline extra-terrestrial and I find constant inspiration in their limitlessness.
One of my most listened to records of the past few years.
Peter Max gatefold.
Who sparked your love for music?
My grandma was the heaviest early influences as far as the way my ears work. (Hi Nana! she's a Googler so she might see this.) She's a lover of many types of traditional folk music, which were the first sounds I really responded to as a kid. She's also one of the most truly far out people I've ever spent time with. Her love of mythology, nature, and the cosmos has been just as big of an influence on my listening habits as the actual music she exposed me to. She's always been a constant supporter of my general curiosity, a factor that plays a massive role in the way I seek out and absorb music.
Can you drop a few names from your grandma's record box?
Ha! She loves a lot of the traditional Irish and English folk balladry, which I connected with instantly because it's basically the D&D of music: fair maidens, knights, dragons, questing, etc.!
Why vinyl?
I like to be able to hold the things I spend money on.
Do you focus on a specific musical genre?
I try my hardest to be as genre-less of a record collector as possible, which anyone who's heard me DJ at a club and then also heard what I've been spinning at home can attest to! I'm soooooo down to explore just about anything. Sure, there are sounds which I spend more time researching/buying than others (psych/folk/early electronics/etc), but the older I get, the more I truly believe there are only really two types of music: good and bad. I feel that the quicker you're able to wrap your mind around that concept and drop the often restrictive genre card out of the equation, the more exciting your life as a collector and, more importantly, as a listener will become.
My feet next to a few piles of stuff I've been spinning at parties lately.
How did your passion for vinyl affect the rest of your life — friends, life partners, lifestyle, jobs?
My entire life presented itself to me the moment I started buying records as a teen! I've always loved music but I honestly have no idea where the idea to get a turntable and start collecting came from. There was no vinyl around when I was growing up and there certainly wasn't a turntable. I was fairly, umm, "indoor" as a kid and kept to myself while thinking about things like the world of Jim Henson and science fiction; especially Star Wars. (Why do we record dudes all love Star Wars so much?!) My love of Star Wars lead me to an early appreciation of general mythology, specifically the studies of Joseph Campbell, one of Nana's favorites. I can't stop thinking about Bill Moyers' interview with Campbell from the "Power Of Myth" series when trying to answer this question. Campbell is a massive advocate of "following your bliss" and believes that once you do so you'll be guided by "hidden hands" down a path that's always been there waiting for you. It's a little far out but in my case it's totally fucking true! Sure there have been a number of missteps along the way, but without much premeditation. I managed to jump from a record store job as a teen straight into my twenties where I worked for four different record labels while touring the world with loads of my favorite bands, and now I've entered my thirties as a music supervisor and consultant for film, television, and fashion while consistently traveling as a DJ and I'm just now dipping my toes into some production ideas. I've truly done nothing more to get here but follow the music.
Where do you acquire your vinyl these days? Flea markets, record shops, personal dealers, eBay, other online stores?
I'll get it wherever I can find it. I do quite a bit of online buying through dealers and auctions for more specific "want list" kind of stuff but still I'm digging thru the shops at least two or three times a week. There are so many killer spots in LA but specific shout outs to Ian at Wombleton Records in Highland Park, Scott Craig and his Records LA bins at the Last Bookstore downtown, and Zane & Mahssa at Mount Analog in Highland Park.
What other goodies have you found while looking for records?
I LOVE finding old notes inside of records. A couple of my favorites show up in the photo shoot.
A note from Dr. Demento that I found in a Serge Gainsbourg 45.
A note found inside my copy of Stormcock. Pro tip!
How do you organize your collection?
I'm a bit OCD and keep my shit sleeved and super alphabetized. I keep a separate two cube by four cube Ikea shelf full of the things I've been spinning out lately (still alphabetized, duh) to make pulling/re-filing records for DJ nights a bit easier. I guess you'd call that my "now sound" section as I'm constantly moving things from there back to the main record walls when I'm getting sick of them and throwing things from the main walls into the "now" shelves when they jump back into my mind.
I see you have a record shelf right next to your bed. What's there?
Oh yeah! That's a chunk of the jazz and avant-garde section that wouldn't fit with the other stuff. I sleep next to jazz, is that weird?
Records in bed.
What do you look for in a record?
So many different things! I write a lot of notes in my phone about stuff I've come across in research or records suggested to me by bros. Those notes are definitely where my digging begins but I also love looking for connections between seemingly unrelated records, ie: noticing a session player or producer on something unfamiliar and taking a chance on that record due to their contribution on another record I like. Sometimes it's just the right year on the right label. Sometimes the dudes on the cover just look like they knew what they're doing! What I'm getting at here is it's either a purchase that's super-calculated (ie: straight from my notes section with loads of research to back it) or it's just a record I have a gut feeling about!
Roy Harper's Stormcock will definitely be coming with me to the desert island.
So what about a record you were totally wrong about, and turned out to be a gem? Can you name one?
The Link Wray Three Track Shack records (Link Wray, Beans and Fatback, and Mordicai Jones) were total revelations to me. Don't get me wrong, I love "Rumble" era Link Wray but I would have never known this totally other vibe of his existed unless I chose to trust my gut and drop a needle on these things instead of passing based on an assumption of what a "too late era" Link Wray album would sound like. The rootsy/rural but grooving as fuck feeling found on these records became the initial blueprints for the sound Light In The Attic and I comped together for the Country Funk record. Definitely a huge lesson in "Dude, you have to check every record."
A little something my bros at Light In The Attic and I put together last year.
Do you think collecting vinyl helps preserve our musical heritage and culture?
Definitely. I'm a huge Carl Sagan fan and think the ultimate (and literal!) example of this idea is that of the Golden Record on the Voyager spacecraft. Rather than type out the details, I've used excerpts from a piece on the Golden Record that WNYC's Radiolab produced as the intro/outro of my mixtape. Hearing Ann Druyan, Sagan's widow and fellow collaborator on the project, tell this tale is one of my favorite things of all time and I think everyone should get the story straight from her!
You tattooed it on your arm. When did that happen?
I have so many dorky music tattoos which I've been getting since I was a teen. Thank god I had "decent" taste back then! When I became aware of the Golden Record story about five years ago, I was totally obsessed with it and figured I should add it to the arms. I really do think it's one of the heaviest musical ideas of all time and I'm proud to carry around a constant reminder of its existence.
NERD ALERT: A tattoo of the etching that's on the Voyager gold record.
Vinyl sales have steadily increased during the past few years. In your opinion, why do people go back to vinyl?
As a dude who spent his late teenage years working at a record shop and his twenties working at record labels, I never knew that vinyl left because I've been selling it to people quite consistently for the better half of my life! This "increase" has been everyone's favorite thing to talk about in recent years. I've always been a big believer in the "Say something once, why say it again?" lyric from "Psycho Killer" by the Talking Heads: Meaning, I'm kinda over this topic…and don't even get me started on Record Store Day! I would much rather spend my energy looking for killer records than add anything more to a conversation that already has plenty of voices and opinions.
Obsessed with Terry Riley, especially these two soundtracks.
Tell me about those Terry Riley records
I'm a massive Riley fan. He was one of my first introductions to a whole world of avant-garde/minimal composers who shaped the later half of my twenties. (Steve Reich, John Cage, David Behrman, La Monte Young, Harold Budd, etc.) The two records I zeroed in on during our session were a few soundtracks he did that I've spent an insane amount of time spinning at home. I especially love the tune "In The Summer" off the Lifespan soundtrack. I think I first heard it on an Animal Collective tour and it's been a late-night summer bummer staple ever since I was able to track down a copy (I put it on my mix tape.)
What's your partner's reaction to this obsession? Have you ever kept a particular purchase secret from your partner?
My obsession runs so deep that I wouldn't even know how to keep it a secret if I tried! Music is all I think about, with a bit of film thrown in for good measure. Even when I have non-musical ideas or interactions, I'm relating it all back to music in my head. I wake up with it already spinning through my brain and it's still there swirling around 'til the moment I fall asleep. A certain girl once jokingly called me Mu-Zach when we were young and that's just the way it was, and still is.
J Penry is a genius for combining both Deads in the frame behind me. Endless thanks to Jess Rotter for that print. Best Christmas present of all time.
Do you have a record collecting philosophy? Any special routines when you enter a store?
I've definitely developed a specific method for stores I visit regularly, but when I'm travelling or on tour and visiting shops I don't hit regularly or have never hit, I always start with the new arrivals bins and move on over to the big dawg wall records. After that, if I've got the time, I hit just about every bin in the whole store! (See my comments above about being a "genre-less" collector.) Of course I close out the dig by doing my best to creep into any stacks of recent acquisitions that haven't been priced yet or a possible back room. I also love getting recommendations from employees whose taste I have grown to trust. My favorite question to ask these folks when hitting the counter with a stack is, "What did I miss?"
SilverApples4Life.
Meeting the Croz was pretty huge for me. This one will also be coming with to the desert island.
What about the $1 bins?
I spent most of my teens and early twenties ripping them apart, but I've found that the internet has kinda killed off the glory days of finding completely insane shit in there. It's so easy for anyone to know exactly what everything's worth, so it's definitely lower on the list these days. That said, there are totally still some secret spots that will always produce $1 gold, but I'll be keeping quiet on those!
Can you name a few ones which you'll never part with?
There are two types of dollar bin records: the one that's worth a shit-load more than a dollar which you find in a dollar bin and pray nobody behind the counter gets curious and dials it up on Collectors Frenzy before they cash you out and the one that's in the dollar bin because it's only worth a dollar. My favorite dollar bin record that's only worth a dollar is probably a beater copy of Led Zeppelin IV. "Battle Of Evermore" will always be one of my favorite jams ever and repeated childhood listening of "Going To California" is probably why I'm e-speaking to you from there and loving every moment of it.
What's your favorite comfort record, the one you can always go back to? What makes it so special?
I'm a massive advocate of music as therapy and more than half the records in my collection are there for some kind of comfort factor! My dad wasn't in the picture when I was a kid and I had a stepdad later in life that didn't exactly work out either. These past few years since moving to the beach and trading in the bottle for running & cycling (all of these factors lend themselves to heavy reflection), I've come to realize that I may have subconsciously pieced together a father figure out of the words and wisdom found on a lot of these records, which could also possibly explain the mysterious start of my collecting as a teenager? Dunno. It's definitely a heavy idea and one I'm still sorting out but I can think of handfuls of major decisions that were guided primarily by the lyrics of a stranger and there have been endless situations where I've leaned on ideas found in these records for courage and I'll continue to lean on them.
Where is this Robert Wyatt illustration from? I think I recognize the language from another artwork I've seen.
That's a watercolor painting by Jess Rotter, who many record-buying people know from her Rotter & Friends T-shirt company. Jess and I met a million years ago when I was working at Drag City and she was working at Girlie Action. We hired Girlie to help work a Smog album and we've been pretty much inseparable since that moment. She's one of my dearest friends and the owner of my most trusted brain to filter any ideas/decisions through.
My security blanket.
My heart will always belong to the ladies of the British Folk revival.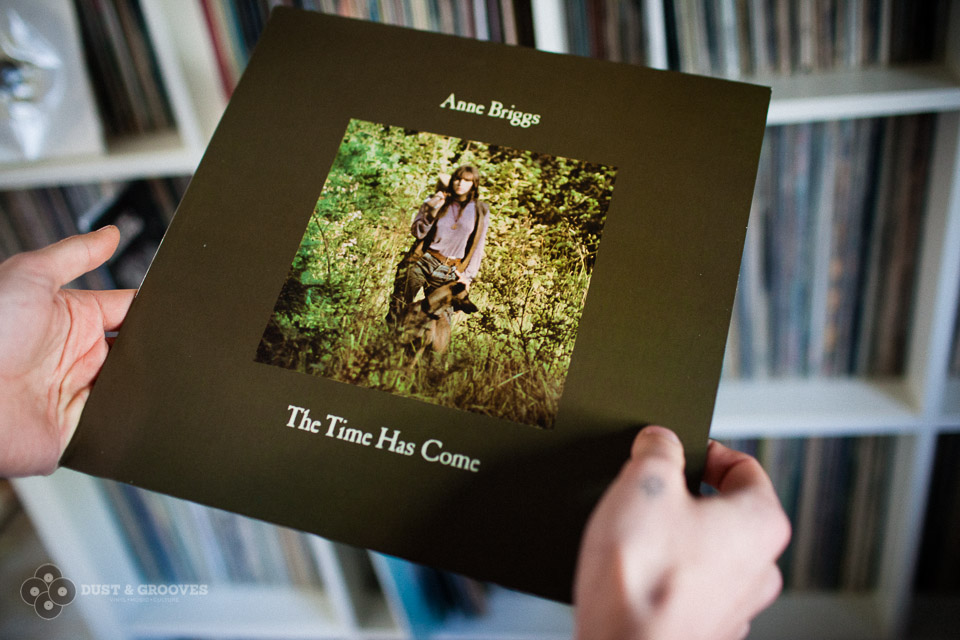 Go your way, my love.
My favorite bummer record.
Judee holding it down in the gatefold.
As far as specifics go, there are a few singers whos voices always seem to take care of me whenever I'm off point. I could listen to certain people sing about anything and the tonality of their voices and delivery alone makes me feel like everything's going to be okay. Here are a handful of those folks off the top of my head: Robert Wyatt, Jerry Garcia, all three members of Yo La Tengo, Bert Jansch, Arthur Russell, Gil Scott-Heron, Townes Van Zandt, Waylon Jennings, Bob Dylan, Judee Sill, Neil Young, Mark Hollis, Nick Drake, Curtis Mayfield, Sandy Denny, Liz Fraser, John Martyn, Vashti Bunyan, Gene Clark, Christine McVie, etc.
On the instrumental comfort tip, I tend to play A LOT of Eno's ambient records, Terry Riley, and a ton of both John and Alice Coltrane.
A major comfort provider that hit me much later in life was J Dilla. Brian from Animal Collective told me about Donuts when it was released but it took me awhile for it to fully click in. I probably would have given up if it wasn't for the album being passed my way by a friend. I knew that if he was loving this thing so much and I wasn't feeling it, I was probably just missing something and needed to give it more time. I always liked hip hop growing up but would have never considered myself anything but a casual fan with a few essential records. That moment when Donuts clicked it truly changed my life. I'm not sure what happened but I suddenly stopped trying to listen to it and just gave into the whole thing as pure waves of emotion and purity. Knowing that such feeling could exist from just a crate of records, an MPC, and capable hands (and heart!) changed the way I heard a lot of things and sent me straight out of 'casual hip hop fan' into a full-fledged head, which breathed a much needed new life into my record buying! To this day, whenever I'm feeling a bit lost, I just load up Dilla beats into a playlist and go for a long walk until things sort themselves out.
Maybe it's cliche to say after the infamous T-shirt but J Dilla did indeed change my life.
You can't always judge a record by its cover. Can you list an album or two that boasts great music inside a terrible cover?
Terry Reid Seed Of Memory and Terry Melcher's self titled album. Apparently I have a deep hesitation when it comes to dudes named Terry who shop at the same white turtleneck store and ice you down with creep stares on their record covers.
Is there an artist or a label you're trying to complete?
I've never been one to keep anything that I don't actually want to listen to just to have it, so that pretty much eliminates the idea of completing any person or label's whole run (if they existed for more than 15 or so releases) as there are VERY few of either that batted 1000.
What about the Brian Eno catalogue?
Yeah, I guess I do have A TON of Eno and Eno-related stuff, but the above statement still rings true. There are plenty of things he's touched in some way or another that I've heard but have no desire to acquire for the sake of completion because I would never listen to them.
My favorite record of all time and a heavy arm full of the Obscure series.
Eno's deck of Oblique Strategies. I swear by 'em.
Eno's deck of Oblique Strategies. Where and when did you get it?
I read about this deck years ago when I first started getting into Eno and I thought it was the coolest idea in the world. I realized much later that it's constantly being reprinted and available for purchase thru Eno's website. I sent my mom the link and she bought me the deck for my 25th birthday. Been using them quite consistently to inform decisions, musical and otherwise, ever since.
What about digging buddies? Do you share or go solo?
Most of my closest musical bros come from connections that were made from the various jobs I've had, especially all the touring I did in my twenties. That said, everybody is scattered all over the place and while I LOVE the chance to link with them for a dig whenever we're in the same city, I tend to do most of my damage solo.
What's the unlikeliest place/occasion you've ever found a record?
This seems to happen to me quite a bit and it gets freaky if I really sit and think about it: there is a mystical force about records and I feel like they find you just as much as you find them. Here's an example: I'll spare you all the exact details, but I took a crazy trip up to Montana about 3 years ago that involved some heavy questing. A few nights before leaving, a friend of a friend named Cedric asked me if I'd heard of The Blue Nile (I think we had been talking about Prefab Sprout? Can't remember) and I said I hadn't and his face dropped with one of those, "dude, you're gonna lose your mind when you hear this shit!" expressions. I hit a few bins before splitting town and couldn't find any of their records so I downloaded their first two, arguably all you really need, and listened to them non-stop on the entire drive to Montana. It was exactly what I wanted (and NEEDED!) to hear. I arrived in Missoula ahead of schedule and popped into a shop up there that I'd been to before on tour to kill some time and what's the first album sitting in the new arrivals bin? "A Walk Across the Rooftops by the Blue Nile.
My production partner Sunny Levine and I are sooooo deep in Blue Nile.
Your friend Sunny just popped in. You mention him as your production partner. Can you tell me more about it?
Sunny Levine is a record producer and songwriter who I met right when I moved to LA through mutual friends. We hit it off pretty quickly and would always talk about linking up to work on something whenever we ran into each other. Sunny is a true and deep West-sider and doesn't drive. It literally took me moving to the beach for us to be able to hang and jam regularly. We spent the better part of 2012 in the studio together and many things came out of the partnership (with the help of many other collaborators, of course) — most notably a record by Alakasam, the Celeste & Jesse Forever score/soundtrack, and a big batch of beats and edits under our shared "Biggest Crush" moniker.
12 inches that Swirl. Vertigo!
Keep it heavy.
John & Beverley Martyn's Stormbringer!— a favorite album cover of mine (the music rules too, duh.)
Q: What's in that 7-inch magic box? Is that your DJing box?
A: This is the flight case I bring my 45s in for DJ gigs. I try and change things up at least once a week depending on how much I have going on. I guess I treat this box the same way as I treat my second record wall by rotating jams in & out of the mix as I'm feelin' em or finding them!
Obviously
I don't believe in guilty pleasures. One of the greatest productions ever.
John Peel and I have the same favorite single of all time.
A pair of Dutch sure-shots.
Please give this dude directions to Electric Avenue…there is a huge pile of money waiting there for him.
My favorite Can jam to rock at parties that I had to acquire with assistance from the Goethe Institute (thanks Stefan!).
Some Valle sickness given to me by the great Joel Stones of Tropicalia In Furs fame.
Tell us about a great record or two that got away from you.
I try not to think about regret in the record game. I have a very visual memory and tend to remember just about every record cover I take more than a second to look at. If that's my secret power, I'm officially the most worthless mutant in X-Men history! I'd go totally crazy if I spent too much time regretting how I'd once seen something at a shop long before I had learned through research or a friend's suggestion that it might be something I'd be interested in. You'll find it again when you're supposed to.
Pentangle'ing
I really miss Bert.
The blueprints. A few of my favorite records from high school that taught my ears how to work.
Was there a particular person who inspired you to collect records, a role model in the art of record collecting?
There have been so many and for that I'll always be extremely grateful! One of the earliest after leaving the house and entering my adult life was a dude in Chicago named John Ciba. John managed the record store I worked at when I was a kid called Laurie's Planet Of Sound and to this day I rank him in the top ten as far as musical appreciation and knowledge across the genres goes. Shadowing him definitely fast-tracked me into honing my 'sound' and finding the records that fit well with it. Two other big ones back then were Troy Authement and Steve "Plastic Crimewave" Krakow, I received a few mix tapes from each of them that I studied like bibles. Mix tape exchanges were so crucial in my late teens and early twenties and it's something I'm truly sad about losing. Sharing MP3s or playlists never does much for me. A few other hugely influential friendships built on early mixtape exchanges were with Kevin Barker and Devendra Banhart, both of whom I went on to tour with in various capacities, Ben Swank, and Jess Rotter, who I have been in constant collaboration with since we met. Another big one has been Andy Cabic who I'll talk about more specifically in a bit.
I started DJing when I was fairly young and I'd consider everyone I've ever DJed with more than a couple times to be an inspiration and that's a LONG list of people! Once I made it out of the record store and over to record labels, there have been countless colleagues at each spot that were kind enough to share their brilliance with me. After I split the label world, it's been Jeff Gold (formerly of A&M and Warner Bros, now owner of recordmecca.com) who's really stepped into the role of "mentor," whether he knew it or not! Heh heh! As I hope you've gathered by this whole interview, I've always been lucky enough to be surrounded by very talented peers, roughly from my generation, who've taught me so much about music, but I think mentoring is less about the specifics within a field and more about the field's application to the bigger picture of LIFE. This requires the wisdom that can only come from another generation, someone who's already lived through it and can use the outcomes, both good and bad, of their experiences to help inform yours. Jeff is just as good at teaching me about variations in matrix numbers as he is with helping me to make major non-musical life decisions. For this I will be forever indebted and I very much look forward to the day when I can do the same for someone else a generation below me.
7-inch shelf
What do you want to happen to your collection when you check out?
I'd love to someday be able to pass my collection on to a child of my own but I'm a loooooong ways away from having one of those, so if I were to check out tomorrow I'd like my collection to be moved to the dublab.com studio. I've been a resident DJ on Dublab for about 7 years now and all these dudes have supported me through just about everything! I love the idea of all my fellow lab-rats continuing to pull life and ideas out of the records I've collected long after I'm able to.
Who would you like to see profiled next on Dust & Grooves?
You've already hit on a lot of winners so far but one of my favorite record collectors and friends is kind of a deep cut! His name is Andy Cabic and he's often overlooked as a collector because most folks associate him more with the music he makes with his band called Vetiver. Andy is one of the most adventurous music listeners I've ever known and by far one of my biggest inspirations as far as exploring every corner of the record store goes. We've been bros for close to ten years and he's always been my first call when I'm out of ideas and looking for new directions to explore. The new arrivals bin at his home in San Francisco is constantly brimming with things you've never heard of and one of my favorite things ever is sitting on the hot carpet (his living room has heated carpeting, which is pretty much legendary amongst our circle of friends) while Andy goes through the bin and plays you the few tracks off each record that he's gravitated towards while explaining to you the paths and information chains he's travelled to learn about and obtain said album.
"Record collecting is an infinite journey backwards."
Turquoise Wisdom on Dublab: http://dublab.com/turquoise-wisdom/
Soundcloud: https://soundcloud.com/turquoise-wisdom
Tweeeeeet: https://twitter.com/turquoisewisdom
Website: playitasitlathes.com
---
Is Dust & Grooves a frequent destination for you?
Dig what we're doing here? Want more interviews and mixes? 
A $2 subscription will make Dust & Grooves keep going!