Logan Melissa
Interview by Josiah Titus | Photos by Eilon Paz
N
ext to the music itself, is anything more beloved about a record than its cover art?
From 45 picture sleeves to LPs, cover art plays a prominent role in a record's reputation and legacy. Entire books and websites have been devoted to cover art, and in some cases—think Abbey Road or A Dark Side of the Moon—an album's cover is possibly more recognizable than its music. We put records in frames and hang them on our walls, we print posters and t-shirts out of them, and most of us will admit to buying at least a record or two based entirely on its cover. Indeed, if it were not for cover art, Dust & Grooves might not exist.
One of the more creative tributes to cover art is Logan Melissa's Instagram project @heightfiveseven. She has made a name for herself re-creating record covers with costumes and props. It's performance art comprised of literal interpretation and "inspired by" free-association. The objective is not necessarily to capture an album's cover exactly, but rather to pay homage . . . and probably also to have fun. Bands cover songs—Logan Melissa covers covers.
The Dust & Grooves team went behind the scenes with Logan Melissa in her Los Angeles home to take a look at what goes into a photo shoot for @heightfiveseven and to talk about all things vinyl. At the end of the day, performance artist aside, Logan Melissa is a record collector at heart.
How did @heightfiveseven begin?
It came to me when I was at my parents' house for Thanksgiving. I was looking through my old records in my old bedroom and I came across Minnie Riperton's Adventures in Paradise. My mom has a big fat orange cat, and it occurred to me that it would be funny to do a version of that cover with the cat in place of the lion. I posted it and people seemed to dig it, so it just inspired me to keep going.
Walk us through a shoot. Some covers require going on location but most of them you make right here in your home. Where do you find your props? Is there a limit to how much work you'll put into a shoot? A budget?
I have to really like an album before I'll consider re-creating its cover. I also have to see a path that's going to work. A lot of album covers are graphics and designs. It's easier if there's a person on the cover or a photograph of some kind. For a long time I've been wanting to do Miles in the Sky. It's such a beautiful design but I just haven't figured out how to do it yet. Maybe someday an idea will click and I will have a creative way of approaching it.
As for props and costumes, I try to keep it as low budget as possible. I go to thrift stores and drug stores. For a Prince cover I did, I had to buy a jacket and then return it. I try not to do that. It's more fun if you think outside of the box and get creative. With Outkast's Stankonia, I bought an American flag bathing suit. I became the backdrop by wearing the bathing suit, and then I got a yellow shirt and wrapped it into a headband.
I've been offered studio space and assistance from professional photographers, but that's not what I'm looking for. I like the journey. And in the end, it's not about making a professional-grade finished product. It's supposed to be low budget; it's about having fun.
  People sometimes ask who my photographer is. It's me. I take the pictures.
How did you come up with the idea for re-creating Herbie Hancock's album Sunlight?
I had just won an Instagram contest hosted by Rega and I got this really nice turntable as a prize. I was kicking around ideas for ways of incorporating it into one of my posts as a way of acknowledging them and saying thank you, but everything I was coming up with felt inorganic. Then one day I was looking at the back of Sunlight and it just hit me. I had two turntables already, now three, and another one at my parents. It works visually but it also makes sense. He's making the music I'm listening to.  
 What about upcoming covers? Anything in the works?
I have a couple that are done but I've been waiting to post them. Since your visit, I've had twins and during the pregnancy I did make a couple of re-creations, one of In Utero and one of Miles Davis' Live Evil, but I decided I wanted to keep my pregnancy private. That decision meant a break from posting and now I want to make my return with something special. I've got a few ideas but nothing final yet.
Will your babies make an appearance on @heightfiveseven?
Yes. I already started working on one of Dire Straits' Brothers in Arms where I'm holding the babies in my arms. It's sort of a literal re-creation. I'm sure they'll make appearances in some funny and creative ways.
The captions reveal you to be a true music fan with a bonafide record collection. That's something not everyone initially gets—that you're a musichead and record collector first and foremost, and @heightfiveseven is an extension of that. Does it bother you when that doesn't come through?
I sometimes get people asking me if I actually listen to the records I'm re-creating. Of course I do. I love these records! I wouldn't be doing this if I wasn't passionate about music. I always write something that shows I care about the album. The producer, the musicians, the year it came out, what else came out around the same time . . . I want it to be clear that this isn't just some art project I do; it's a way of honoring the music I love.
Donald Byrd, A New Perspective. 'Cristo Redentor' never gets old. It's just one of those songs. So unique and powerful.
You get a lot of love from your fans but at the end of the day, this is the internet we're talking about. Do you have any hecklers or critics?
I've had to block people before but not too often. Most people in the vinyl community are really nice. People will call me out when there's a mistake in my credits, but that rarely happens, and I can appreciate them wanting to point that out. I'm diligent in my research and I know my music history. For the most part, people are like "I love that album!" but there are of course a few who will write unkind things then run the other way. I like to respond and say something. It's a thing of mine. It's not fair that people come into my feed and post mean things when I didn't say anything about them.
One person in particular who said rude things about me went into the comments section and said, "This is so not real, I can't believe you guys think this is real; it's her boyfriend's record collection." I wrote back, "Oh, I didn't realize you can't be a record collector if you have a vagina! Thanks for the correction, buddy," and he was like, "My wife and daughter collect but they don't display their records like you." He had a weird set of rules.
Vinyl heads pride themselves in being non-mainstream, so you'd think the community would be extra welcoming of all different kinds of people. They're used to being on the outskirts, like any fringe community, and yet, you sometimes sense policing about what people should look like, and that's silly.
Autographed Jackie McLean record. When I saw the documentary Jackie McLean on Mars it was love at first sight. I found this at Amoeba and when I saw that it was autographed I knew I had to have it.
What advice would you give to young women interested in collecting?
I want to encourage women who are starting out collecting to just go and get out there, pick out records you want and don't worry about what anyone thinks. It can be intimidating. I've gone into record stores with male friends and the clerks will talk to them but not to me. You can't worry about that. Find the music you love and go from there.
Cover art and sex have long commingled. You haven't shied away from suggestive covers or partial nudity in your reproductions. Does this ever weigh into your decision to re-create a cover?  
Well, usually if there's a swimsuit it's because there's one on the cover. I try and mix up the "little" outfits with "more covered up" outfits. I don't really have a good explanation. I just, you know, mix it up. My robe on the Harry Nilsson cover was probably a little too short. I grew up by the beach, so that's just part of me. I want there to be a lot of variety. My whole thing is: try and open your mind a little. People always say, "I don't think you're a real person." I can't prove to them that I exist. All I can say is, "The record community is diverse."
Prince, Dirty Mind. As a person with ears and a soul, I'm a Prince fan.
Is the record community diverse?
All kinds of people collect vinyl of course, but it's tricky. Vinyl heads pride themselves in being non-mainstream, so you'd think the community would be extra welcoming of all different kinds of people. They're used to being on the outskirts, like any fringe community, and yet, you sometimes sense policing about what people should look like, and that's silly.
 The vinyl community is well represented on Instagram. Where do you think you fit into the larger community?
A lot of the vinyl community on Instagram will post pictures of what's in their collection or what they've recently purchased, but it's just their hands holding an album, or maybe an album propped up on a shelf, and that's not really enough for me. I have so many records I want to share with the world, but I don't want it to be just another feed. 
What have been some of your most popular covers?
Dilla's Donuts was a big one. Axelrod was another. When I do rap covers I seem to get the most likes and comments but there's never been one defining moment. The accumulation of followers has happened slowly and steadily over time.
Have you ever heard from people connected to the albums?
Stanley Clarke's son lives in LA and he came up to me at a Ghostface show and said his dad had seen my shoot of his album and really liked it. Once I got a message from Prince Paul about a De La cover I had done. That felt really good.  
What if you can't find an object or the right article of clothing? Do you have a "close enough" rule?
I did Galt MacDermot's Cotton Comes to Harlem soundtrack. There's a character in a bathing suit standing by a Rolls Royce. To re-create it, I searched Craigslist and eBay to see if anyone had a Rolls Royce for sale. I offered $20 to come by and take a picture with the car. Nobody responded so I ended up using my Prius, which made it sillier and better anyway.
As the project continues to grow, does your enjoyment or sense of purpose evolve?
I'm not a musician or DJ, so this is my own way of sharing my love of music and records, and having fun by just being a goofball. I don't want to spend too much time on it because that's probably not good for me, psychologically or physically. I just really want to show people that these are my records and here's my enthusiasm.
Have you ever been on an album's cover?
I'm on two Adrian Younge records. He was looking for a blonde woman who shared his interests in music to model for one of his covers and he wrote to me and asked if I'd be interested in doing it. He didn't want to go to an agency and look at headshots. He wanted everyone involved to share his love of music. He's all about the vibe and energy. He believes it comes through in the end, and I think it does.
Ghostface Killah & Adrian Younge, Twelve Reasons to Die. Adrian Younge & Ghostface Killah, Dodici Ragioni Per Morire Strumentale. Album covers I was actually on.
Do you remember your first record?
Well, I inherited my parents' record collection, so I had a huge head start. I was raised by Dead Heads. I spent my childhood traveling around California, going to shows. That was probably the thing that shaped me the most, both as a person and as a music lover. Robert Hunter's a great lyricist, so I grew up listening to lyrics. The way that the band plays is very freeform. I was raised on Jerry Garcia's Old and In the Way. Allman Brothers…the song "Melissa" is where my name comes from. My brother's name comes from Jackson Browne.
I enjoy the concept of musical serendipity, being at the mercy of the record gods and finding something in a bin one day that wouldn't have been there the day before. That's just a beautiful, cosmic thing.
Jerry Garcia, Old and in the Way. The sound of my childhood.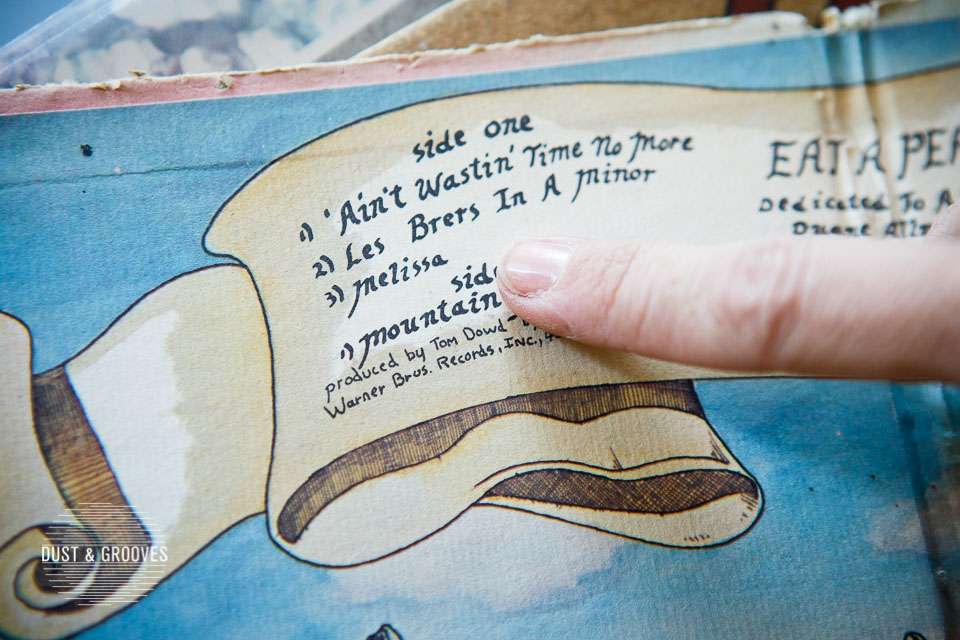 Where I got my middle name.
When did you start collecting records yourself?
I was listening to a lot hip hop in middle school. One of Tribe Called Quest's breaks on "Check the Rhyme" interested me. From there I worked backwards. I wanted to find the hooks. That was where my own path started, and where a lot of collectors start, but I really have to give my parents the credit. It was through them that I got into collecting. I'm so grateful to them for that. A lot of people didn't have that growing up. I enjoyed a head start that a lot of people missed out on.
Organized Konfusion, Organized Konfusion. Amazing lyrics. One of the easiest cover re-creations I've done.
 You have a lot of records for a small space. Is there a limit to how many you will bring home? Do you send records back out into the world?
Sadly, there isn't a limit, much to my mother's dismay. I just find ways to stuff my records into new spaces in my tiny apartment. And now I've got two babies added to the mix. As for getting records, I don't usually part with them, but I've gotten more flexible with this in recent years.
How do you organize your records?
I keep them clumped together based on when I got them because it reminds me of what I was going through at that time, the shops I visited, the traveling I've done. It's like a diary. I can look at a record and remember, for example, that it came from Big Al's in San Jose.
Where do you like to dig for records?
First of all: I do NOT buy records online. While I have sympathy for people who live in areas without a lot of record stores, or people who are forced to buy at record stores that don't have great stock, I have a real disdain for it being as easy as clicking a button to get a record. I enjoy the concept of musical serendipity, being at the mercy of the record gods and finding something in a bin one day that wouldn't have been there the day before. That's just a beautiful, cosmic thing. Even when I'm in the car, I don't listen to CDs or my phone. I want to be at the mercy of a discjockey picking the songs for me. When I have been looking for a record for a long time, it can be tempting to just order it online, but then when that moment finally comes, when you find it flipping through a bin, it's like the universe is blessing you. I sometimes have inner dialogues with an album's previous owner: "Why would you get rid of this mint copy of Standing on the Verge of Getting it On?" It's just something I wonder about. I feel like there's always a story there, just not one you will ever actually know.
Tell us about a moment where records affected your personal life. 
This record by Allen Toussaint was playing when I walked into a record store. I started talking to the man behind the counter. And now we have two babies.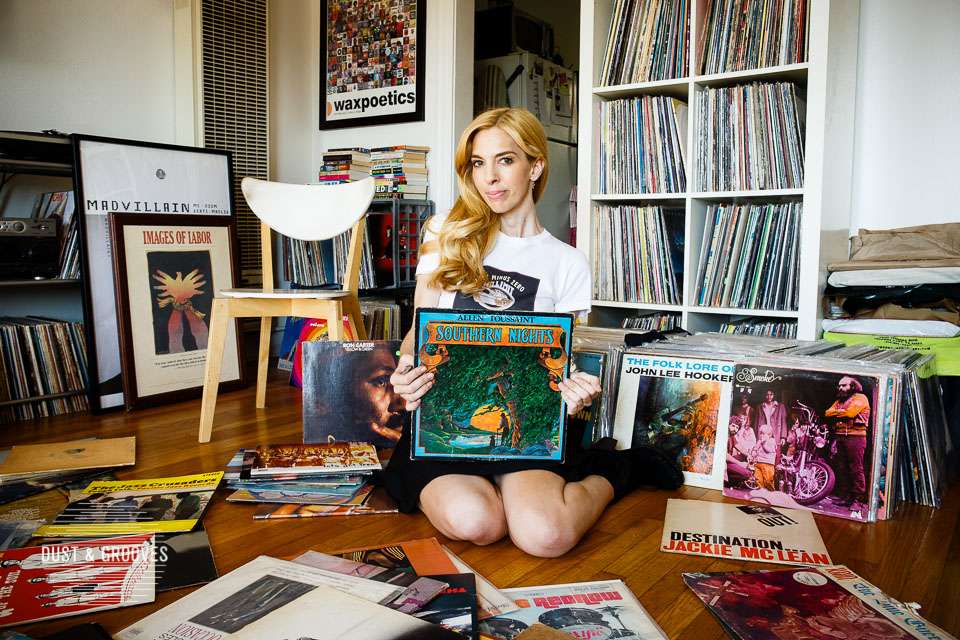 Allen Toussaint – Southern Nights
 What about rare or valuable records? Do you ever spend a lot on a record?
I bought an original of McDonald and Giles. It was later reissued, which kind of annoys me. The original is hard to find and it's a great record. Lots of drums and I have a thing for drums and bass. I inherited this interest from my dad. He always used to say things like, "You hear that big kick drum?" But no, I don't have a specific budget. I have to really love a record if I'm going to spend money on the original. I don't have a problem with reissues when it comes to most records.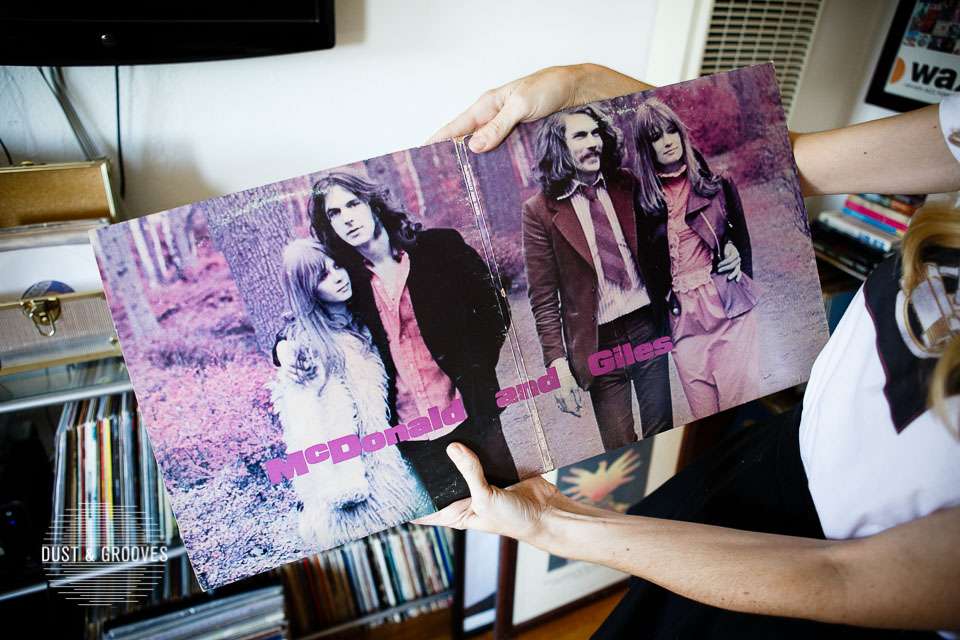 McDonald and Giles, McDonald and Giles. I wish I knew how to produce music just so I could sample the drums on this record.
Any notable dollar bin finds?
Drum Drum Drum by Jimmy Takeuchi. Found it in a dollar bin in Sacramento. There have been a few memorable steals. Kain, The Blue Guerrilla. The Last Poets, who got their name from a poem by Earl Sweatshirt's father.
Jimmy Takeuchi, Drum Drum Drum. It took a lot of searching to find the right location for this re-creation. Finally found the right spot half an hour outside of town.
What about comfort records?
Bill Withers, Just as I Am. "Harlem" is one of the greatest songs of all time. Smokey Robinson and the Miracles, I Care About Detroit. Horace Tapscott Quintet, The Giant is Awakened. He's an LA god and on the title track of this album it actually sounds like a giant is awakening. Donald Byrd, Bill Withers, James Brown, Stevie Wonder are artists I keep going back to, but there are so many favorites–too many to count. Aretha Franklin, Spirit in the Dark. Ike White, Changin' Times. "Antoinette" is one of my "walking down the street" songs. Perfect bpm for walking. If I'm going through a hard time, I sometimes choose not to listen to music. A person close to me died a while back and I couldn't listen to music for a month. I was afraid I would associate that music with the feeling.
Aretha Franklin, Spirit in the Dark. Listening to this record is like going to church. Anything with Aretha and Jerry Wexler, you can't go wrong.
Bill Withers, Just as I am. There is so much warmth in his voice. And he's just the everyman here.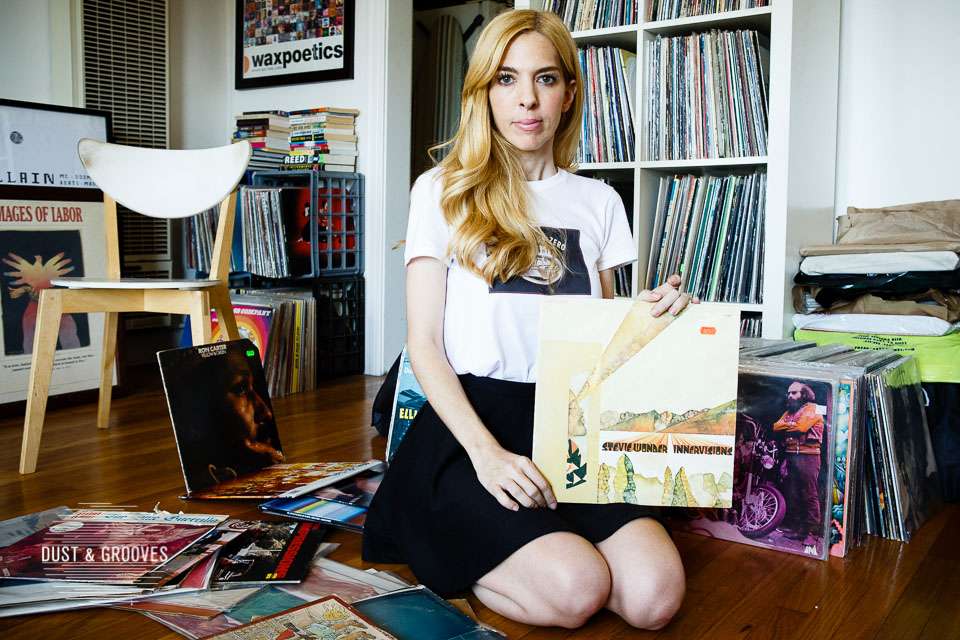 Stevie Wonder, Innervisions. One of my go-to comfort records.

Who would you like to see next on Dust & Grooves?
Kareem Abdul Jabbar. I've heard he's got a great jazz collection and knows a lot about the history of jazz and its ties to civil rights. It would be interesting to see his records and hear him talk about them.
Logan and many other vinyl collectors are featured on the Dust & Grooves: Adventures in Record Collecting book.
Please consider purchasing the book and continue your support of the Dust & Grooves project.
---
Is Dust & Grooves a frequent destination for you?
Dig what we're doing here? Want more interviews and mixes? 
A $2 subscription will make Dust & Grooves keep going!